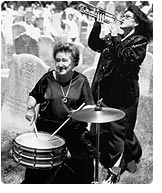 Musical Jews Everywhere: The Time Travel of the 23rd Jewish Music Festival
Every year a musical Jewish time machine lands in the San Francisco Bay Area. Each day for over a week, you step into the contraption and find another place and time on the Jewish sonic spectrum. One day you land in the ancient repertoire of a Polish Hasidic dynasty. Another day you find yourself enveloped by the songs of late 1800s Yiddish theater. You realize the performers have been time-traveling too. You find a 1907 Yiddish play coming to life on stage with the planet's premier punk klezmer drummer on hand. Then some unnamable future where musicians from New York, New Orleans, Ukraine, and Israel magically congregate for a one-of-a-kind collaboration. Wires obviously have been crossed.
The gathering is no time shifting device; it's the Jewish Music Festival (JMF), now in its 23rd year taking place throughout the San Francisco Bay Area, March 22-30, 2008. The multi-cultural fête challenges notions of any modern-day Jewish ghetto, where traditional meets experimental, sacred meets secular, and Jewish meets the world. Festival organizers consciously cross wires between time and place, making connections across Bay Area communities and from local to global scenes.
Among the diversity of offerings at eight venues around the Bay Area, the Festival includes: an unprecedented weeklong, nine-artist residency and commissioned work; the debut of the West Coast's first Jewish music prize called the Shofar Award (named for the Jewish iconic ram's horn instrument); the Festival's first offering of an all-festival pass for attendees (as well as individual performance tickets); and a wide range of performance types from rock club to synagogue, from classical to klezmer, from Yiddish theater to jam session and dance party.
Woven throughout this year's Festival is the presence of New York trumpet extraordinaire Frank London, who has played with everyone from Itzhak Perlman and David Byrne, to LL Cool J and They Might Be Giants. London—best known as co-founder of the Grammy-winning Klezmatics—opens this year's festival with A Night in the Old Marketplace, 21 compositions based on the legendary 1907 Yiddish play by I.L. Peretz. The score, which London wrote with lyricist Glen Berger, mixes Jewish music, jazz, classical, rock, and global influences with a dose of Kurt Weill and Tom Waits. In this magical tale—narrated by San Francisco's own Michael Krasny, host of KQED's "Forum" program—villagers wrestle with ghosts in order to right a past wrong and in the process rediscover the meaning of faith. Peretz was a leading writer of the Yiddish renaissance. "It's an absurdist play that reads so modernly that it could have been written now. It has an abstract contemporary feel to it; an apocalyptic quality," says Festival director Ellie Shapiro.
The Festival has commissioned London, along with eight other musicians, to create the Festival closing performance on the theme of Cyclical Rituals: Spring. The nine musicians—leaders in their respective genres, all of whom have worked together in various combinations—will complete a weeklong residency, in which they will conceive, create, arrange, and perform the new piece. Each day, The Ark, as the group is being called, will work together for six hours and at the end of the week on March 29 will present the world premiere of the piece, which will tour nationally and internationally in the near future. Participating musicians range from San Francisco's Charming Hostess founder Jewlia Eisenberg, known for her innovative vocal techniques and text exploration and deep exposure of Jewish and African diaspora elements, to Ukrainian-born vocalist, actress, and folklorist Mariana Sadovska.
Frank London will also be the recipient of the first annual Shofar Award, the Festival's effort to honor a musician for their significant contribution to Jewish music. "Frank is without par the most prolific composer, player, and bandleader on the international Jewish music scene," says Shapiro. "Deeply rooted in klezmer, he has done more than anyone else to bend the genre in ways that connect across cultures. Thousands of people turn out to his concerts in Europe, and he is truly an American treasure. He is a force of energy that propels world Jewish culture forward as an integral part of world music. His musical output and soul embodies the Festival's new Shofar Award."
The JMF program includes events for a variety of interests. Carrying on a Festival tradition of allowing audiences to hear a live performance by one of the world's stand-out cantors beyond their own congregations, Benzion Miller will perform on March 23. Miller is a Hasidic cantor who sings in a Brooklyn synagogue and presents the liturgy specific to the Bubover dynasty from which he descends. Festival director Shapiro poignantly first saw Miller perform at the renovated synagogue in the Polish small town of Bubov last summer. Though there are no Jews left in the town, the audience was packed with local people curious to hear the traditional Jewish liturgical music that first came from their town and has now reached a musical level on par with today's top opera singers. This concert is a rare snapshot into the living tradition of Hasidic Brooklyn carried over from the Old World.
On the other side of the spectrum is Golem, New York's klezmer folk-punk band playing the Rickshaw Stop on March 26. Unrequited love stories? Check. Drunken dances? Check. Warnings to future sons-in-law? Check. Dysfunctional families forcing kids to sell bagels on the street? Check. Golem's sound evokes wisps of old-world elegance filtered through the successes and disappointments of new-world dreams. The new generation of Jewish musicians keeps traditions alive in a musical setting suited to the modern aesthetic.
The Festival is rounded out with performances of late 1800s Yiddish theater songs by San Francisco Conservatory alum Heather Klein; Osvaldo Golijov's The Dreams and Prayers of Isaac The Blind by The Bridge Players; Ladder of Gold, the new repertoire by Teslim, which draws on Turkish, Iraqi, Greek, Sephardic, and Mizrahi traditions; and Israel @ 60, a concert of work by contemporary Israeli composers in celebration of Israel's 60th anniversary, featuring Israeli virtuoso marimba player and percussionist Chen Zimbalista.
"We believe in taking risks," explains Shapiro. ""We encourage artists to think of new projects. And we pride ourselves on working with emerging artists, as much as world renowned artists."


FESTIVAL SNAPSHOT:
(for more details, visit the "On Tour" section of the online press kit. Call 510.848.0237 for more information and tickets).

03/13/08 - Heather Klein/Mayn Yiddishe Velt: The soprano voice of this emerging Bay Area artist soars on the wings of classic Yiddish art song and repertoire from operetta, cabaret and theater in Yiddish and English. Venue: JCC Easy Bay, 1414 Walnut Street. Tickets: $12-15. 2 pm.

03/22/08 - Frank London's "A Night in the Old Marketplace": Twenty-one unique songs based on the legendary 1907 Yiddish play by I.L. Peretz. The groundbreaking score mixes Jewish music, jazz, classical, rock, and world beats with a dose of Kurt Weill and Tom Waits. Venue: Roda Theatre of the Berkeley Repertory Theatre, 2025 Addison St. Tickets: $24-28. 8 pm.

03/23/08 - Benzion Miller: Cantor Benzion Miller thrills audiences with his brilliant tenor voice, his astonishing vocal technique and above all with the heartfelt spirituality of his interpretations of cantorial concert masterpieces. Venue: Netivot Shalom, 1316 University Avenue. Tickets: $21-25. 7:30 pm.

03/23/08 - Osvaldo Golijov, composer/The Dreams and Prayers of Isaac the Blind, performed by The Bridge Players: In homage to Issac the Blind, the movements of this work sound as if written in three of the different languages spoken by the Jewish people throughout history. Also included are String Quartet in E minor by Felix Mendelssohn and Lullaby by George Gershwin. Venue: Congregation Sha'ar Zahav, 290 Dolores St. Tickets: $15-20. 4 pm.

03/25/08 - Teslim/Ladder of Gold: This potent duo performs traditional music from Greece, Turkey and the Middle East. The concert features Sephardic, Mizrahi, and original music inspired by these various traditions. Venue: First Unitarian Church, 684 14th St. Tickets: $16-20. 7:30 pm.

03/26/08 - Golem: Golem's sound evokes wisps of old-world elegance filtered through the successes and disappointments of new-world dreams. Venue: The Rickshaw Stop, 155 Fell St. Tickets: $18. 9 pm.

03/27/08 - Chen Zimbalista and friends/Israel @ 60: A true feast for the senses, Chen Zimbalista's programs are taken from classical, blues, jazz and rock idioms. To celebrate Israel's 60th birthday, Chen will focus the night's energy on contemporary Israeli composers and a few pieces of his own. Venue: Berkeley Repertory Theatre, St. John's Presbytarian Church, 2727 College Ave. Tickets: $20-24. 7:30 pm.

03/29/08 - Frank London, ensemble coordinator/The Ark presents CYCLICAL RITUALS (part 1): Spring: This new ensemble of nine innovative artists from around the world will debut in this World Premiere that will be the result of a week-long artist residency. This is the first in what is envisioned as a series of ritual performances exploring tradition, creativity, time, environment through art and music. Venue: JCC San Francisco, 3200 California St. Tickets: $18-24. 8 pm.

03/30/08 - The Ark artists and Bruce Bierman/Community Dance Party: Get down as the artists of the Ark take off. Jewish dance specialist Bruce Bierman fits the moves of the ancestors into the grooves of your imagination. Venue: JCC East Bay, 1414 Walnut St. Tickets: $12-15. 4 pm.