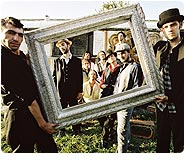 The Alternate Reality of Babylon Circus: Russian Hospital Tourism, Dublin Police Chases, and Syrian Ska Dancing
In Syria, Muslim women clad in full-length, black garb dance in a carnival procession. In Dublin with instruments in hand, band members chase policemen chasing a band member, Benny-Hill style, through the streets. In Russia, a near death experience coins the phrase "hospital tourism" when a lead singer visits five hospitals in five days. These are the surrealistic but real-life stories of Babylon Circus, French ska/reggae punksters whose April 29 release Dances of Resistance (Mr. Bongo) coincides with a North American tour.
Dances of Resistance carries a message of optimism in a world that offers little hope. In the style of musical warriors like The Clash and sonic rebels like Jimi Hendrix, Babylon Circus uses the power of the microphone to address social and political issues, providing an alternate view of what the official line claims is our reality. But their music is also a call to put your wallflower days behind and join the dance. Lead singer David Baruchel says the music of Babylon Circus is a "way to fight, to be an actor in today's society rather than a victim".
Some describe Babylon Circus as the French version of Gogol Bordello, thanks to their sonic madness and stage antics. Their music is infused with touches of Django Reinhardt, Balkan Gypsy music, and great French singers like Edith Piaf or Jacques Brel. Bob Marley is also inescapably present. Their eclectic fusion picks up where French alternative rock band Mano Negra left off, both bands touring extensively in their quest for social justice.
Wherever they go Babylon Circus creates journalistic snapshots of life penned with music rather than words. While on tour in Syria for a month, they wrote many of the tracks on Dances, taking in life around them in the realization that what they experienced was not the same reality portrayed through the Western media. They were the only European band brave enough to take up the invitation to play at La Fête de la Musique in Damascus three months after the start of the Iraq War.
"What we found there wasn't what we had been told by the press. It wasn't as violent as it was supposed to be. Our music opened doors to people in the streets", says Baruchel. Who in the West would expect to see Muslim women, in full black dress with their eyes barely visible, joining the revelry and dancing to the music of Babylon Circus, right alongside the men? When they paraded down the street, within minutes they found themselves joined by 200 people, some of whom closed their shops to join in.
The band captures these fleeting, special moments on Dances of Resistance, from the consuming joy of street revelry in the instrumental track "Parade acoustique" to the melancholic desperation of a man in love in "J'aurais bien voulu."
Their music can be taken two ways, with a deeper meaning always lurking under the revelry and hilarity. "De la musique et du bruit" tells the story of a district party in France, through the whimsical and humorous eyes of a child. On a deeper level, though, the song addresses immigration policy in France. Baruchel calls this double-edged story-telling "salt and sugar." Sometimes the band's subject matter becomes its own soundtrack, as in the opening track "Contra La Guerra: Greva General!," which captures the sound of two million protesters in an anti-war demonstration the band joined in Barcelona, highlighting great sonic joy alongside strong political protest.
Then there is the time that David nearly lost his life in a battle with a flight of stairs after drinking too much vodka post-gig in Moscow. Turning what could have been a very tragic situation on its head, David instead talks about the advantage it gave him in experiencing Russian hospitality in a different way: "hospital tourism." "I haven't seen the Kremlin, but I've seen five different hospitals in Moscow!" Or the time in Dublin that they were offered potato vodka, not realizing that it was a crime to drink on the streets. It led to a police-chase through the streets of a confused band member, followed by very concerned band members in pursuit of the policemen. Comically, it didn't take long for the police to decide to turn around and capture the closest band member: David. It ended well enough with a big laugh in the police station.
Touring from city to city, from Babylon to Babylon, the band embraces this pursuit of alternate realities and social justice. Life is sometimes hard, and it takes its toll. But in the words of Babylon Circus, "sometimes dancing is the best way not to fall."