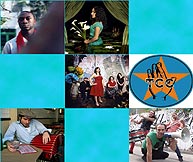 Trouble Worldwide: Here Comes Trouble...

A Night of Transplanted Revelry at Austin's SXSW Festival


There's a crisis of identity worldwide. Everyone comes from somewhere and as the "somewheres" get closer a cultural nutshell game ensues. Musicians identify with their birthplaces, their ancestral homelands, their neighbor cultures, their "host" traditions, and emerging global ways of life. San Francisco agency Trouble Worldwide presents six bands with hybrid identities in a showcase at the SXSW festival on Friday, March 14, starting at 8 pm, at Copa.

Details
March 14, 2008
Where: Copa, 217 South Congress Avenue, Austin, TX
7 pm doors open

8 pm - Rana Santacruz - His music has been labeled as "Irish Mariachi" with a hint of The Pogues and a dash of Tom Waits.

9 pm - Cordero - Indie rockers mixing atmospheric Southwestern ballads and borderland guitar rock.

10 pm - Rupa and the April Fishes - A whimsical magic carpet ride through time and place, mixing sounds from the Far East, Europe, Latin America & the US.

11 pm - Pistolera - The NYC-based band defines the latin-alt folklorico genre. Traditional Mexican styles fused with a pop-rock sensibility.

12 am - The Cuban Cowboys - Mixing traditional Cuban Son and Montuno with indie rock ain't easy. But it's a blast. The Cuban Cowboys bring post-punk sensibilities straight to the heart of the Buena Vista Social Club.

1 am - Bat Makumba - A hip renegade carnaval party full of tropicalia tinged ska, punk influenced forro, and rock infused samba.

For more information, see SXSW Festival website