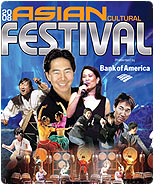 A Vocabulary Emerges in an Unexpected Place: New Voices and Visions of Asian Culture and Performance

Asian Cultural Festival — April 23-27, Queens Theatre in the Park
A new language is emerging in an unexpected place. It's a vocabulary of fresh and varied voices marking new directions in Asian heritage. It includes the Nashville twang of a Korean-American comic, the elegance of Indian classical dance gestures transformed by contemporary music, the bouncing flow of a pioneering Asian-American Hip Pop musical, the words of a Vietnamese immigrant returning to his lost homeland. This well of innovation is not bubbling up in the Downtown scene or the highly regarded historic stages of Manhattan. It is sprouting where a significant contingent of Asian America lives and thrives: Queens, New York.
The Asian Cultural Festival at Queens Theatre in the Park will showcase this new lexicon and demonstrate how a broad range of Asian and Asian-American performers are finding new expressions for old sounds, gestures, and tales, with both tradition and popular culture as their allies. "More and more, Asian artists are taking elements from their heritage and instead of just passing them on, they are developing a whole new vocabulary, a new way of telling their stories," explains Festival Artistic Director Vivian Chiu. "This challenges the stereotypes people may have about Asian performers and shows the full diversity of voices among the younger generation of Asian-American artists."
Tradition forms the raw artistic material for several of the Festival's highlighted artists this year. Korea's Haegumplus and its female leader, Kang Eun-Il, put the two-stringed haegum in a new context, using its great versatility to craft poignant pieces influenced by pop, jazz, and Western classical music, backed by drum set and keys, as well as a more traditional Korean instrumental ensemble. Kang frequently invites guest musicians to join her for off-the-cuff improvisation, basically a musical blind date on stage—in the past she's played with some of the most accomplished performers from Bobby McFerrin to Luciano Pavarotti.
The percussion-centric Dulsori also takes its cues from old sources, re-constructing on stage the farming festivals of Korean villages, with a sound reminiscent of Japan's Taiko drumming traditions. The youthful group's 2,500 pounds of drums become a force of nature, but stay firmly grounded in the present, thanks to a judicious use of modern instruments, artful lighting design, and dramatic staging. Ragamala Music and Dance Theater will present one of its stunning original works, From Temple to Theater, based on South Indian classical dance (Bharatanatyam) but moving fluidly across the rarely crossed divide between India's carefully maintained traditions and modern global sounds. The family-friendly, pan-Asian tales of Eth-Noh-Tec come to life via traditional musical instruments like the shakuhachi, precise yet effortless dance, and playful dialogue, for a whole new take on traditional tales.
Even artists completely immersed in popular genres like R & B or rock are crafting new ways to express and explore the past, often through autobiography. Asian-American artists, Chiu feels, "don't want to be in denial any more. They want to talk about their lives and experiences, be blunt about them. But it's not about scolding or being a victim anymore."
In this spirit, playwright Qui Nguyen's final play in a three-part exploration of his journey from Vietnam to America and back, Lost Accents, draws on Qui's own life story of loss, struggle, and mistrust upon his return to his former homeland. The trilogy is the result of the extraordinary "Immigrant Voices Project" (new play development initiative), in which Queens Theatre works with emerging playwrights to develop and expose their new work.
Comedian Henry Cho brings a similar unabashed frankness with a Southern drawl to his comedy routines about life as a Korean-American from Nashville, material that will soon morph into a sitcom on CBS. Singer, songwriter, and multi-instrumentalist Kevin So used his life growing up in Boston to create what he calls a "hip pop musical" about the average Asian American, songs that reflect So's passion for a good, smoldering R & B ballad and for a funky, new vision of what it means to be Asian American. The twenty-somethings of Seriously mix the dulcet tones of Korea's sweet pop with the thoughtfulness of indie rock and the sounds of their California home.
Two Festival artists take this a step further, challenging stereotypes outside and inside the Asian-American community. Performance artist, writer, and knitter extraordinaire Kristina Wong's raucous solo piece, "Wong Flew Over the Cuckoo's Nest," flies in the face of preconceived notions of quiet Asian women, while simultaneously bringing to light very real yet often ignored struggles with mental illness. Christine Toy Johnson, actress and writer, has acted up and down Broadway and spoken passionately for non-traditional casting and more opportunities for actors of color. She brings this fire and experience to her new cabaret act, "Things I Love," a sublime yet playful journey through the Great American Songbook and one Asian-American woman's life.
Reflecting the vibrant East and South Asian communities surrounding Queens Theatre in the Park, the Festival is a crucial part of the cross-cultural pollination at the heart of the Theatre's overall mission to serve the community. One vivid example: a couple of young professionals, a Chinese-American woman and her non-Asian husband, came to see last year's Festival opening night, when Asian-American Broadway performers sang Rogers and Hammerstein accompanied by an orchestra. "They had such a good time during this first visit to the Theatre," Chiu recalls, "that they picked up a brochure. The next time I ran into them was at the flamenco performance during Latino Fest," another of the Theatre's annual events. Chiu fondly remembers that they were one of the last couples to leave the salsa dance party that followed, dancing until the wee hours.
The Festival's focus on up-and-coming, outside-the-box performances was greeted with a touch of skepticism at first. "Most of the area community leaders were more tuned to traditional Asian artists, while we are attempting to focus more on emerging works," notes Theatre Executive Director Jeff Rosenstock. "We were reaching out to a new generation of young Asian Americans, as well as a general mainstream audience."
"Most young Asian Americans in Queens have never been to the Theatre. They go to see movies, or hang out with friends," Chiu explains. "We wanted to bring them in with acts that would appeal to them, like Seriously, and with reasonable ticket prices and a fun vibe." Before long, the Theatre's approach of hiring a professional curator to map out a program suited to the diversity of Asian audiences--young and old, traditional and contemporary, Chinese, Korean, South Asian, Vietnamese, Japanese, you name it—and to non-Asian audiences panned out with resounding appreciation. Soon, older community leaders and the media were eager to support the Festival, which boldly unites cultures from more than a dozen countries speaking a dozen languages under one roof.
The diversity that lies behind the overarching term "Asian American," along with its focus on new directions in Asian performance, lies at the heart of the Festival. "When people think Asian, they often lump East Asian together, not seeing that there is Korean culture, Chinese culture. They leave Indians, Vietnamese, and others out altogether," Chiu states. "We're trying to change that, while we reveal new ideas of what being Asian American means today."
The Asian Cultural Festival takes place April 23-27, 2008 at Queens Theatre in the Park's facilities, including the 464-main theatre, 99-seat studio theatre, and new 75-seat cabaret. The presenting sponsor is Bank of America. For tickets and information call 718-760-0064, or visit www.queenstheatre.org.
The Asian Cultural Festival is presented by Bank of America and has received additional support from Crystal Window and Door Systems, Ltd, Delta Air Lines, Korean Cultural Service NY, and Korea Foundation. Additional media sponsors include ImaginAsian TV, Korea Central Daily News, Media Korea TV, and Sino Television.