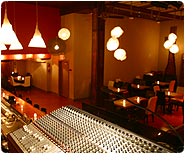 Feeding Your Inner Nomad: Drom Brings Global Food, Libations, Music, Art, and Vibrancy to New York
"We are all nomads here," exclaims Serdar Ilhan, one of the founders of Drom, the new global East-Village venue for, music, art, libations, and food. "We were even thinking about hanging a few mirrors on the wall, so that everyone would look in and realize, 'Hey, I'm part of this community, too!'" Springing up from New York's madcap international music scene, Drom's door opens into a welcoming, earth-toned underground space where musicians, mixologists, clubbers, and chefs are helping New Yorkers discover their inner nomad.
Romanticized and reviled, Gypsies have wandered through countless dreams and rants across Eurasia and beyond. But in an age when long-distance wandering is a part of everyday life, the Gypsies and their striking music and art have become a touchstone for global creativity. "Everybody in New York has a little bit of the voyager, the gypsy in their hearts, because they love freedom and movement," muses Ilhan, who himself comes from Istanbul. Drom is a tribute to and is inspired by this fearless Romani and indeed New York creative spirit.
Drom emerged as several friends, including Ilhan, and globetrotting Wall Street professionals Nachi Das and Numan Numan, fantasized about creating a space where the music and flavors they had encountered on their travels could come together. Music lovers and connoisseurs can indulge all their senses, thanks to an original international menu, an eclectic wine list, and an outstanding cocktail and drink list. The menu has small and large plates with flavors from Eurasian countries and has been created by Chef Diego Gonzalez, who hails from Galicia, Spain and married into a Turkish family. An eclectic tour that fusion cuisine fans will eat up, Drom's menu features dishes that have picked up the best and wildest of flavors around the Mediterranean and the Indian subcontinent, carefully merged into imaginative small and large plates. There's even an ingenious dab of eggplant in one signature desert.
Mixologist extraordinaire, Shige, has created an array of original cocktails and drinks with unique flavors such as his signature infused vodkas and liquors. Shige is from Japan and is passionate about introducing the art of the delicious cocktail to New York. The wine list, created from the global tastes of the owners and their friends, is truly eclectic spanning varieties of grapes and expressive vineyards from around the world
The venue's layout creates micro-ambiences that patrons can move through depending on the variety of events being offered (from formal concerts and jams to DJed gatherings or chill-out sessions), meal or drink times, dancing or lounge mood, and time of night. Visitors may choose an intimate meal in the lounge, a casual drink at the bar, a raucous laugh in the raised side-stage area, or to revel in front of the stage. The venue has also crafted different sessions where the personality and mood morphs gradually from early evening dining to informal concerts to late night lounging and clubbing. As the owners describe it, nights at Drom follow magical cadences of an unknown but beautiful symphony.
The lively Gypsy scene that partially inspired Drom got cracking in the late 1990s, at notoriously wild nights DJed by downtown legend and Gogol Bordello frontman Eugene Hutz and at slightly more subdued concerts and dances featuring music from the Balkans or Asia Minor. "Back in the beginning, it was really underground," recalls Mehmet Dede, who handles marketing and bookings for -Drom. "It was a scene that was less about scenesters, and more about the music and the spirit." This openness continues at Drom, where depending on the night, you can spot everyone from hipsters to hippies, from ex-pats to ex-punks, from day traders to night crawlers. At Drom, music and culture has emerged from its niches and is expanding into a broader, universal mainstream audience.
Even before Drom opened, the emerging Balkan enthusiasm got Ilhan and Dede thinking: If people love this music this much, why not start a festival? With the first New York Gypsy Festival in 2005, the scene got a regular infusion of international virtuosi and local innovators, from the Kolpakov Trio to Balkan Beat Box. The Festival, beyond building an audience hungry for Gypsy-inspired music year-round, also sparked the creation of Drom's house band and mainstays, The New York Gypsy All-Stars, with members from Macedonia, Turkey, Greece, and even Puerto Rico.
The All-Stars are more than just a back-up band; they are musical instigators, hoping, like Drom, to inspire new creativity with unexpected collaborators, such as musician-fans of the venue like jazz guitarist Al Di Meola They bring elements together in unpredictable combinations. In a single week, Drom might be home to kora player Mamadou Diabate, to '70s revivalists Las Rubias del Norte, or to Balkan heavyweights like Boban Markovic. An Off-Broadway musical might follow hot on the heels of a rockabilly set.
Drom is not only about live performances. Drom has launched a series of late night lounge sessions offering an immersive experience with famous DJ's, exotic drinks, late night snacks, and a medley of party performers; all with a global mainstream tint where New York's various communities can mingle and relax in an upscale, familiar and yet exotic ambience.
Drom is also reaching out to some of New York's most esteemed concert halls and partnering with them to show music's many sides. Markovic's upcoming visit to New York will bring him to both Lincoln Center for a more conventional concert, and to Drom, for a completely different audience experience. "We really see Drom as a cultural incubator, nursing the future of the New York global scene," remarks Dede. "It's open to a lot of different kinds of music, and all different kinds of people. Each band brings its own community, but their fans find a lot in common here. That's why they come back." To underline this point, Grammy-winning violinist Hilary Hahn recently collaborated with singer-songwriter Josh Ritter in a genre-bending blend of classical music and folk and regaled a standing-room only audience at her CD release party in Drom.
Drom combines the curatorial vision of a performing arts organization with the teeth of a downtown New York lounge. The venue seeks to create a comfortable hang-out where neighbors can join recent immigrants, scenesters can egg on wallflower music aficionados, and DJ sets can top off the night. Drom is a place where New York's wildly diverse nomadic urban tribes can break bread, share a drink, and stumble across unexpected experiences without having to prove their allegiance. Global citizens of all persuasions now have a home.