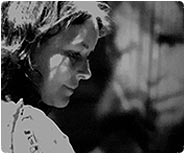 The Deep Well of the Past: Mariana Sadovska Plays with Fire, Bringing Ukrainian Tradition into New Musical Territory
High up in the rugged Carpathian Mountains spanning Ukraine, Poland, Romania, and Slovakia, an old woman sits in front of her house, singing to herself over the slopes. Far to the east, a group of nine widows in their seventies sit around the kitchen table, laughing, drinking, and singing the raunchy songs accompanying the spring rituals when women wander around the village at dawn, leaping lustily onto the men, to encourage fertility. They know that they must sing a lament at the cemetery each year, speaking to their ancestors in the other world, lest they get angry and abandon them. They know that any food that falls from the table feeds the house spirits, and that water must be left for the angels that come in the night. You have just stepped into a world where spirit and magic are never far from people's minds.
These women are just a few of Mariana Sadovska's many teachers, the traditional musicians who passed along their songs and stories. Their tales weave together in Borderland, a collaborative project uniting the young vocalist and actress with centuries of Ukrainian tradition, and a talented jazz band from Cologne, Germany. Sadovska infuses these traditional melodies and rhythms with a magic of her own, a modern-day metaphysics rooted in urban experience, theater, and a cosmopolitan lens. Or, as acclaimed author Toni Morrison told Sadovska after seeing her perform, "I don't understand it but I recognize it." This reaction to Sadovska's live performances is common, moving audiences from confusion, then disbelief, then joy. U.S. audiences have the chance to see two rare performances of this line up in New York City (May 22, Joe's Pub) and Albuquerque (May 25, Outpost).
As a teenager, Sadovska found herself in the mountains one beautiful sunny day, when suddenly she heard an old woman singing. "I had no recording equipment, so I started to write down the notes to the melody. I had to remember it," Sadovska recalls. "Growing up in the city of Lviv, I had always heard more bel canto, urban music, but suddenly here was this woman using her voice in a very personal, earthy way. I felt that through her voice, I could hear a thousand voices speaking, songs passed from generation to generation. It was like a well was opening in time, a connection straight to deep past."
This deep past, Sadovska thought, had long been lost, in part thanks to the Soviet regime that was collapsing as she was stirred by that first powerful song. Though Sadovska had grown up singing at huge family gatherings and had learned songs from older female relatives, she began to discover a whole other world of stunning music not far from Ukraine's major cities.
When several ethnomusicologist friends in Kiev played her some striking polyphonic music from Eastern Ukraine, Sadovska asked them when it was recorded. The reply, "about a year ago," shocked her: "I grew up in the west, with the strong feeling that Eastern Ukraine had been destroyed culturally during the Soviet era. But I discovered that it was still alive. I thought you could only find this kind of thing in libraries. They showed me a map of Ukraine where they had recorded the songs, and I knew I had to go."
She set out from Kiev that winter, with little but a borrowed tape recorder and some names of song-rich villages. It was the era of post-Soviet economic hardship, when busses to remote areas rarely rumbled down Ukraine's muddy rural roads. Sadovska hitched rides or took a seat in motorbike sidecars, asking at every store and station where she could find good singers. When she finally found them, they quickly took her in: "Because I was a girl traveling alone," Sadovska smiles, "they all called me child and wanted to take care of me. They had been waiting for someone to sing their song to, to pass their wisdom along to. As if they thought they could not die until they passed their wisdom to the next person, the next generation."
The old women who took Sadovska in would gather at someone's home or would open up the derelict village club, singing for five or six hours at a stretch. It was at the end of one such marathon song session the next summer that Sadovska met her first true teacher, an old woman from a village not far from the zone affected by the Chernobyl disaster. "I was already tired. All the women were running home to do various chores," Sadovska recalls. "But one woman stayed and said 'I'm going to sing you my songs.' She sang a few more hours. She would tell me that this song was how her life was, or how this song had helped her. She told me when to sing which song, and what power it had, almost like a spell. She stared straight at me and was really hypnotizing, as if she was looking straight into my soul. Then she said she was going to sing my song. It was spooky, but it really was my song, about a girl trying to find out where she should go and where she would find her beloved. The kind of questions you need to answer at age 19."
As Sadovska understands it, "a song can be the map which leads you to your life." And that's precisely what happened. The songs she learned in Ukraine guided the young performer to the alternate reality of the village and to an innovative treatment of these age-old musical maps.

An actor by profession and training, Sadovska's experience in the theater taught her how to translate this reality and her profound personal connection to the music to skeptical urban audiences. Using tools that modern audiences more readily accept, she draws audiences into an otherwise inaccessible world to most. For a decade, Sadovska performed with the internationally acclaimed avant-garde Polish theater company, the Gardzienice Centre for Theatre Practices, which she affectionately calls "my university." From her work with Gardzienice, she learned, "On the stage, you pray to people, you summon them. It's not about showing who you are or what you can do. To be on the stage is a very concentrated, condensed state, when you have to focus all your energy on what you want to communicate." This near religious intensity helps bring the magic and ritual surrounding Sadovska's songs closer to home, even for those unfamiliar with Ukrainian tradition.
Yet Sadovska strives to do more than simply reiterate what she witnessed on mountainsides and in run-down clubs. In projects like Borderland, Sadovska invokes her own cosmopolitan roots to create a new setting for old gems. She puts aside the expected folk forms and reveals the songs' inner workings.
For years, she had performed songs with just her voice and a harmonium, but after several extended stays in New York, a new path opened up for the singer. "It was exciting to work with people who knew nothing about the Ukrainian national cliché, and to see how they responded to this music," Sadovska says of her new collaborators, who improvised jazz-inflected structures around her sometimes raw, sometimes airy voice, and who appear on the album Borderland. "I had experienced great village musicians, and to imitate the way they play isn't interesting or unattainable for someone like me from the city. That's why I wanted musicians who had nothing to do with folklore, people who played trumpet, drums, or bass, who are not from Ukraine, to see how the world can meet. I wanted to have a dialogue with them about these songs, and to see how they would answer."
Leaping from this experience, when Sadovska returned to her home in Cologne, she slowly put together a new ensemble, with help from Indian-German jazz pianist Jarry Singla, whose musical travels have taken him from Germany to Canada to Mexico. Sadovska and Singla worked meticulously to rework some of the pieces she had developed in New York, and invited bassist Sebastian Gramss and percussionist Peter Kahlenborn—both experienced improvisers and composers—to join them.
The new musical clothing for old Ukrainian ceremonies only adds to their relevance and power, Sadovska feels, keeping their old connection to natural forces and human transformation. "Singing ritual songs is a little like playing with fire," Sadovska muses. "I'm not performing magic or rituals, but I'm very conscious of this power. When I'm singing songs on stage, I really think it might influence someone in the audience, so I try to direct the energy, to call the spring season, or bring warmth and joy to someone through a wedding song. Singing a lament, on the other hand, lets sorrow and mourning come out, but at the same time has a protective function. Whatever the emotion, I want to do more than entertain. I want to shake up my audience." Harnessing this power, Sadovska makes the deep well of the traditional past a compelling place anyone can draw from.