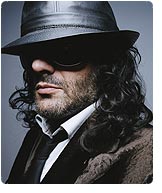 An Unspoken Heir of Punk: The Rebellion of French-Algerian Rocker Rachid Taha Comes Full Circle
Rachid Taha knows something of the immigrant experience. Born in Algeria, Rachid was brought over to France at a young age by his parents. The rough incidents he went through as an Arab youngster growing up in France—eventually leading to a change of schools—gave him first-hand experience of the prejudice immigrants often face, a fact-of-life he still confronts today. "Recently I took the Eurostar," Taha recalled in a Time Out London article. "I always need to have a visa as I am Algerian. And the English guy doing the checks said, 'Is that an Arabic passport?' And I said 'Yes'. And he said, 'Well, we're at war.' I said, 'We are?' And he took me aside and said, 'We are at war, against you, the Arabs.'"
Fast forward to this year when Taha received the ultimate accolade. Luce Strummer, widow of late Clash vocalist Joe Strummer, suggested that she present the BBC Radio 3 Award for World Music to Taha, which he won in the Middle East/North Africa category for his CD Rock el Casbah: The Best Of (Wrasse Records, USA release: July 1). She rarely does anything in public, but made an exception for this presentation asserting that Rachid is akin to Joe in spirit and energy and that Joe would have loved him. With such a blessing, an heir was born. North American audiences will have a chance to see Taha on his July tour of four of the most prominent summer venues: New York's Central Park Summerstage, Philadelphia's Kimmel Center, Los Angeles' Grand Performances, and San Francisco's Stern Grove.
Rachid followed in the footsteps of the punk idol. He gave angry and emotional musical voice to his experiences of intolerance and xenophobia. As a member of Carte de Sejours (Residence Permit, in English), a rock band he helped form in the early '80s with other North Africans living in France, he courted controversy when the release of their Arabic version of Charles Trenet's French classic "Douce France" found itself in the hands of a socialist leader and was distributed to members of the French parliament. The band disbanded in 1989, but Taha's musical protestations continued in his ensuing solo career. Songs like "Voilà, Voilà", "Barbès," and "Hey Anta" highlight the discrimination that is still alive and well in France.
The in-your-face attitude Taha dishes up in his lyrics are matched by an equally rebellious soundtrack. The Algerian raï influence is there, likely sealed by such events as his appearance in 1999 alongside Khaled and Faudel—the King and Prince of raï music—at a huge concert in Paris. "It was a brutal, powerful sound," he told the Chicago Tribune. "I saw it as a way to make some noise and shout everything that was inside me. There was an anarchist aspect that really appealed to me—anarchy in the sense that it is a way to promote change. But it has nothing to do with Bob Dylan or Woody Guthrie."
Yet in the same breath, Taha continues: "There isn't only raï. My music has always been more influenced by chaabi, an old style of North African pop, which I've always loved because of its poetry and rebelliousness." Many of the tracks in the Rock el Casbah: The Best Of pay homage to some of these great singers. "Ya Rayah," for example, is an old song written by the Algerian Berber legend Dahmane El Harrachi. It helped catapult Taha onto the international scene, and reacquainted a whole new generation of Algerian youth with the classic song, as evidenced by the spontaneous launching into the song by young Algerians on the street when Taha recently visited Algeria.
And then there is the punk element. Taha wrote "Rock el Casbah," an Arabic version of The Clash favorite, in homage to Strummer. Though Taha's version is clearly Arabic, Taha was so concerned about staying faithful to the original Clash lyrics that he hired an Arabic professor to make sure that the lyrics were exactly as written by The Clash. Ironically, it's a song that may have come full circle. After briefly meeting The Clash backstage in 1981 and handing them a demo tape in hopes that the rebellious punk idols would produce his first solo album, nothing materialized. Nothing, that is, except for The Clash's release of "Rock the Casbah" a year later, a song critical of nameless, brutal Arab dictators.
Taha's rendition became an international hit, and Mick Jones, The Clash guitarist, has performed the song numerous times on stage with Taha. Its near-iconic status in the defiant world of punk rock was clear at last year's Africa Express Glastonbury Festival, an event that in itself is a kind of rebellion against well-intentioned festivals like Live 8 and Live Aid that serve Africa in word and spirit but offer shockingly few offerings from African artists. Blur's Damon Albarn, the outspoken co-founder of Africa Express, joined Taha onstage, along with dozens of other musicians including FatBoy Slim and Amadou & Mariam, to bring the house down with "Rock el Casbah."
Another Taha aficionado is music pundit Brian Eno (currently producing U2 and Coldplay, while collaborating on a new album with David Byrne). A long time admirer of Arabic music, Brian found in Taha's no-nonsense, rocker attitude a bridge that allowed easy access. They quickly developed a firm friendship and several musical collaborations ensued, in the studio and in performances with Taha's band from London to Moscow. Other musical encounters have taken place recently with such luminaries as Patti Smith, Robert Plant, and top UK bands Hard-Fi and The Aliens, all of whom take their hats off to Taha's impish, but musically-on-the-button contributions.
None of this has changed Taha's musical essence. Like most immigrants, Taha found strong emotional connections to both his homeland and his adopted country. His dual Arabic-French identity is reflected in his multilingual tracks. He prefers to sing in Arabic, a language he still refers to as his native language. Despite the commonly held belief that Arabic is flowery and metaphorical, he insists that singing in Arabic provides a direct clarity for his musical messages. "In Arabic, blue is blue and red is red and black is black," Taha says. "French is my second language, and when I sing in French, colors become diluted, red becomes pink, black becomes gray."
From where he sits on the royal throne of rebellion, Taha provides a unique vantage point on the world around him. He relays his experiences in the rockified way that only he could. Who would have known that coming full circle could be so edgy?