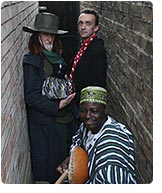 Distorted Guitars, African Grooves, and Gritty Spike Fiddles: Justin Adams and Juldeh Camara Unlock the Science of the Soul
Serif, a teenage boy from Gambia, was out collecting firewood in the bush one day and suddenly disappeared. When his distraught family finally found him six months later, he was up in a tree playing a golden ritti, a traditional one-string fiddle. The ritti magically disappeared and the family got their son back, but without his eyesight. The boy would periodically vanish from time to time, slipping away to learn how to play the ritti from the forest's djinn, spirit beings who had given the youngster the gift of music in exchange for his eyesight.
While most griots are born into the profession, this is the legend of how Gambian master musician's Juldeh Camara's father Serif came to be a famous griot against his father's wishes. The younger Camara traveled the country in a horse and cart with his blind father, learning the griot tradition from him and playing by request from a very young age. Paired with the desert blues guitar backing of British rocker Justin Adams, Camara lends his griot skills to the album Soul Science (World Village), which recently won a BBC Radio 3 World Music Award in the Culture Crossing category and is scheduled for a US release of May 13.
The album came about after Adams received a phone call out of the blue. Camara had been living in the UK working on various musical projects, and had received a copy of Adams' album Desert Road from Zubop bassist Duncan Noble. Highly impressed with how faithful the album stayed to African groove sensibilities, Camara rang him up. Adams recalls, "It was quite amazing to be phoned by this guy. He had heard my CD, as an example of somebody who had been inspired by West African music and was doing something a bit different. He took it back to Gambia and played along with it in his compound and people really liked the combination." And though Adams didn't immediately recognize Camara's name, it turns out that he had been listening to Camara for years via a recording of traditional Gambian music. Continues Adams, "He was effectively playing along with my music, which was a take on his music!"
For Adams, Soul Science gave him the welcome opportunity to channel different sides of his musical personality. Years of playing guitar with Robert Plant brought out the blues showman in him, loosening up his playing style and giving him the authority to rock out when necessary ("I never wanted to be Eric Clapton or Jimmy page," he says. "I wanted to be Joe Strummer."). Adams' production credits with Tuareg electric guitar heavyweights Tinariwen, as well as the all-night jam sessions in the African desert with frontman Ibrahim Alhabib entrenched him in a genuine, more intimate desert blues style rooted in African structures and rhythms. Soul Science allows both branches of his musical passion to shine unabashedly.
Camara is an exceptionally diverse musician himself. A member of the Fulani tribe in his homeland, he has studied the music and the instruments of neighboring ethnic tribes. His mastery of the ritti—a sound similar to what Adams also heard on the albums by Malian guitar legend Ali Farka Toure—lends an ethereal and yet gritty quality to Soul Science, one that fits in well with the album's raw aesthetic. The ritti's unearthly sound, at times flutelike and at other times more like a human voice, conjures up images of the wily forest spirits that are said to have aided his father. "I remember seeing a documentary program, a tiny clip." says Adams. "There were three Gambian guys playing these instruments. It sounded like Velvet Underground, that John Cale sound. It was very funky."
Within half an hour of meeting each other for the first time at Adam's garage studio, Adams and Camara already had their first track on the album recorded. It's indicative of the raw, less-produced sound for which they were aiming. Picture Bo Diddley in his garage in Detroit, or early cassette recordings of Moroccan and Malian music. "How to get grit?" Adams jokes? "Just turn it up to 11!" Half of the tracks on the album consist of rhythmic percussion loops, rooted in faithful African rhythms, layered with Camara's improvisations and Adams' guitar on top of that. The other tracks feature the percussion mastery of Salah Dawson Miller, a traveled musician who was deeply entrenched in the UK's Algerian community and a blues club regular for many years. Miller, who Adams says has a real "rock-n-roll attitude," lends just the right kind of raw swing to the trio. It's an unusual combo, a fact Adams admits. "I can't think of a lot of gritty electric guitar and hand drum ensembles on the circuit. But it is good. We look pretty interesting too!"
There's also a bit of the griot in Soul Science, like the lyrics in "Yo Lay Lay" that tell about the slave experience but from the perspective of the people that were left behind to deal with the traumatic loss. And then there's the griot tendency to subtly criticize as in the whimsical "Sanakubay," which gently pokes fun at other ethnic tribes. Sometimes it even leads to a spot of trouble, like the time that Camara had to appear in front of tribal elders to explain that he'd only written the melody for "Nayo," the song that became so wildly popular that it sometimes caused dancing girls to fall into the well.
Together, the three have an African groove symbiosis. Camara's playing, which Adams calls as danceable as a Celtic fiddler's, is rooted in the rhythms of his homeland. When Adams lays down a rhythm, Camara hears something ancient in it, like the rhythm he recognized as a rain-calling song in Subuhanalaii. "If I play a blues riff because I think it's close to a Fulani sound," says Adams, "he is straight on it. He gets where it's coming from." It suggests that there is a kind of science to what musicians in Africa were doing even hundreds of years ago, coming up with combinations of notes, rhythms, and scales that make the listener feel a certain way. "I often find some cool and intelligent people who get put off African music because they think it is just people dancing around in semi naked costume, singing 'Oh mama Africa,'" continues Adams in describing the album's name. "But if you play them the right stuff they realize it's very powerful. You can't help it. It can take you. It's like a shared culture that has some technique, a scientific technique almost, that can enter your body."
For all the seeming coincidence that came together in this album, it's an ode to a mysterious, ancient and inexplicable science. And if there are forest spirits driving this music, you can be sure they're wearing their sunglasses and rocking out.