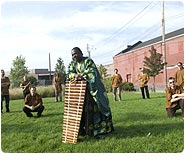 When an Eight Hundred Year Tradition Moves to America: Griot-Driven Kakande at the Heart of NYC's Thriving African Music Re-Invention
Not many musicians can claim an 800-year musical legacy as balafon master Famoro Dioubate can. From one of the most prestigious families of griots (musician/storytellers) in Guinea, Dioubate is a guardian of traditions dating back to the 13th century in the ancient Mandé Empire. Named for his small ancestral village, Dioubate's ensemble Kakande is an extension of the musical lineage that he knew back home. Kakande's album Dununya, on Jumbie Records, bridges this near millennial tradition to modern audiences. Join Kakande at Drom in New York City on June 20, 2009.
As legend holds, the balafon (xylophone) appeared magically in the forest almost a thousand years ago where it was discovered and guarded jealously by mighty sorcerer-king Sumanguru Kante. Eventually it was re-conquered by the founder of the Mandé Empire, Sundiata Keita, who bequeathed it to his griot, Bala Fasseke Kouyate to play and protect.
"My father and mother come from Kakande," explains Dioubate. "I first went there when I was a kid. I loved to go there to play music with all the people in the forest. Some would play guitar, some would play the n'goni (5-7 string lute), some the kora (21-string harp-lute). In the morning there was always music, and at night they would sing."
As a child in Guinea, Dioubate was recognized to be a prodigy. Encouraged by his illustrious grandfather El Hadj Djeli Sory Kouyate (who at age 93 remains a living legend of the instrument), Famoro emerged as one of the most exciting young players in the country. By his grandfather's side, he was soon performing with the prestigious Ensemble Instrumental National (a national symphony of traditional music) directed by El Hadj.
Later, in the mid-nineties, when a friend lamented that there were so few balafon players in the city, Dioubate came to New York. Guided by his father's counsel to always seek out family, he recalls a stranger he met in Brooklyn who owned a hair-braiding shop: "When I passed her on the street, I just liked her. I felt like I saw my mom. I would say 'Mamma, how are you?' And she was very enthusiastic. She became my mom and supported me." In traditional griot fashion, she is praised on the track "Mariama Traore."
Grammy winning singer Mory Kante joined Kakande on their recent concerts in New York, DC and Boston. Kante first encountered Dioubate many years ago when he was halted by the sounds of his balafon on the streets of Guinea. He asked his driver to stop, and approached the youngster. He was so impressed that he gave him $100 on the spot, prophesying the greatness that was in store for him. Referring to each other now as brothers, they share great mutual respect.
Today, Dioubate is a unique artist in this form; keenly aware of the tradition he was born into, yet eager to reshape it. He carefully crafted this ensemble to serve his aesthetic curiosity. His inclusion of non-traditional elements is a nod to the dynamic and fluid nature of tradition. In a blindfold test, even the most educated listener of traditional music would have trouble discerning that many in the band are not African, and may be surprised to learn that the least traditional elements, the inclusion of the cello for example, were part of Dioubate's own artistic design.
Primarily a balafonist and arranger back home, Famoro credits his cousin, celebrated vocalist Missia Saran Dioubate, with the encouragement to stretch out vocally in his ensemble. Missia is featured on Dununya with some of her most stunning recorded performances to date.
While the story of Kakande is still unfolding, other stories from the New York African music scene help to illuminate the question of perceived authenticity: Recently, when Guinea experienced unrest in 2006, the national radio airwaves began broadcasting exclusively traditional music around the clock to calm the spirits and encourage national unity and pride. Ironically, among the albums in heavy rotation at that moment was Fula Flute, produced and recorded in New York City with African and non-African artists, including some members of Kakande.
Cellist Raul Rothblatt suggests that it's indicative of a larger African dialogue that happens to be taking place in New York. "There's a lot of ancient music here, but it's new at the same time. There's the excitement of a new genre being born." One of the most important lessons has been the one of respect. Rothblatt says it's this concept that holds prime importance in the culture. "Respect is the most important term in Mandé music," he says. "It's also what allows the tradition to be refashioned in a cross-cultural setting."
The lyrics on Dununya reflect the age and wisdom of this ancient form. On the surface, "Mali Sadjo" tells a story about a hippo in love with a little girl. But in the allegorical nature of oral griot songs it is more complicated than the simple tale of a forlorn animal. And "So Si Sa" is more than just a whimsical tale of a man fruitlessly knocking on his girlfriend's door, only to go home knowing that she is inside ignoring him. There is depth and richness in this music waiting to be discovered.
At its heart, that is what Kakande is all about. Eight hundred years of tradition is a heavy, daunting legacy. But for Famoro Dioubate and Kakande, tradition is picked up, dusted off, and fashioned anew. "We are musicians," says Dioubate. "We have something together, and good musicians know no boundaries."