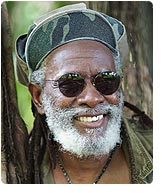 From a Field in the Country with Bob Marley to a Day of Peace in Kenya: Reggae Legend Burning Spear Lives Marcus Garvey's Message of Self-Reliance and African Unity on Independent Release Jah is Real
Reggae legend Burning Spear has been through more than his share of trials, but the biggest test of Spear's positive message of unity, peace, and love came on his first trip to Kenya last year.
The country had been rocked with violence when a bitter election campaign sparked intergroup conflict that raged for months. The United Nations called on Spear, who had adopted at the start of his career the nom de guerre of Kenyan freedom fighter and first president Jomo Kenyatta, to perform in Nairobi. Spear was welcomed like a long-lost king and stayed on the spot where Kenyatta fought for the country's independence from the U.K. Nonetheless, the concert organizer was so nervous about the potential for bloodshed among listeners that she was sick to her stomach.
"Kenya was really rough at that time; people bang against people," Spear recalls, in his Jamaican accent. "All the guys were fighting each other, hurting each other in some viscous and terrible ways." But the 65,000 Kenyans gathered at the outdoor venue came together peacefully, waved their flags, and walked home without incident. "I bring them together for about three hours. They were hugging and jumping up together. One can see the force of the music."
This force is evident on Spear's new album, Jah is Real (Burning Music; release date: August 17, 2008, Marcus Garvey's birthday), the latest in a long, productive career that began with a chance meeting with Bob Marley and has finally reached a place of peace and self-sufficiency that shows the relevance of Marcus Garvey in the age of the Internet.
Burning Spear's musical journey began in a field in his home parish of St. Ann, Jamaica, where he ran into Bob Marley and struck up a conversation about breaking into the music world. "Bob was traveling with a donkey and all these various plants. We were there talking," Spear explains. "Bob was young, dreadlocks just start to spring. I was asking Bob how I could get started and where could I go to get that start. He asked me if I know Studio One."
Studio One was the Kingston-based center of the Jamaican music storm brewing in the 1960s and 1970s, often compared to Motown. Its main producer, Clement "Coxsone" Dodd, was one of the first people to hear Burning Spear's songs, and he asked him to come back and record. Spear was so excited, he returned to Studio One early the next morning. "When I get there so early, the place didn't seem open. I was so anxious. I stood there until the place open and musicians show up. I go in, do my thing. It came out sounding good," so good that Spear eventually cut four singles and two albums for the label.
But despite Spear's strong songs and growing popularity, getting paid for his work became a nightmare. After repeatedly wrangling with Dodd, Spear sighs, "I just get fed up and decided to stop going. Then I start to think, 'Because I am a Rastaman, that is why Mr. Dodd is not doing what he should do for me.' So I decided to cut my dreadlock and back to Studio One, thinking I am doing the right thing. It became worse. It became worse."
Discouraged, Spear headed back home and chilled on the beach until his singing attracted the attention of young producer Jack Ruby. With Ruby, Spear cut one of reggae's most important records, Marcus Garvey, which set the musical tone and message for Spear's long career. Garvey, philosopher, activist, orator, and prophet to Rastafarians, became one of Spear's greatest inspirations, and he still reads Garvey's writings on a daily basis. Garvey's message of self-reliance, economic independence, and self-respect gradually took on new meaning for Spear as his career blossomed, yet he reaped none of the benefits.
After years on the road, multiple successful albums, and endless hard work, Spear found himself back in Jamaica in the 1980s, struggling to provide the basics for his family. Labels, distributors, and booking agents along the way bilked Spear of payment for his music. He began to realize that he had to go into business for himself to gain the respect he deserved: "I insist that I need to own something. I would do anything which is good to own something. But it take time and patience and discipline." Much as Marley did when he founded Tuff Gong, Spear knew he had to apply Garvey's teachings to the business end of his music and he has succeeded. While much has been said about new models for independent musicians in the age of the Internet, Spear is one of the few who has come to it from the teaching of a Black nationalist.
Last year on his blog (yes, the 63-year old has an eight-year old blog), Burning Spear wrote, "You cannot remain silent while people trample on your rights. For year reggae artist have been going through hell. None 'as any respect for us. Records label continue to collect our publishing, and royalty without paying us, even when agreements are up. Then when I man manufacture my own CDs and watch as this illegal Distribution label start to control all what mines. I decided I would no longer be silent's."
Now thriving in Queens, New York as an independent artist and a vital Rasta elder, Spear is done with compromise: No shady industry shenanigans, no bikini-clad babes on the cover, no nonsense, just good solid music, thanks in part to America's founding funk fathers Bootsy Collins and Bernie Worrell, who appear on Jah is Real, and a remix of "Step It" by Brian Hardgroove of Public Enemy fame. Spear has made it his mission to remind both staunch fans and new listeners of their historical and musical roots, drawing on his own experience.
"Grandfather" reminds listeners of slavery's mark on places like the Carolinas, a mark that Spear feels too many have forgotten, as proven by media reports of enslaved workers on Long Island and nooses hung on doorknobs. "Stick with the Plan," harkening back to the days of Studio One when Spear cut his hair, reminds listeners that "We can't turn our back on our trail, the original trail."
"One Africa" reflects the lessons Spear learned while in Kenya, and asks African leaders to band together and look forward, setting aside old grievances for the good of all. His social involvement in Kenya is reminiscent of the time he wrote "First Lady," which called for Jamaica to elect its first female prime minister and which appeared on the album Our Music. When Portia Simpson-Miller became the country's first female head of state, she insisted on meeting Spear personally, with tears in her eyes. Spear's wife and manager Sonia Rodney recalls Simpson-Miller saying, "Burning Spear, people don't know you, they don't know what you do for Jamaica."
It's striking that in a year when an African-American of Kenyan descent secured the Democratic nomination and the most successful woman's bid for the U.S. presidency occurred, Burning Spear releases an album that continues his multi-decade career calling for justice and unity. It turns out the man in the hills was ahead of his time and America is finally catching up with him on Jah is Real.