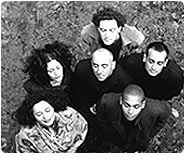 Classic Lo'Jo Album Finally Reaches American Shores:

Lost Cabaret Band Plays Griot-Influenced Tangos
"Lo'Jo, led by a smoky-voiced chanteur named Denis Pean, sounds like an itinerant cabaret band that has wandered a long way from the boulevards, hearing griot tunes and tangos and Tom Waits but not forgetting its accordion" —The New York Times
Read the reviews of French band Lo'Jo and you'll hear descriptions of a veritable where's-where of world music: Spanish, Hindi, Arabic, North African, West African, English, Gypsy, Caribbean, and of course French. These diverse origins are united seamlessly by the gravelly voice of lead singer Denis Pean (who has been likened to Tom Waits, Bob Dylan, and Serge Gainsbourg), the genetically synchronized tones of singing sisters Nadia and Yamina, and the legacy of the band's quirky origins of street performance. Operating communally from a house in Angers, France, Lo'Jo's success has largely resulted from constant worldwide touring and a do-it-yourself mentality that is paying off twenty years after the band's founding.
Key in the history of Lo'Jo is Mojo Radio, which was released to a cult following in Europe in 1997, but only made it to these shores off the side of the occasional concert stage. The CD will be released on the Harmonia Mundi imprint World Village on January 8, 2002.
With instrumentation including melodica, accordion, violin, kora, djembé, and bendir, "Lo'Jo has made the trip from Angers, France to Bamako, Mali in barely a minute" (Washington Post). Title track Mojo Radio is ripe for radio airplay with tiers slowly building to its catchy, reggae-backed chorus.
The new/old CD features Dierdre Dubois of Ekova, who—along with the Nid El Mourid sisters—creates on Mira Zunik the same kind of impressive vocal layers that led Zap Mama to fame. On Si Jamais Si, Dubois is joined by Mahaboub Khan of India's Musafir on vocals and dholak (two-headed North Indian barrel drum). Featured on three tracks is Justin Adams of Sinéad O'Connor and Jah Wobble fame, who, in addition to producing the Lo'Jo CD, was recently called "Britain's answer to Ry Cooder" by The Guardian.
The release of Mojo Radio follows on the heels of Bohême de Cristal, which was released to critical acclaim on World Village in June, 2001 and coincided with the band's appearance on the national Vive La World! tour last summer.