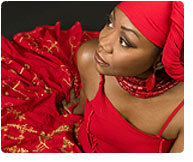 Rickety Rafts and Subway Ceremonies: The Invisible World of Haiti's Manze Dayila Shines on Solé
As a pregnant 19-year-old, Manze Dayila drifted in a small boat patched together with tar and burlap, accompanied by dozens of other Haitians who dreamed of a better life in the USA. Circling sharks, swelling waves, and endless ocean magnified the fear of what awaited her. Faced with these challenges, Dayila remembers, "I almost lost my sanity on that boat. To this day it's like a nightmare that won't go away." Dayila risked her life on a perilous journey in the hopes of creating a better life for her family.
Over the next two decades, Dayila transformed herself from helpless refugee to empowered artist. This transformation resounds on Dayila's first album, Solé (As Is Entertainment; U.S. release: September 23, 2008), which captures the warmth and beauty of Haitian tradition, the raucous playfulness of Dayila's guiding spirits, and the long, hard voyage that brought her to discover and nurture her talent for singing.
The journey began when a very young, very pregnant Dayila boarded a ramshackle boat setting sail for America. Undaunted by the risks, Dayila knew she had to make this sacrifice. "When I look at it," Dayila reflects, "it was a very powerful piece of history, something I have to share with the whole world. The best way to help one another is to understand each other's situation."
Three days into the voyage, the boat reached Cuba and Dayila was very ill. The authorities impounded the vessel. "They saw the boat could not make it. They said if we continued traveling we would probably die," Dayila recalls. "They decided to keep us there. They saw how pregnant I was and their doctors treated me. They were very concerned." But after a three-week delay and no repairs to the boat, the Haitian travelers demanded that they be allowed to go on.
Several harrowing days later, a commotion erupted on Miami Beach when the boat ran aground amidst beachgoers, senior citizens, and tourists. "People were screaming, 'Oh my god, oh my god, she's pregnant!'" Dayila remembers. "All of a sudden there were police and news cameras asking us questions. I didn't speak much English, so I couldn't understand what they were saying." The refugees were taken to Krome Detention Center, and six days later Manze Dayila gave birth to a baby girl.
The difficulties continued in Miami. The kindness of a Haitian man who had taken in the new family turned to cruelty when he became violent and threatened her life with weapons. Suddenly, one night, Dayila saw a spirit in a dream: "The spirit was a black woman, very dark skinned and very skinny. She said 'What are you doing here? You need to get out. If you stay, you will die.'" The spirit told her to head for New York, though Dayila knew nothing about the place. After talking to a few friends, one with relatives who could take her in, Dayila continued on her journey. It wasn't until her arrival in New York that she discovered her gift for singing.
At the urging of musician friends in her newfound home, Dayila began to explore her talents and adapted the songs she learned from Vodou ceremonies growing up in St. Marc, in northern Haiti. "I came up with new arrangements, singing in a different way," Dayila explains. "I always find myself singing roots Vodou songs a little bit differently, blending them with some spice." An avid and gifted cook, Dayila finds self-expression in all aspects of life, from cooking and music, to fashion and yoga. The self-expression that was hard to find back home as a young woman, comes easily to her now that she has found her voice.
Dayila transforms traditional chants to Vodun spirits, or lwa, such as the spirit of the sea, Simbi ("Simbi d'lo"), and the dignified Papa Loko, the spirit of nature who must be sated for anyone seeking a spiritual gift. In these spirits, the beliefs of the indigenous people of Hispaniola, African slaves brought from what is now Benin, and Catholicism flow together and have a positive presence in Dayila's music and life. "When I sing 'Papa Loko,'" Dayila explains, "I sing with all my heart. I feel I have to sing it this way. I close my eyes and I travel. Papa Loko is right by my side."
Dayila's first big break came when she auditioned and was selected to be a part of NYC MTA's Music Under New York program. Her performance stunned one of the judges, producer Jamie Propp, who subsequently signed her to his company, As Is Entertainment. "Within one song she transported me through the entire range of emotions. I will never forget that song." She began singing her favorite songs in Kreyól in the subway and placing before her a calabash, or kwi, used both for feeding spirits and for collecting donations.
Performing in the subway had its drawbacks (once ornery break dancers attacked Dayila's amplifier in an attempt to overtake her buskering spot). But while expanding Dayila's circle of admirers, it also expanded her world, "There were beautiful moments," Dayila remembers. "People danced with me, and shared their dance steps; the Congo dance, the Ibo, the Nago, and it really filled me. They told me, 'I can feel you deep down inside. Thank you for having the courage to do your own thing.'"
Dayila's performances caused a stir underground; after all, when a vodou lwa takes the subway, people stop in their tracks. Dressed to the nines in a black suit, face painted half white-half black with a cross on each cheek and donning dark sunglasses, Gede, the spirit of life, death, and transformation, began to appear every November first, thanks to Dayila. Some Haitians were shocked that a woman would take on this role; others were deeply moved. "When I reached the subway, people really paid respect, and I felt so big. I felt pride and joy, to see how people received it." It's now an annual tradition.
Doing her own thing, soon came to mean writing her own songs celebrating her new life and freedom in Kreyól ("Solé") and English ("I Want to Be Free" & "That Feeling"), and designing her own on stage ouftits, such as a striking red dress covered in vévés, traditional drawings that represent and beckon the lwa (this dress is pictured on the CD). "People might put one vévé on a dress, but I envisioned a beautiful red dress with all the vévés representing the many positive spirits in the vodou culture," Dayila notes. "For me the color red is all about spirituality. I am definitely inspired by spirits."
Though her subway singing days are mostly behind her, the cosmopolitan microcosm Dayila found there pulses in the funky global arrangements on Solé that bring together everything from balafons (African xylophones) to break beats. "As producers we weren't interested in sticking strictly to what was indigenous to Haiti," Propp explains. "Manze sang the songs the way she heard them and we selected instruments that called out to us."
For Manze Dayila, the joy in her music, fashion, and food flows in part from those who came before, creating the songs she is eager to share with the world. "My ancestors definitely paved the way for me to follow today, so on the cover of my CD I am facing them to pay back this respect," Dayila smiles. "It's beautiful. The invisible world is working with me, side by side."
In a final moment of reflection, Dayila takes a long breath and concludes, "So, here I am today. Singing. No wonder that voice is so powerful, because it's been through a lot."