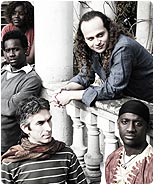 Senegal's Magical Snakes, Dancing Jesters, and Taxi Chases: Seckou Keita's Take on a Traditional Instrument Heralds a New Dawn
Call it fate, but a bit of what was in store for Seckou Keita—one of the world's foremost innovators on the kora (African harp-like instrument)—was already playing out when he was just a kid. The seeds of independence and adventure, which eventually led to the press alternately calling him "the Hendrix of kora" and "the Clapton of kora," emerged at the tender age of five.
His uncle, a well-known griot in the southern Senegalese Casamance region, was asked to play at a function. Young Seckou desperately wanted to go with his uncle and play the kora with him for the expected crowd. "No!" said his uncle, "you are too young. Go inside!" Pleading with him, the boy sat crying on the front step. When his uncle finally drove off in a taxi, the boy chased him on foot, hiding behind trees when the angry driver stopped to shoo him away. Losing sight of the taxi, he didn't give up, letting the distant sounds of the kora guide him to his uncle and the crowd he was playing for. The child grabbed an instrument, pretending to play, until the exhausted boy fell asleep on the spot and was carried off to a neighbor's house before being returned safely to his worried family.
It's rare for the unrelenting, focused determination of youth to last beyond childhood. But that's just what happened for the now-grown Keita, who continues to follow his heart's passion by letting his ears be his guides and who has performed for worldwide audiences on over 800 stages in the past five years. Surrounded by an international cast of musicians, the Seckou Keita Quintet, SKQ, releases their newest album, The Silimbo Passage [September 15, 2008 on World ArtVentures], an innovative effort that establishes a new framework for an old instrument. The album received acclaimed critical reviews in the UK with a 4-star rating in The Financial Times and The Guardian, which describes it as "a subtle and inspiring set."
At the heart of The Silimbo Passage is the kora, the traditional stringed instrument in Mandinka society that's typically associated with griots. Although played from Mali to Guinea Bissau, regional variations exist not only in styles of playing but also in tuning. The traditional tuning mechanism of adjustable leather straps is not easily or quickly manipulated, and if a kora player wanted to play traditional songs from more than one region, at least two koras—fairly large instruments—are usually required. Keita explains: "I wanted to change this, to see if I can tune in a way to play Gambian style or play Senegalese or Malian or Guinean styles without changing the tuning. That first started eight years back. I did one song, and got inspired." On The Silimbo Passage, new tunings that Keita mastered since his last album Tama Silo can be heard on "Chelima," "Fondinke," and "Dingba Don."
Keita performs a kind of auditory magic through innovation and, on one track, invention: he created a double-neck kora that allows several different tunings to be played on one instrument. The subtle flip between tunings can be heard on "Chelima," where halfway through the song listeners can hear chords utilizing two different tunings systems. For many, such technical innovation—praised in the rock world with notables like Jimmy Page using a double-neck guitar in "Stairway to Heaven"—lies far outside of the "traditional music" comfort zone. But through such innovations, Keita hopes to change people's perception of the kora as a static musical instrument.
Keita's instrument sometimes rings with the lyricism of Western classical music, sometimes bewilders with unexpected jazz chords, and sometimes lilts with a reggae groove. "The kora is a complex instrument," Keita elaborates, "but it is known as a very limited instrument. I want to expand the framework. Musically, it is very challenging for me. But I want to show that you can push it to this level without losing the tradition."
True to his words, tradition rings through on the album in a way that's deeply personal to him. The first track, "Bimo," is consciously built around a traditional Senegalese mbalax rhythm that defined the world he grew up in. Translated colloquially as "betrayal," the song is also a gentle warning, born of personal experience, to not let the temptations of the world betray who you are and where you came from. "Dingba Don" is built upon a whimsical and complex traditional rhythm that was typically used in celebratory dancing by jesters. And "Miniyamba" relays a generations-old story about a magical snake that assisted a pregnant woman in a time of great need, going into labor while collecting firewood. In a larger sense, the song celebrates all African women. "They work harder than we men do!" exclaims Keita with a smile in his voice.
Keita was born into the griot tradition on his mother's side, and although he considers himself an artist rather than a griot—many of the tracks are in the griot praise tradition. "Souaressi" is a popular traditional song that Keita reinvents in his own musical voice to celebrate the well-known singer Kouyate Sory Kandia. And "Konte Djula" is a touching song Keita wrote in praise of his own grandmother, who raised him after his mother's early death and with whom he had a very close relationship.
Keita composed and arranged many of the pieces on The Silimbo Passage, which refers to that special time of day when darkness gives way to the light of dawn, in the early morning hours. "I woke up inspired," says Keita. The album contains a message of hope through unity. "Fonding Ké," directly addresses African youth and all the youth of the world, in a call to put differences aside to build a future together: "I am talking to you/young hope of tomorrow./Be patient my friends/Make patience become your friend./My young friends, be patient." Musically, the song springs from a very traditional style of Southern Senegal where Keita is from. "My village Casamance is full of different ethnicities," Keita explains. "They have different styles of playing and the village is well-known for polyrhythms. It's a source of music so many people go to Casamance to find music."
The effort to create beauty out of difference is nowhere more apparent than in the makeup of his band. Keita left Senegal with his uncles at a young age to perform in a family band, but right away he was introduced to musicians from vastly different traditions. He played with musicians from Cuba, India, and Norway, and was soon approached by Italian bassist Davide Montovani, who was brought to tears by Keita's 2001 performance at WOMAD. The two began playing together, eventually joined by Egyptian violinist Samy Bishai, Keita's Gambian brother Surahata Susso on drums, and most recently Keita's sister, Binta Suso, on vocals. This unique combination of musicians has given Keita's music a new dimension, one that is unexplored yet which has a genuinely universal appeal.
"The first time I heard the song 'Konte Djula'," says Bishai, a classically trained musician, "I asked Seckou is it in three, four, six, eight or 12? What the hell is happening? And you know what he said… 'Well, it is a bit of all of them really.' That was a breakthrough moment really," Bishai concludes with humor in his voice as he accepted the challenge. Bass-player Davide Montovani has learned that he has to turn off his thinking to play with Keita. "For me ever since I came to Africa I switch off from what I know," says Montovani, "and I just play, play, play, until it becomes natural."
The international combination of musicians has led to interesting musical journeys and adventures, like "Mande Arab." In this track, Keita's innovations, along with the violin playing of Bishai, who had never heard West African music before joining SKQ, allow him to use the kora as a kind of interpretation of history, suggesting historical cultural connections that can be illustrated in one single instrument. The track—which features Keita's newest kora tuning—goes from a Mande musical style to a pentatonic (five-note) scale like that of the Tuareg, to an Arab/North African musical style, mixed with flamenco. "I kept dreaming about this tuning. I said, 'There must be a line going from here to there,'" professes Keita. "I had a feeling about it for a long time. In my Quintet, I can see the musicians doing it."
Audiences may not recognize it's the historical interpretations peppered throughout The Silimbo Passage. And a great many listeners may not care that history is being made with Keita's technical and musical innovations. What shines through is the beauty of the music, born from the heart and soul of a little boy chasing tradition and fulfilling his lifelong passion.