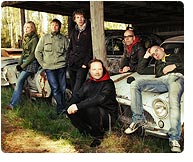 Frigg Messes with Tradition: The Off-Kilter Rhythms and Melodies of Finland's Power String Band
To understand power-string band Frigg, you must take a mental journey to the small Finnish village of Järvelä. "The joke is that if your name is Järvelä, you were born with a fiddle in your hand. So they always ask, 'Are you one of those Järveläs?'" explains band leader and bass player Antti Järvelä, who like many people in this Western region of Finland carries the surname of the village in which they were born. But Frigg is not just rehashing traditional tunes. Just as the world's ice caps are melting from global warming, Frigg's humorously-named new album, Economy Class, (Northside Records, September 23, 2008), presents a groove and swing of original music that thaws unexpected melodies and rhythms. Audiences here will have a chance to witness these tectonic shifts during their USA tour, September 26-October 19.
While listeners of bluegrass and Celtic music will find some similarities in Finnish and Norwegian string music (two of the founding band members hail from Verdal, Norway), the melodic twists and turns are an aural reminder that things are just different up north where the sun disappears for months at a time. But Frigg takes that one step further with the energy of a rock band and off-kilter rhythms and missing beats that accentuate the unexpected reserved-meets-over-the-top sense of humor common in Finland.
Antti is joined by cousins Alina and Esko Järvelä (pronounced YAR-vuh-luh), whose father Mauno Järvelä has taught hundreds of children in the area to play fiddle. The three cousins were preceded by two legendary master fiddlers: their grandfather Johannes Järvelä and great grandfather Antti Järvelä. "For my grandfather, it was not so accepted to play the fiddle, because of religious things going on at that time. It was considered a devil's instrument," says the younger Antti. "I still wonder why it's been carried on so well. If you look at the entire country of Finland, our string of villages, called Kaustinen, is the only place where the living tradition has carried on really strongly. I think it is because they must have been a bit rebellious. They were proud of their true heritage."

"The first instrument to pick up there is the fiddle because there are plenty around," Antti continues. "The fiddle can be played in almost any key so it's versatile and among other things it's a very popular wedding instrument. In the old days, there were very long weddings, like three days. They always needed music that could be heard over the dancing and talking. The clarinet and the fiddle were used a lot. The fiddle remains, but some fiddlers have adapted some ornamentation like triplets and quintuplets and keys from the clarinet style."
There have always been variations from village to village, and when visiting musician arrived, word traveled quickly. The resulting "jam" sessions led to innovation. Musicians rarely wrote music down then, and forgotten phrases were replaced with new creations. "They might add extra ornaments, or change the lines to make them faster, or just add some extra notes," says Antti. "It's always been a real living tradition."
Economy Class follows in this tradition of messing with tradition. Most of the pieces are originals based on traditional tunings and rhythms, and using all acoustic instruments (including fiddles, mandolin, the lute-like cittern, a Finnish bagpipe, a jaw harp, and uncharacteristically, a dobro), but with unexpected compositions or consciously powerful arrangements. The band emphasizes creating a specific ambience with each piece, which requires intense discussions about the exact ornamentation and bowing style they use on a given tune. This gives them a very tight sound rare in any traditional string style. The themes of traveling, drinking, and collaborating are woven throughout, usually with a dose of humor thrown in.
Antti composed the title track after a night of partying on the last night of a tour. His first memory of the party came as he was sitting on an airplane holding a small piece of paper that said "Economy Class," and he felt it was an apt description; "it was the most terrible condition you could imagine," he remembers. It made him laugh and he wanted to share his feeling of second-class status with the world, while writing a tune that would reflect the happiness of the party, not the hangover.
"Jalla Jalla's" energetic playfulness belies the track's inspiration. While traveling in Egypt, Esko kept hearing warnings of Jalla Jalla. It was not until he got home and found himself spending extended periods in the bathroom thanks to a stomach ache that the symptom resonated. The dizzying meter (mostly in a rhythm of five, but sometimes in three, and sometimes with random beats thrown in for good measure) of this waltz-like tune exemplifies a signature sound of Esko and Antti, who are known for drawing on asymmetrical rhythms from the Balkans… or from Bela Fleck. "This one turns upside down," says Antti. "There is a clip on YouTube where you can see the audience clapping on the beat, and when the meter flips, they are clapping on the back beat. They just keep clapping. It's really cool."
Frigg has a special tie to the U.S. This year's tour will be their fifth here. They love the way American audiences respond; "it's very different than back home." A few of the tunes reflect their experiences in the U.S. On a day when he had already composed two frenetic tunes, Antti uncharacteristically set out to write something slow. "I needed to calm down; bring myself down," he remembers. Within 20 minutes he had written the tune on a fiddle, but played it for a year without finding the right name. He temporarily called it "my pensionist's waltz," because he could envision himself playing it as an old man rocking in a rocking chair. The band decided to let their audiences name the tune, asking them to hand in their suggestions on paper or by email. One day after they performed at the Kennedy Center in Washington, DC, an older gentleman approached Antti and said, "I have an idea for the unnamed song, but I just have to tell it to you." Antti knew upon hearing the name, it was set: "When the Time Comes, I'll be ready." Antti says, "It gives you the freedom to form a picture based on your mood. Everybody gets their own wish."
Frigg composed "Polka Internationale de Louisiane" in honor of their visit to Lafayette, Louisiana, where they played at the Festival International de Lafayette. The tune combines Finnish elements with a steady happy Cajun rhythm. "Kind of Polka" is self-explanatory, though in standard Frigg fashion it has some extra beats thrown into the rhythm, making the accompaniment sound upside down at times. But Antti argues, "It still goes very kind of even."
The music scene in Finland and throughout Scandinavia is a tight-knit group, partly because of the music academies and their support of traditional and modern music, which has led to many collaborations. This spirit is captured on a few tunes from the album. The Frigg musicians heard "Norrsken," which was written by a music professor from Stockholm's Swedish Royal Music Academy, performed by another Finnish group called Luna Nova. Antti composed "Viinalaulu" at age 17 for a school theater production about dirty angels. The Finnish bagpipe can be heard on the upbeat "Kisapolska," which multi-instrumentalist Petri Prauda composed for a choreographed dance. "Northern Lights" was commissioned by an educational organization in Norway, who organized a tour for Frigg in the dark of December. Like the individual colorful lights seen in the northern sky, the tune features a variety of melodic solos.
The album closes with a reworking of a simple Norwegian folk tune called "Lars Lenkelifot." The band enlisted two amateur choirs and a brass section. "I knew this tune from childhood and always thought it was so simple that it was not worth playing," remembers Antti. "But one of our fiddlers Einar Olav wanted us to try. It took me over ten years to realize that you can bring back this simple melody and build something really nice."
The themes that weave together much of Frigg's music are their travel and unexpected twists and turns. Who knows what new tunes or tales will emerge when they hit the U.S this fall. Regardless, audiences are sure to get a taste of their wacky sensibility from the north.

(Check out Frigg on MySpace!)