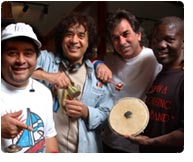 Global Drum Project: October Tour 2008 Percussion All-Stars Mickey Hart, Zakir Hussain, Giovanni Hidalgo, and Sikiru Adepoju Hit West Coast, Northwest, Midwest, Colorado, and Texas

Mickey Hart's three decades as the innovative percussion engine of the Grateful Dead, earned him Rock & Roll Hall of Fame status and worldwide notoriety. Years of constant touring also afforded him a platform for introducing his lifelong interest in multicultural sounds (rooted in childhood exposure to his mother's collection of early Folkways ethnographic recordings) to the American public; he presented on the Dead's performance stage such diverse artists as the great Yoruban drum legend Babatunde Olatunji, Brazil's multi-talented Airto Moreira, Sudanese oud master Hamza El Din, and Nigerian talking drum ace Sikiru Adepoju.

Hart's all-star percussion ensemble Global Drum Project—including Hart, tabla virtuoso Zakir Hussain, conguero Giovanni Hidalgo, and Sikiru Adepoju on talking drum—will perform in fourteen cities throughout the Northwest, Northern and Southern California, Colorado, the Midwest (including Chicago and Minneapolis), and Houston, Texas. Tour dates include the free "Hardly Strictly Bluegrass Festival" in San Francisco's Golden Gate Park and an appearance at UCLA Live at Royce Hall in Los Angeles.

Hart's longtime friend and collaborator Zakir Hussain is one of the world's giants of Indian classical music, a virtuoso percussionist globally acknowledged as the master of his art. Son of the fabled Ustad Allah Rakha, he made his debut with Ravi Shankar in 1970, and has recorded with George Harrison, Tito Puente, Van Morrison, Pharoah Saunders and many more - and co-founded fusion supergroup Shakti with guitarist John McLaughlin. His prolific career is studded with awards and honors, including being the youngest musician ever to be awarded the title of Padma Shri by the government of India.

The groundbreaking 1991 Planet Drum united Hart, Hussain, Olatunji, Adepoju, Moreira, Puerto Rican master conguero Giovanni Hidalgo and others in a sparkling fusion of global percussion, winning the first-ever Grammy for World Music - and soaring to #1 on Billboard's world music chart, where it stayed for an unprecedented 26 weeks.

Last year Global Drum Project once again found the all-stars collaborating in a collection of tranced-out, mesmerizing grooves and elegant electronic programming on a self-titled album. Recording performers include Planet Drum alumni Giovanni Hidalgo on Latin percussion and Sikiru Adepoju on talking drum, as well as Taufiq Qureshi on percussion and vocals, Niladari Kumar on sitar, Dilshad Khan on sarangi. The late Babatunde Olatunji is heard as well, in sampled "guest" vocals.

Coinciding with this release, previously unavailable reissues of essential Mickey Hart back-catalog -- Diga Rhythm Band, At The Edge, Planet Drum, Mystery Box, and Supralingua -- are available via the iTunes Music Store and in physical retail outlets worldwide.