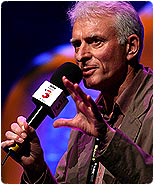 From a Marrakesh Taxi Driver to a Siberian Music Festival: Heading Beyond the Horizon with BBC DJ Charlie Gillett
In this era of oversaturation of sonic choices, the role of the curator or guide can make all the difference. Reliable sources known for their taste and imaginative juxtapositions are like a trustworthy drinking well in a forest full of musical dysentery and unknown languages. The right escort can lead you to the ends of the globe, hunting down just the right songs, scavenging for those exceptional artists just off the beaten path, and making synaptic bridges between styles. In search of new music, you can google for a million overwhelming listings or you can ask a Marrakesh taxi driver, travel to a remote Siberian music festival, or stumble upon a Barcelona busker.
That's just what renowned BBC DJ Charlie Gillett does. The past year of his musical travels are featured on Sound of the World Presents Beyond the Horizon, a double-disc release with 34 impeccably sequenced tracks on Warner Classics and Jazz. But Gillett's journeys are not always geographic. Gillett is the only music DJ on globally-syndicated BBC World Service, the rest of which is talk radio and news. So his weekly 26-minute show, A World of Sound, offers him a rare chance to try out over 300 tracks per year on an unexpecting worldwide audience. These sonic expeditions are a great testing ground. The best and the brightest tracks make it onto his annual Sound of the World album. Many would be hard to find even online, let alone your local record store.
"Last year, there were six or seven tracks that I found through MySpace, and this year there's none," said Gillett. "I can't explain that." This year, the songs' unique stories speak for themselves. Gillett had heard Lebanese singer/diva Nancy Ajram's music before, and was not particularly taken by it. After landing in Marrakesh, he hopped into a taxi, only to be dismayed to hear Supertramp blasting through the stereo. "Haven't you got anything else?" Gillett inquired of the driver. The "else" turned out to be Ajram's Greatest Hits, which they proceeded to listen to for the next two hours. "Nothing beats hearing music in its local context. No matter how bad you think American country music seems to get, it suddenly makes sense if you hear it as you drive through the South," said Gillett. The track which made it on the collection—"Baddala Aleyk" (CD2, Tr.2)—was the one that shined that day with its rich vocals underlined by oud and dumbek accompaniment (?), all thanks to a Marrakesh taxi driver.
Then there's the story of the Sayan Ring Festival, an obscure music festival held in the mountains of Siberia, miles from civilization, near the town where Lenin was exiled. One year recently, Gillett was the self-proclaimed 'unqualified' judge for the folk song competition component of the event, attended by about 2000 people that year (in recent years it has grown to about 15,000). In the evening performances, he was enchanted by the talented Zulya, and even more so during the long bus and plane rides back to Moscow. It's taken him a few years to honor that friendship, even giving her the position of title cut (CD 1, Tr. 17).
Another chance discovery was the day he happened upon some buskers in Barcelona. While he was intrigued with the busking band, he bought a copy of a compilation they were selling, Mariatchi Boogie, and from that discovered the unique blend of guitar strumming and bright trumpet on a track by Fufu-Ai (CD 2, Tr.10). Through New Zealander friend and music writer Garth Cartwright, Gillett discovered that the album's title referred to the 'Mariatchi' club frequented by global music pioneer and local band heralder Manu Chao. Gillett met Chao backstage at a TV show in London, was put in contact with Fufu-Ai, and another discovery was made.
Manu Chao has been pivotal in the global music scene for decades, touring internationally and creating a sound that truly draws all kinds of audiences. Singing in French, Spanish and a bit of English, the cut chosen for this compilation, "Me Llaman Calle" is one of his gentler ones (CD 1, Tr.4). Other big names on the compilation include Malian master kora player, Toumani Diabete (CD 1, Tr.8) and internationally renowned Senegalese pop singer Youssou N'Dour (CD 1, Tr.11). Gillett says he has to practice extreme self-discipline to keep from including too many West African tracks. Nonetheless, the beauty of the process is that the compilation isn't a qualitatively exact assessment of the world music scene in the past year, just the songs that attract Gillett when he "follows his nose."

Another big name on the album is Orchestra Baobab. Gillett's been a fan of this eminent Afro-Pop band since back in the day—1984 to be exact. Two years later, he was travelling in Dakar and promised his Gambian host that he would return to his compound on a particular date. Gillett saw a billboard advertising Orchestra Baobab's 'last ever performance' for the very same day. In a gross misunderstanding of African time, he dutifully returned to the compound on time, to find a host who had not remembered when he had said he would return, thereby missing his 'last chance' to see Orchestra Baobab. Now that they have come back together, Gillett got his 'second chance,' and "Ndeleng Ndeleng" is a new version of a song the band first recorded at least twenty years earlier (CD 2, Tr.8).
Of course, the whole world can't be pop stars, and there are plenty of artists on this album that you've likely never heard before, and may have a hard time hunting down. Argentianian songwriter Melingo shines on "Julepe en la Tierra," from his original full-length album; Dengue Fever, an unanticipated Cambodian retro band from the US/Canada, offers "Sleepwalking Through the Mekong;" and Awadi's "Sunugaal," featuring Kirikou, rises above an album of straight Senegalese hip-hop. Songs like these were particular 'stand out' songs from their original records.
Charlie Gillett admits that it can be hard to know where to start in the world music repertoire, and that trends have changed significantly in the last few decades. "The pattern is that the quality across the board is better than ever. When we all started there were a few big names. Then it was a bit of an open field below that you don't know about. Now it isn't dominated by big names at all."
"Who's driving this bus, anyway?" is a question Gillett often entertains regarding the two-tone fire engine red/canary yellow bus gracing the cover of Beyond the Horizon. The contraption is brimming with people hanging out the windows, packages piled two stories high, and could've just emerged from a Muppet movie, or, more likely from just about any corner of the globe. "Not me," responds Gillett, disclaiming responsibility as the driver. But if we take the bus as the collection of music he skillfully crafts together, then he's at least the navigator.
Or at least the good shepherd. "The sheep just found their way and ran through the hole in the hedge," claims Gillett, likening the unscientific process by which he chooses track order to old-world herding. Gillett says that the most difficult part of the process is choosing the first, and from there, with the wonders of RealPlayer, the others literally fall in line. The songs seem to choose themselves, as the end of one song reminds you of the beginning of the next, as the way that South African Lucky Dube track (CD 2, Tr. 17) echoes the sounds of the Chinese group Dadawa, just previous (CD 2, Tr. 16). And the Dadawa track seems to mirror the instrumental ambience and haunting vocal quality of the previous track (CD 2, Tr. 15), performed by Burkina Electric, an NYC-based, Burkina Faso-influenced electronic-meets-Africa ensemble.
So who is driving the bus? Jump on for a ride with Charlie, the herd of sheep, the Barcelona buskers, and the Marrakesh taxi driver, well beyond the horizon.