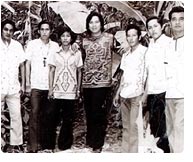 Amazonian Hallucinogens, Wah-Wah Guitar, a Plane Crash: Juaneco y su Combo Kicks Off the Masters of Chicha Series
Surf-rock guitars, hallucinogens, and a plane crash. It might sound like a familiar '60s or '70s rock tale, but this one emerged thousands of miles away from the ears tuned into British and American rock. It took place on the edge of Peru's Amazon; the psychedelics were ayahuasca (made from the bark of a jungle vine); and the musicians were dressed in the garb of Shipibo Indians, something reminiscent of New Orleans' Mardi Gras Indians, or possibly The Village People. The band was Juaneco y su Combo, and their repertoire is featured on the new album Masters of Chicha, Vol. 1 (Barbès Records).
The group started out in the Amazonian town of Pucallpa as a pick-up band playing jazz and dance standards, founded by Juan Wong Paredes, an amateur saxophone player of Chinese ancestry who made his living as a brick-maker. But when his son Juan Wong Popolizio took over the band, he traded in his accordion for the era's Farfisa organ. This unheard of introduction of the organ spurned the guitarists in the group to greater heights of psychedelic creativity.
The younger Juan Wong recruited Noe Fachin, who was known as "The Witchdoctor" for his penchant for Amazonian pharmaceuticals. Fachin was a guitar player in his 40's who had been working as a public school teacher and moonlighting as a criollo guitar player. With one foot in indigenous folklore and one foot on a wah-wah guitar pedal, Juaneco y su Combo listened to short wave radio transmissions picking up Colombian cumbia and Brazilian carimbo, integrating these and other unexpected sounds into what could be the soundtrack to a never-made James Bond flick in the Peruvian jungle. The story took a page from a spy movie in 1976 when five band members, including Fachin (who had become the group's primary composer), died in a plane crash. Though Juan Wong was not on the plane and continued the band for many years, he has since died. His son Mao Wong Lopez now heads the band, which is undergoing a renaissance at home and abroad due to renewed interest in chicha.
"Chicha has come to signify slum music with Andean influence and cumbia rhythm," says Olivier Conan, whose Barbés Records first re-introduced Juaneco on the much-lauded The Roots of Chicha compilation last year. "In the grand scheme of Peruvian cumbia, Juaneco is seen as one of the originators."
In the group's humble hometown of Pucallpa, the majority of residents are of Shipibo Indian heritage. While the mostly poor mestizo members of the group are not of Shipibo descent, their pride in the local traditions deeply influenced their music and style. Much as the 1960's American counterculture embraced the dress and communalism of Native Americans, Juaneco y su Combo wear traditional Shipibo clothing and draw on Shipibo imagery. According to Conan, "They think of it as their culture, even though they are not Shipibo. It is a very important part of their whole music." The lyrical content particularly links Juaneco y su Combo to the Shipibo jungle environment. The lyrics engage native Indian themes, and they often deal with the forest and its folklore.
The song "Y Se a Muerto Mi Abuelo" blends themes of traditional food and death, comedy and tragedy, as a way of transforming the band's plane crash calamity. The lyrics recount the many ways their ancestors died from drinking masato (a fermented yucca drink) to eating suri (a little worm prepared as a Shipibo delicacy). "Me Robaron Runamula" describes the story of a Shipibo mythological creature, one who is half mule and half woman. "Ayahuasca" illustrates some of the group's creative out-there style. A precursor to some hip-hop aesthetics, a woman's voice repeatedly says "give me more" of the psychedelic tea.
"Mujer Hilandera" (or "The Weaver" in English) was Juaneco's first hit in Peru. "It's a complete cover of a famous Brazilian song," says Conan. "Everyone in Brazil knows it. But nobody in Peru knows it is Brazilian. If you tell Peruvians it's a Brazilian song, they look at you like you're crazy. It was in a movie that got a prize at Cannes. Joan Baez sang it in Portuguese."
While later chicha groups were connected to the Peruvian highlands and gelled in the urban areas, Juaneco y su Combo was distinctively Amazonian and rural. Conan considers them to be one of chicha's great precursors. Starting in the 1950s, and continuing through the '70s, the Peruvian political leadership sought to distinguish its national identity from its early Spanish influences, by iconicizing folkloric traditions such as the Andean panpipes and the Afro-Peruvian urban sound. Chicha musicians rarely enjoyed official recognition, remaining marginalized by the Peruvian upper and middle classes.
Juaneco y su Combo continues to tour throughout Peru, and, in the past six months, is enjoying a comeback, with TV appearances and big club performances. With the upcoming release of Masters of Chicha, Vol. 1 and the group's growing stateside popularity, an international tour could be the next frontier.
Barbés Records' Olivier Conan found chicha music almost accidentally. In fact, the French Brooklyn club owner was looking for some musical inspiration on his travels to Peru when he stumbled upon tape vendors with a wealth of old tapes and enthusiasm for groups such as Juaneco y su Combo. He describes his discovery as something both intensely exotic and familiar at the same time; he felt as if he'd heard this before. Conan's musical journey brought him to produce the compilation The Roots of Chicha and to establish his own Brooklyn-based ensemble Chicha Libre, with a fresh take on the original chicha sound, to the delight of a young hipster audience.
With the support of Conan and its New York-based popularity, chicha is getting another moment in the globalized sun. Peruvians are beginning to take notice, whether through articles in the Lima newspaper, El Comercio, or by slipping into Barbés, Conan's Brooklyn bar, to groove to chicha on Peruvian Independence Day.
Out of the jungle, comes a hybrid music which becomes a cornerstone of Peru's urban music. A couple of musicians high on ayahuasca manage to draw from new sources and create a music with universal and timeless appeal. Most of the band dies in a plane crash, but the group manages to do the old phoenix trick, are reborn from their ashes, and, forty years later, become hailed and feted by an international coterie of hipsters.
Maybe the combination of ayahuasca bark and wah-wah pedals is the time machine for which many dreamers have been looking. With the latest chicha release, that sound is readily available. Yes, it's a small world after all, as small as your iPod.