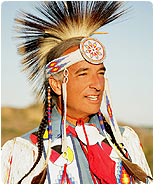 Hornet Nests and Little-Known Zithers: Earth Gift Evokes Lakota Spirit and America's Lost Resonances
Decades ago, when young Lakota prankster Charles Wise Spirit was constantly tucking snakes and hornet nests into his teachers' desks, he was saving something precious. By getting kicked out of every government boarding school in the region, he was saved from their "civilizing" influence. And Wise Spirit became one of the last links to the power of Lakota song.
Now, in a very different America, his nephew and master of the Lakota flute Kevin Locke brings this power to the world. Kevin has the help of producer and soundsmith Tom Wasinger and his menagerie of forgotten Americana, the eccentric instruments once found in many a 19th-century home. Little-known, evocative instruments like the marxophone (a hammered zither) and nail violin team up with the buffalo and muskrat of Lakota folklore on Earth Gift (distribution date: November 11, 2008, Ixtlan Recording Consortium), sparking a new way of hearing Native American music and a new way of understanding North America's contribution to world culture.
"We all have something very beautiful, very distinctive to contribute to this global civilization," notes Locke, a 1992 NEA Traditional Artist of the Year and 2000 recipient of a Native American Music Award. "It's like a great potlatch to which we all can bring gifts from our respective backgrounds, a great spiritual feast." Earth Gift is a gentle hint at what could be if Native American music is united with today's Americana. To some, it might answer the question: what if the film Oh Brother Where Art Thou included Native American sounds alongside the African-influenced chain gangs and eerie Gillian Welch murder ballad reprises?
Locke learned to play the Lakota flute, its melodies flowing from 19th-century Lakota tribal love songs, from elders he met as a young man. These respected bearers of tradition—most of whom were born in the 19th century—passed along more than notes and technique. "Our Lakota ancestors had prayers, hopes, dreams," Locke reflects. "They were persecuted for having them. Yet for me, when we use their songs, their music, and their dances, we can realize the fulfillment of these dreams on their behalf."
To make these aspirations resonate with a wider audience, Locke turned to Wasinger's unusual yet strikingly appropriate sonic palette. Wasinger draws new listeners into Locke's Lakota world by tossing aside the keyboard-laden, reverb-heavy approach that muddies the power of Native American music. He strikes a rarely-heard balance between the sounds of the Plains and the sonic possibilities of the songs.
Accompanying the flute and vocals performed by Locke and Lakota artists Douglas Good Feather and Gracie RedShirt Tyon, Wasinger plays everything from eagle feathers to overlooked instruments from the American past. The nail violin (a bowed set of tuned nails popular in the 18th century), the pianolin, the marxophone, and other once-commonplace variations on the zither, create a distinctly American sonic space that welcomes all types of listeners without the jarring effects of familiar European timbres. These wacky cousins of the autoharp, often sold by early mail order or door-to-door, hail from the same era as many of Locke's Lakota teachers and their songs, the late 1800s.
"If we make it strictly traditional," Wasinger explains, "we have a small palette of sounds to work with. I sought out instruments that, although they are not traditional to this music, complement the essential sound, and in some ways are more related than one might think. For example, I built one instrument out of resonating stone cut from this continent. Even though Native Americans didn't build resonating stone instruments, I feel I can use them because the sound won't draw you to another part of the world," the way a synthesizer or piano might.
Wasinger's collaboration with Locke fortuitously reinvents this musical era, combining Lakota sensibilities with other timbres of the period. "Tom has done a fantastic job of creating a more neutral ground where people can hear these songs as part of their own heritage," Locke recounts. "He's used sounds that don't tie things to a specific culture, tribe, or ethnicity. It really takes people into an area that transcends cultural specificity; place of universal appeal."
At the same time, the album's songs are strongly rooted in traditions honoring the animal and spirit world of the Lakota. Though many Lakota flute pieces evolved from songs detailing the affairs of the heart, Locke expands the repertoire significantly on Earth Gift, transforming vocal pieces from a thunder song cycle and an eagle vision song cycle, both learned from Charles Wise Spirit, as well as several Lakota and Meskwaki animal songs. "Some might think it's unorthodox to present the songs this way," Locke muses, "but I think it's good to use different ideas to get people's attention. The songs give a window, a snapshot into a whole different world."
The five songs of the thunder cycle, originally a set of fifteen songs, chronicle The Return of the Thunders, the revitalizing life force of spring, to the Plains. Thunder songs remain a vital part of Lakota life today and are still widely sung and appreciated. "Thunder is the force that symbolizes the power of life, the renewal of life in the world," Locke explains. "The Thunders retreat in the fall. Yet people are able to retain that force, that effervescence that needs to exist in the collective heart of humanity. The way we keep that spirit alive is through music."
Animal songs tell of a similar powerful connection and kinship between humans and the natural world: the wisdom demonstrated by animals ranging from humble muskrats, who point to knowledge of medicinal plants, to eagles, who represent the spirit of ascendancy, to the buffalo, the source of human prosperity on the Plains. "Buffalo Said to Me," a song given in a vision to Lakota elder Brave Buffalo, speaks to both the physical sustenance and the sacred wisdom that the buffalo grants. "Humankind had to depend on the buffalo and derive the entirety of their existence from them. If a group of people needs anything now, they go to Super Walmart. Back then they would go to a herd of buffalo," Locke smiles. "In this song, it's not just physical reliance, but also that the buffalo is symbolic of the spiritual blessings as well. We need physical things for our physical bodies, but we need divine nourishment for our souls to exist. This song invokes that supernatural world from which we derive the needs of our souls."
Locke shares his Lakota traditions not solely for the sake of preservation, but because he believes each culture has something to offer the emerging global society. "If we didn't make this recording, just a few people would hear these songs," says Locke. "Somehow I always think it is part of a heritage that needs to be released more widely into the world. We can find unity through the diversity of all of our cultures."
For Locke, the needs of our souls are inextricably intertwined with music, regardless of culture or heritage. Having traveled to more than 85 countries in his long career, and with a full performance schedule this November that includes a tour in Iraq, the musician and dancer has shared worldwide what he learned in the Dakotas with people who are hungry for the connection to something greater. Music is humanity's missing link: "Music is the device through which people connect with what is good, real, genuine," Locke reflects. "It's the medium through which people can connect themselves with all creation, with the hopes and dreams of their ancestors. And with the future."