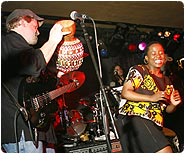 Crate-diggers, Demonstrators, Foot-tappers: Chopteeth, the Crazy Fools of Afrobeat, Call for Rhythmic Regime-Change in Washington, DC
Afrofunk band Chopteeth came from an unexpected place. Labor organizer and guitarist Robert Fox was mourning the sudden, heartbreaking death of a close friend in a car accident. "It was a terrible, terrible thing," remembers Fox. "I came back from this and thought, 'Wow, that could have been me!' It made me assess what's important in life." After some soul searching, Fox realized that beyond family and his work in the labor movement, there was another passion that he could no longer deny. He was seized with the crazy idea of forming and playing bass in a band that rocked like Fela Kuti in the 1970s, when the Nigerian superstar was weaving James Brown's high-energy funk and his own Yoruba musical tradition into pure Afrobeat gold.
The labor organizer got to work. His first recruit was guitarist and songwriter Michael Shereikis, a Peace Corp returnee who cut his musical teeth in a remote, politically fraught corner of the Central African Republic and on the stages of Abidjan in Côte d'Ivoire. Now musical director of Chopteeth, Shereikis has absorbed the pulse of African rhythms in his bones, sometimes transforming into a one-man syncopated band during rehearsals. "He'll simultaneously play the guitar line, keep time with cymbal and bass drum on either foot, and sing vocal and horn lines while the band works out a new arrangement," says Fox. "Some people have perfect pitch. Michael has perfect rhythm."
Gradually the current crew of stellar Chopteeth musicians came into the fold through word of mouth and well-placed ads in the local weekly. It is an eclectic group to be sure, with an age range spanning decades, three strong women to keep the men honest, and backgrounds from the American south to Romania, Kenya, and parts in between. Shereikis laughs: "If you plucked this group of people out of a hat and wanted to bet we were going to create a successful Afrofunk band, I suspect you'd get a lot of takers." But you might make a lot of money too, because somehow all of the players' diverse experiences--along with a heavy dose of mutual respect--come together and make it work.
The members of Chopteeth—a name that comes from Fela's song, "Jehin, Jehin," meaning "crazy fool" in Yoruba—began by cramming into small practice spaces to learn the inner workings of Fela's hypnotic groove. As the band stepped onto local stages, their audiences quickly grew and the reaction steadily intensified. In addition to classic Afrobeat, and with the help of some crate-digging, the band soon branched into a more pan-African repertoire, including classics from Ghana, Senegal, Kenya, and beyond, always keeping to that 1970s horn and guitar sound.
The vintage gems from Ghana, Kenya, and elsewhere endeared the mostly non-African group to a variety of émigré fans, from the Nigerian businessman who gave Chopteeth their first gig and introduced them to their Kenyan singer Anna Mwalagho, to the Ghanaian listeners flabbergasted by the band's true-sounding covers of old favorites. One fan from Ghana was absolutely convinced that the blond-haired Shereikis hailed from her homeland. "She came up to him and asked what part of Ghana he was from," Fox chuckles. "When Michael said he was from Illinois, she wouldn't buy it because his accent in Twi was too good. She just thought he was messing with her."
In describing the musical spirit of Chopteeth, Shereikis evokes the humid dance clubs where he first fell hard for African music: "My moment of first falling in love with this music came in the sweaty clubs of Central Africa. Going and having a few beers. A packed dance floor, with everyone grooving to the beat." This atmosphere returns at Chopteeth's live shows: "From the start we've played gigs at even the smallest clubs in DC. We'd spill off the stage and into crowd," Fox smiles. "We'll play anywhere."

Chopteeth began crafting its own unique brand of songs that gleefully draw on everything from salsa to soukous to Balkan-style time signatures. On their debut CD, "Chopteeth," this eclectic approach to composition takes the band from upbeat Swahili lyrics over a South African pulse one second ("Upendo"), to spaghetti Western-inspired instrumentals the next ("Herky Jerk"). True to the political essence at the heart of Fela's music, the band incorporates socially conscious lyrics into several Afrobeat-inspired tunes ("Struggle," "Weigh your Blessings," "Dog Days") and into a raucous collaboration with DC rapper Head-Roc ("No Condition is Permanent"), reminiscent of the Red Hot and Riot Fela tribute compilation which turned a new generation onto Afrobeat. In this same activist spirit, the band makes a point of playing in support of groups like Iraq Veterans Against the War and the Save Darfur Coalition, as well as at rallies for striking stadium workers in Baltimore, or parties thrown by the tongue-in-cheek Billionaires for Bush.
The Chopteeth movement reaches into the blogosphere as well, with The Afrofunk Forum, where band members run one of the few USA-based websites dedicated to Afrobeat and related genres. The site has attracted visitors from over 152 countries.
Restlessly searching for a new musical angle, Chopteeth invites collaboration with local and touring African musicians, like Sierra Leone's Refugee Allstars who popped into the studio for "Weigh Your Blessings." Shereikis sees the Chopteeth circle expanding ever further, becoming a frame of sorts for a much bigger picture, in which DC-area African musicians have the space and time to make art on their own terms. "In Africa, people get together every day," Shereikis explains. "There's no paying for practice space or having to commute somewhere to play together. You buy some food, play all night, and that's how you get to be an awesome musician in a great band." In their new homes in America's cities, African musicians often struggle to find places to rehearse and play, all while juggling several jobs. Chopteeth is working to change the game.
One good example of this collaborative spirit is in the bond forged with DC-area Malian griot and 2007 Grammy nominee, Cheick Hamala Diabate. Diabate was struggling to find a recording studio and engineer with whom he felt comfortable enough to entrust his next CD project. After performing together several times at Chopteeth shows, Shereikis stepped in and is currently producing Diabate's next album, featuring many of Chopteeth's musicians. In exchange, Diabate recorded "Wili Nineh" with the band, based on an old initiation song, calling for recognition of Chopteeth's contribution to the scene. The song calls out the band's name and band members, saying "These people may not have a father or mother. Nobody has spoken for them. But now they are of an age." "It was basically a nice way for him to say that Chopteeth may be a bunch of Americans, but they're playing this music respectfully and even moving it forward, so listen to them," Shereikis reflects.
By serving the musicians who inspire them—paying royalties and supporting African émigré projects—Chopteeth is about more than playing Fela. The band is about building a community, even if it's just for a few hours on a packed dance floor. "Sometimes when people first hear us live they have this furrowed look on their brow, as if they're wondering, 'What the hell?' Then there's this tipping point," Fox smiles. "You get halfway through the third song and suddenly, one person gets up, and then in a flash everyone in the room is moving to the same beat."