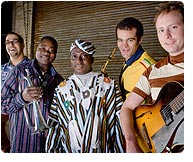 Brothers from Another Continent: Occidental Brothers Live the Highlife
The original western brother of The Occidental Brothers Dance Band International traveled from small-town industrial Michigan and the punk rock of Sonic Youth to a non-descript outbuilding of a small-town vinyl collector in Ghana. That might explain why guitarist and band founder Nathaniel Braddock taught his unknowing band how to play '80s classic "Bizarre Love Triangle," African style, which appears on their upcoming album Odo Sanbra and their 2009 tour.
"When we went to learn it, I didn't tell anyone but [lead singer] Kofi what the song was going to be," remembers Braddock. "The African guys had never heard of the tune, and everyone else had to learn it as if they didn't know it. Our saxophonist Greg Ward grew up playing jazz and gospel music, so he didn't know it either." Singer/trumpet player Kofi Cromwell and percussionist Daniel "Rambo" Asamoah were a continent away in their native Ghana playing with popular highlife band Western Diamonds when the song reached its peak. Braddock had been teaching a guitar class on '80s underground pop songs when he realized that the New Order song followed a similar chord progression as the older highlife Sikyi (pronounced SEE-chee) style he and his band were reviving.


Sikyi's fluctuating, lilting bi-chordal patterns are similar to what Braddock heard in the unrelated pop tune "Bizarre Love Triangle," and is what prompted him to demonstrate the symbiosis by covering the tune in the African style.
This honest undertaking of African music—not afraid to weave in band members' influences—is what has led The Occidental Brothers to develop an unexpected hybrid audience, from hipsters at the Pitchfork Music Festival to African expatriates, from public radio listeners to multi-cultural audiences enjoying local festivals in their homebase of Chicago.
At the same time, the band keeps it real. Rambo takes the band deeper into the African sound, with his characteristically unorthodox use of the high hat and kick drum rolls to his sophisticated manipulation of energy levels. He has the uncanny ability to send directional cues from the drums. "Nyenko" features the layered guitar playing of Braddock with a guitar-percussion duet at the end.
Many of the tracks pay homage to African musical styles from the early 1900s, particularly highlife and what Braddock calls the "brooding Ashante style of Sikyi highlife." The Sikyi brand of highlife can also be heard in "Mafiwo" and "Ne Do-Yefe," a favorite of Ghanaians in Chicago.
Having the voice of a Ghanaian highlife star in the band helps. Though he sings some tracks in English, most of Kofi Cromwell's lyrics are in Fante or Twi, both native Ghanaian dialects. More than just a linguistic contribution, Cromwell's vocal antics lend a distinct highlife flavor on tracks like "Odo Bra Wa Wa Wa," where his voice sounds at times percussive and crazy. And that's only a taste of the charisma he brings on stage, engaging audiences, blurring boundaries between performer and audience. The band regularly wonders onstage "What is Kofi about to do?"
"Yaa Amponsah" is an old Ghanaian song in the palmwine style, an early precursor to highlife. The song is attributed to Kwaw Mensah, an originator of palmwine who wrote the song as a tribute to the remarkable beauty of a woman he saw. Braddock learned to play the stripped-down, acoustic style from his travels a year ago to Ghana. There he discovered a former naval officer dedicated to collecting vinyl from Ghana and around the world as well as historic turntables and Victrolas. This kindred collector of all things musically-retro owns two of the only three remaining original 1928 recordings of "Amponsah" by the Kumansi Trio, which Braddock held in his hands.
Braddock mines these and other experiences of his travels for the tracks on Odo Sanbra. But his mental exploration into African styles actually began much earlier as a young, white kid in a small Michigan town. Born into an academic family in a town filled with Dow Chemical employee families, he says he felt like an outsider and was looking for an identity he could relate to. He was first turned onto the likes of John Coltrane and Sonic Youth, but then he and his brother started listening to the radio program Afropop. "I listened to the guitar playing, and I thought, 'Well, that's different. And I'm different. Maybe there is a match here.'" He continues: "It was a real miracle for me to hear that stuff. That's the thing that is so important about hearing these kinds of things. It gives you much more a sense of being a part of a larger world."
Later his travels went from aural to geographic. One of the most striking experiences he had occurred on his first day in Ghana, where he was introduced to the buses—or Tro Tro's as they are called—circulating around Accra. The track "Circle! Circle! Circle!" captures the chaotic atmosphere of Nkrumah Circle, the crossroads of the capital city. Rather than having signs on the buses, men hang out the side window and yell out the destination supplemented with hand gestures to give visual clues. In a rare blending of old music with new aesthetics, Yao Osofui joins the band in this track performing hiplife (hip-hop/highlife), complete with his growling rendition of a shoutout to the Tro Tro driver halfway through the song.
The Occidental Brothers' musical quality wouldn't be complete without the intuitive saxophone stylings of Greg Ward. The band relies on him for continued inventiveness, particularly in the absence of the hallmark second guitar found in most African popular music genres. "Odo Sanbra" showcases Ward's ability to provide African-styled counterpoint to Braddock's guitar, while "Ne Do-Yefe" and "Akwaaba" allow him to spotlight his jazz influences.
All of this adds up to a sound that for many audiences is both recognizable and exotic. The Occidental Brothers know that their musical mission goes beyond entertainment, but it enters people from the soul.
"It usually starts with people asking where Kofi and Rambo are from," says Braddock. "I tell them, 'Ghana' and they say, "Ghana! Where is that?" We start talking about the Gold Coast… and then they start to learn more about the world. It opens up people's minds and makes them citizens of the world, which is a cool thing. And important for Americans these days."