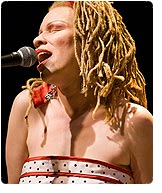 The Soul of M.:
The Musical Identity
of White Black Oneness
It's midnight in the studio. Flip on the electricity and just be moved, says the siren in honey-colored dreads. Hear the harmony of difference.
Even as an African-American albino, New York-based performance artist M. Nahadr has sidestepped the pitfalls of identity politics and cut straight to the soul: Everyone is unique and different. Once you see this fact not as a problem, but as real as the air we breathe, the entire world changes. You speak a different language. You hear sound differently. And you create music directly from intuition. That forces the listener to respond in soulful, instinctive kind.
EclecticIsM (LiveWired Music; April 21, 2009) is the embodiment of this transformation, the result of a decade of spontaneous expression, the product of feverish moments of musical creativity that emerged between M.'s work on large-scale conceptual performance pieces. It is a "string of jewels that reflect my musical being," in her words, a set of songs that range from spare improvisations to lush jazz ballads to funky pop anthems, all graced by the many visions and voices of M. and her startling multi-octave range.
M.'s intuitive engagement with music and art has produced major multimedia installations like her Off Broadway performance art piece "Madwoman: A Contemporary Opera," which chronicles the fractured yet uplifting experiences haunting a single, unique woman's consciousness, her conflict between the natural laws of her being, and the imposed structures of society. M.'s striking looks have graced major magazines from National Geographic to Elle and Maxim. Yet perhaps her most compelling achievement is the remarkable philosophy driving her art and life.
M.'s path as an artist began with a sudden, early insight into the unity of the human experience of difference—what she calls the "lowest common denominator." "I remember being really little, around three, and playing outside," remembers M. "I think I was ostracized. For what reason, I don't know. The teasing began because of my difference. I found myself in the bathroom looking into the mirror to see what they were mocking me for. What I saw was me. Because I didn't see an enemy, I discounted what was being said. And I have stayed in that frame of mind."
"I was a little girl that looked like Hayley Mills in The Parent Trap, living in an all African-American neighborhood in America," M. continues. "What I experience on Planet Earth as a person with albinism showed itself to be the oneness of one story told. Everyone has the experience of being different. Period. That's the lowest common denominator. Different, period." This is how M. speaks; one minute on solid ground and one minute orbiting alongside Sun Ra.
The musical implications of M.'s discovery emerged in an environment rich in music and singing. She found the beauty and structure of Western classical music thanks to her grandmother, while her mother's powerful voice filled the house. "Perfume, uniforms, and singing: That's what I remember. Singing away the blues. Heartfelt," M. recounts. "I don't know what you call it other than soul. Call it what you like, but it ain't that. It's a natural process like sneezing or coughing or crying."
Years later, "I took a credit card and blew it all on a keyboard that sequenced. I left home, came to New York," M. explains. "Got offered a record deal. Declined it. Declined it again. And declined it again. Met Sabir Mateen. Met Daniel Carter. And a slew of others. Musicians. Mentors."


Mateen and Carter, respected free-jazz musicians known in part for their contemplative performances on New York's subway platforms, inspired M. in their ability to find harmony in their differences and to hear free-jazz qualities in all music. "I learned freedom from them. They are both unique in themselves. And very opposite in their being, yet there is extreme love and respect between the two. They prove that difference can coexist and make music that is glorious."
"Free jazz is the mode of music I enjoy the most as an artist. My mentors taught me how music comes together in in-the-moment consciousness and how that song we know, that structured pop piece, is free jazz in its inception. It started somewhere, and it comes from out of nowhere just like those in-the-moment pieces." And even at her most pop, a nebula of dissonant, drifting sound floats behind M.'s beats, hinting at greater depth.
"In fact, I don't know the difference between improvisation and composition. I see the relativity in it so much. Improv is my best compositional mode. Because it gives me the greatest return." This return resonates on tracks created on the fly, such as the delicate yet focused "Starlight."
"I've also had experience doing typical New York session work. When producers ask you things like, 'Can you sing like Chaka or do this like Whitney?'… I go cross-eyed at what exactly they are looking for," M. laughs, though she can easily leap from the throaty grit of '70s funk ("Getting Up From Down Under") to the sultry subtlety of a skilled jazz diva ("Nevermind"; "Blue Morning Sunday"). "They would ask me to be completely not what I am, to remove any promise of anything that I am. I grew to understand at a deeper level, truly it is difference, not the albinism, not the gender. It is truly 'you are not I, and therefore I am afraid.'"
"I learned how to play with myself. I and I get along fine. And when there is no band around, or company I might keep with wonderful others, I take me, myself, and I and we go to work on this thing," i.e., doing her own late-night programming and recording. The "wonderful others" on EclecticIsM include free-jazz musicians like Grammy-winning producer/engineer and bassist James P. Nichols, conservatory-trained trumpeter Meg Montgomery (known as "Electric Meg," for her wild use of effects and pedals), former bass prodigy and current "bass medicine man" David Beasley and electronic musician Quynton Wright, who also happens to be M.'s son.
There was even a mystery guest involved in the spontaneous creation of EclecticIsM, a stranger who walked in, made their mark on "Blue Morning Sunday," and walked out: "Someone happened to be in studio and wanted to contribute. We never knew who that was. Whoever you are: We love you. Email us."
M.'s lyrics, like her music, flow from the subconscious, the instinctive, in what she calls "M. speak," a way of using language that is "probably subliminal but I haven't gotten down that far yet. Every now and then some truth peaks out of the lyrics and you get jabbed with something that sounds familiar to you personally." M. smiles.
"I need the listener to understand that this is a reflection of who I am as an artist and a writer and a vocalist. That each song is different in its construct, so to speak, but the same in its originator," M. reflects. "They show a certain harmony from one to another because of this. There can be such variation in what I consider the best of my work as an artist. Each one has a different tone or color, but all flow from the same source."