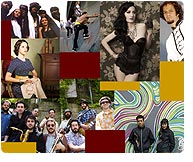 Funk Cubano, Cumbia Glitch, and Afrobeat Mayhem:
Miami's Heineken TransAtlantic Festival Shows the New Generation of Global Sounds
While the era of the mash-up only hit mainstream ears in recent years, unabashed hybrids have been the norm in Miami for decades. It's the hotbed of a young, club-crazy art scene. It's the playground of the East, perched provocatively on the Atlantic Rim, where centuries of commerce and migration have formed a crossroads that unites Africa, Western Europe, the Caribbean, and the Americas. Known locally as the capital of Latin America, Miami is home to a music festival that captures this soul and is making waves inland as it gains notoriety.

The Heineken TransAtlantic Festival, created by Miami's premier global music presenters Rhythm Foundation and which takes place throughout April 2009, showcases the city's peculiar position as the hip center of a whole new generation of global music: funk Cubano, cumbia glitch, Afrobeat mayhem, and the horn-heavy, hard-hitting sound of the city itself. This year's line-up features edgy Colombian roots rockers Aterciopelados, Yerba Buena songwriter and diva CuCu Diamantes, the quintessence of Staten Island soul - Budos Band, the brain-melting charm of Curumin, edgy Mexican jazz ingénue Ximena Sariñana, the wildly creative Buenos Aires electronica collective Zizek, and the nomadic guitar-poets from Mali's southern Sahara, Tinariwen.

"When I am imagining the artists of the Heineken TransAtlantic Festival, I see a kid who grew up in Bogota listening to the cumbia of his parents, while at the same time listening to Massive Attack," Rhythm Foundation Director Laura Quinlan reflects. "The same thing is going on with the Miami second generation. Their parents have Benny Moré on, but they are out in the clubs listening to trance. That's the focus of the Festival: the music that comes out of this kind of musician's imagination."

The Heineken TransAtlantic Festival is about more than simply presenting extremely cool music from the shores of the Atlantic; it's about creating a platform for collaboration in the middle of Miami's fractured cultural scene. "There are a lot of ethnic music festivals in Miami. Every country in Latin America has their independence festival," Quinlan explains. "And they are programmed to and marketed exclusively to those people. If it's a Haitian festival, every single person there is Haitian. If it is a Colombian Festival, the audience is all Colombian. It has always surprised me that there isn't more crossover."

Enter Rhythm Foundation, whose mission is to build cross-cultural audiences. The Heineken TransAtlantic Festival strives for another level of boundary hopping on top of bringing disparate communities together: to get the creative class and artists who put Miami on the map as a visual arts mecca to merge with the global music scene. "In Miami, there are lots of young people running galleries and clubs, or working in new media. We wanted to reach out to them."

That, along with talk that the world's future lay on the Pacific Rim, sparked the idea for a new kind of festival, one that focused on Miami's role as a nexus on the Atlantic Rim, the scene of so much history and cross-cultural interaction with an urban aesthetic. And the festival went from cool idea to Miami calling card.

Atlantic cross pollination is alive and well as the Heineken TransAtlantic Festival launches into its seventh year with a new crop of adventuresome hybrids, both local (with groups TBA) and global.

Aterciopelados: Aterciopelados manage to subvert all the assumptions about Latin rockers by playing music faithful to the rancheras, boleros, and salsa of their upbringing, while remaining wildly, musically creative and deeply engaged in social justice issues. Latin alternative with electronic overtones and a pychedelic, militant edge.

Budos Band: Budos is an 11-member big band - a jammy sonic groove of Afrobeat, Ethiopian jazz, and 1960s Stax-era soul. With the 2005 release of their self-titled debut album, the Budos Band officially joined the ranks of the Daptone Family and began to perform frequently as part of the Daptone Soul Revue, alongside many of the very acts that had inspired them only a few years before.

CuCu Diamantes: With family roots that stretch from Cuba to China, the gorgeous CuCu has been the female powerhouse behind Yerba Buena, the group that redefined Latin groove. Diamantes brings similar energy to her new solo project, combining jazz savvy and vintage glamour with the sly grit of New York and the pulse of tango, salsa, and Afro-Cuban beats. If Cucu and Yerba Buena had not been from New York, they would have been from Miami.

Curumin: Half Japanese, half Spanish, and 100% Brazilian, Curumin is one of the coolest young musicians in Sao Paulo today. Fronting a band that is as hard to classify as he is, his new music is a brain-melting charm of funk, tropicalia (Brazilian homegrown psychedelia), reggae and electronica. "Caetano Veloso fronting Funkadelic," writes Spin Magazine, and maybe then we get close. Miami audiences got a taste of the band in 2007, when they formed the backing group for new singing sensation Ceu.

Tinariwen: "Tinariwen capture the poetry and hardships of nomadic life and exile in hypnotic, modal vocals and a tangle of sidewinding riffs that sound like a mirage come true: Keith Richards, Ry Cooder and Ali Farka Toure picking side by side under an unforgiving sun," says Rolling Stone. Tinariwen are nomadic Touareg guitar-poets from Mali's southern Sahara. Their music carries the message of freedom and resistance among their people, and formed the soundtrack to the 1990 Touareg rebellions in Mali and Niger. Their sound is traditional tribal melodies transposed to electric guitar, mixed with blues, rock, pop, Berber and Arabic influences – a modern desert rock.

Ximena Sariñana: Mexico's answer to Nora Jones or Camille, Sariñana grew up in a family of artists in Mexico's film industry and has transformed her dramatic heritage into captivating songs that hint at rock, pop, and soulful jazz. In her very first year as a recording artist, Sariñana has managed to rack up an MTV Latin America Award, a trio of Latin Grammy nods, and a Grammy nomination for Best Latin Rock or Alternative Album.

Zizek: Genres are clashing in Buenos Aires' hipster enclave of Palermo, and everybody wins. Club Zizek, where DJs spin everything from baile funk to minimal techno to bastard pop, has spawned a homegrown collective of producers, MCs, and DJs, and new, only-in-Buenos Aires club genres like jungle cumbia and electro reggaeton. Glitch meets Argentinean glitz and grit.

Please note that Seun Kuti and Egypt 80 will not be performing at the festival, due to the cancellation of their U.S. tour.