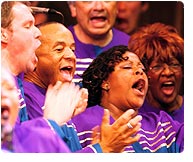 Kosher Gospel and Yiddish Punk:
The 24th Jewish Music Festival's American Ingenuity
An African-American Newark native's soaring gospel is grounded by the good-old-boy bass of a native Texan. A young Detroit songwriter returns to Yiddish in his adopted home of Berlin. Bluegrass and Bosnian. Classical piano and swinging vocal harmonies.
This is American Jewish music, the driving force behind this year's 24th Annual Jewish Music Festival, celebrating more than two decades of broad-minded programming on March 21-April 2, 2009 at venues around the Bay Area.
"As we imagined this year's festival, we specifically thought about an American orientation, to celebrate a new era in the country," festival director Eleanor Shapiro explains. "That's why we chose Joshua Nelson as one of our opening night artists, because his kosher gospel represents a new orientation towards being in the world that's not based on your past or what you were born into, but what you are becoming and what you can become in this country."
And American Jewish art is becoming increasingly aware of its plethora of global roots. "There are a lot of diverse Jewish cultures," notes Nelson, who grew up attending Newark's Sephardic congregations. "Most people think of European Jewish, but there are all types of Jewish cultures and customs, and they all have soul, much like Black culture. Both Black and Jewish people have been through hell. Soul comes out of having a bad experience and being able to sing about it. It's in cantorial chanting you hear in a synagogue."
Nelson's soulful interweaving of Jewish and gospel traditions will be backed by Austin's king of the Jewish bluegrass tuba and bass, Mark Rubin, and the Oakland Interfaith Gospel Choir, whose members follow a dozen different faiths and epitomize the spirit of progressive America. "At OIGC," says artistic director Terrance Kelly, "we agree to disagree. If we discuss our religion, we discuss with intent to inform, not to change." For Shapiro, the collaboration promises to do just that: "It is really about the music, about people connecting and understanding each others' traditions."
Finding a new, American way forward has been particularly fruitful for artists working in Yiddish, a language that's not lost or dying but is simply "eynzam," or "lonesome," as musician Daniel Kahn aptly puts it. Kahn grew up in Detroit but wound up in Berlin, where he founded The Painted Bird, a group that could easily be the punk house band at a cabaret mc'ed by Bertolt Brecht and Tom Waits.
Though Yiddish is often imagined as strictly Jewish, Kahn feels the lonely language has a universal relevance: "I started singing and translating Yiddish because I felt that this wealth of songs and culture had much to offer to me and the people I play for. They are songs I would have written myself, but couldn't. They are in a language that was denied to me by circumstance and history, but one which has much to do with us all," regardless of heritage. To mix things up, Kahn will be joined by YouTube star, beatboxer, and harmonica player Yuri Lane, whose one-man hip-hop show, "From Tel Aviv to Ramallah," chronicles Israeli and Palestinian life through body music. Festival organizers are leaving open to fate what transpires on stage between the two.
In another fresh look at Yiddish song, Toronto-based native Yiddish speaker Lenka Lichtenberg, an avid performer and composer, created The Sisters of Sheynville, a vocal sextet whose silken harmonies hearken back to the golden era of Yiddish swing and who were voted Canada's top folk vocal group for 2008. The Sisters will be joined by Bay Area gypsy jazz darlings, Gaucho.
While encouraging new approaches to Jewish music, the Festival honors the pioneers of American Jewish music who laid the groundwork for today's innovators. Flory Jagoda, who grew up singing the Ladino music of Sarajevo and came to the United States as the wife of a serviceman, wrote some of America's most beloved Jewish songs, such as "Ocho Kandelikas," a song so strongly associated with Chanukah that many mistake it for a folksong. Now in her eighties, Jagoda is an NEA National Heritage Fellow who will share her decades of songs and memories from Bosnia and her adopted homeland.
Fellow émigré Ernest Bloch, a classical composer originally from Switzerland, had a powerful impact on his new home the Bay Area, where he taught and wrote numerous works. The Festival will honor the 50th anniversary of his death, his yahrzeit, with a "Bloch Party:" a concert of Bloch's stirring chamber music performed by The Bridge Players, and a performance of Schelomo, by the Young People's Symphony Orchestra, featuring Julliard professor and cellist, Bonnie Hampton, a student of Pablo Casals. Other orchestral works at that event showcase piano prodigy Chloe Pang and violinist Jeremy Cohen.
While highlighting the roots and new shoots of American Jewish music, the Festival passionately pursues several key traditions. It puts artists who should know each other but don't together on stage to see what sonic sparks fly. It takes Festival artists into Oakland schools and to broader mixed audiences. And last but not least, it closes with a family-oriented community dance party, complete with the annual "instrument petting zoo," a kid's concert, a beatboxing workshop with Lane, Balkan/Jewish brass grooves courtesy of the Bay Area's Brass Menažeri, and even dance lessons to help the audience channel all that frenetic energy into a thumpin' good time.
"The Festival continues to combine the past with present to create something new, to combine the traditions and pasts of various people," Shapiro reflects. "That's what we are about: looking at the part of the Jewish tradition that is deeply humanist and prophetic and deals with the possibility of change."