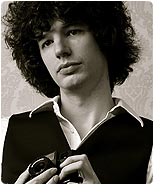 The Taste of a First Kiss: The Smoky Tango and Sultry Boleros of Buenos Aires' Federico Aubele's Creative Songwriting
"It's such a vast and huge theme, love. You can approach it in different ways," reflects Buenos Aires-born songwriter and guitarist Federico Aubele, whose new album Amatoria will be released by ESL Music (May 19, 2009). "Love is such an important thing for every human being, whether we notice it or not. We all experience it at least once in life. It's one of the few things, along with dying, that is guaranteed to happen to you."
Way back in 1 BC, the original Latin lover wrote the Western world's first guide to picking up women Roman-style, Ars Amatoria, the Art of Love. Fast forward two millennia, when Aubele is swiping pages from Ovid's playbook, by way of smoky tango bars and the sultry heyday of Mexican boleros in the 1940s, and falling hard into the acoustic yet lush Amatoria. In fine Pan-American style, the final impetus for the album came thanks to an all-love-song compilation of classic Johnny Cash.
One day, while talking with his wife and sitting at a wildly out-of-tune piano, Aubele accidentally bumped four keys with the cup of tea that was in his hand. "A nice melody came out, but since the piano was so out of tune, each key was not the right note," Aubele smiles. "I saw that the tea bag had a message on it, which said 'Let Good Things Come to You.' I said, 'That's it!' I went up and played the riff on my guitar and started developing the melody." The result became "Luna y Sol," a song that chronicles the union of male and female, the joining of two separate lives.
Aubele heard love in boldly eclectic yet elegantly spare arrangements. His new compositions hinted at reggae. They had a touch of old-school, down-and-dirty tango. They flowed from the melodic essence of the Beatles, who took Buenos Aires by storm, leaving their imprint, though with a distinctly Argentinean creative flavor.
But the spirit of bolero, especially the rough-and-ready, heartfelt ballads of the 1940s, formed the backbone of Amatoria, harkening back to Aubele's childhood in Buenos Aires. Aubele's mother was constantly playing records of tango, boleros, and bossa nova, including classic groups like Los Tres Ases. A musician at heart, she played guitar and would wake Aubele up for school with a traditional Spanish song.
As Aubele's own music developed through rock to dub, Aubele's confidence and songwriting maturity led him back to the songs he heard growing up. He started tracking down old gems and savoring them, and soon came to love the style, as well as the Spanish language's ability to express romance. He began creating songs with roots deep in the Latin sounds of his childhood but in the rhythmic aesthetic and sonic inflection of his own generation.
"Hermosa" is a straight-forward Mexican-style bolero, but with an Argentinean accent. "The lyrics are a very straightforward love poem about a very intimate moment," Aubele explains, "imagine two people hugging in the night, with the moonlight coming through the window." "Este Amor," sung with Natalia, Federico's wife, is dedicated to her and is a tribute to the great bolero trios of the past. "Your inspiration always comes from your internal world and your feelings. But you expose that through your art in a way that other people can connect with. That's where it starts becoming universal."
Though a darling among wry hipsters, Aubele is an unabashed romantic, open to the inspiration that comes from staring at the moon on a Spanish night (the Gypsy inflected "Suena mi gitarra") or at the face of a peacefully sleeping lover. Even as a teenager, when not jamming to the Ramones and the Stones, he loved the jazz ballads of the big band era and thought it was the perfect soundtrack for a romantic moment. "I would make mix tapes with all those songs," Aubele recalls. "But I didn't have anyone to share it with, because all the girls my age were not into jazz at all. I would listen at home in my room alone, and think, 'This kind of sucks.'" Now with his own confidence built from experience, musical and personal, Amatoria reveals Aubele's voice as relaxed and in the mood, with no reservations.
While a handful of tracks focus on love's suckier sides—the breakups, breakdowns, and bittersweet moments in the slow burning tango of "Otra Vez"—Amatoria is overwhelmingly sensual, drawing on the tradition of Spanish erotic poetry and evoking the taste of a first powerful kiss (on "El Sabor"), and very intimate.
This intimacy shines through the grounded and delicate production, which focuses on Aubele's guitar and voice, as well as that of guest vocalists like Sabina Sciubba (Brazilian Girls) and Miho Hatori (Cibo Mato). Aubele stayed away from keyboards, generating all the ambient sounds with his guitar and effects, and from electronic beats. "I wanted to keep things simple and balanced, with the exact amount of elements. I took out whatever was not completely necessary. Over time, I could feel what was really needed and what did not need to be there."
"I never start when I am recording a song, by recording a beat," Aubele explains. "I start by writing a song you can play on guitar and sing. On top of that, you can build whatever you like, leave it acoustic or bring a whole orch. Because the song is solid. If it's solid, it's going to stand by itself."