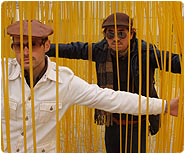 The Catalysts of Coconut Rock: Ocote Soul Sounds' Creative Mutations and Funky Beats
Just a sliver of the ocote wood starts a blaze. A few pieces of this pine was all Martín Perna needed to get his cooking fires started in a small fishing village in Michoacán, Mexico. It was there that Perna—known for founding Antibalas, the NYC collective that sparked an Afrobeat revival—found a new direction.
"For several years, I'd spend time in this little fishing village," Perna recounts, "living, writing, and doing a lot of green building. People would hear I was a musician and ask me to play some music. It was kind of difficult. What do I say: I play baritone sax, which I left in NYC, with this fifteen-piece band. If I play you some of my music, it's not going to make sense," Perna recalls. "I started thinking about what it means to be a musician and having a wide enough repertoire that I didn't need fifteen people to play. So I learned how to write for the guitar."
Yet it wasn't until a mishap on a biodiesel cross-country trek that Perna found the perfect vehicle for this new sound, and the perfect musical partner in Adrian Quesada, of the Austin-based super-group Grupo Fantasma. The result was Ocote Soul Sounds. The grit and funk of the gridlocked NYC streets intersect seamlessly with the voices and rhythms of dusty Latin American lanes on their latest album Coconut Rock (ESL Music; release: June 23, 2009).
Perna and Quesada had lived in eerily similar parallel universes. Though Quesada grew up in the Texas border-town of Laredo, and Perna came up in Philadelphia (later New York), both musicians straddled borders literally and artistically. Both had grown up on hip hop and the jazz and funk it was built on; both taught themselves to play multiple instruments; both had founded game-changing, booty-shaking big bands; and both were deeply moved by a powerful spirit of social and political activism, the spirit of ocote.
Ocote, the Nauhatl word for pine, is key to starting fires, the fires used for cooking and heating across Mexico and beyond. A tiny handful, and even damp pieces of wood ignite, Perna says. "And I like that metaphor. I have always seen my role in whatever I do as a catalyst. We're not the big log burning that everybody sees. We are the one that gets it started," whether it's the current Afrobeat craze fueled by Antibalas, Quesada's initiative in Austin to help improve the lives of the city's musicians, or Perna's founding of NYC's first biodiesel factory.
Years ago, Perna converted his station wagon to run on restaurant grease and journeyed from Brooklyn to Mexico, making a brief stop in Austin to meet Quesada, a friend of a friend. The two began playing around with some song ideas, and things really clicked. But after a few tracks, Perna had to hit the road.
The return trip gave an unexpected boost to the collaboration. "Martín's car broke down and started having all sorts of problems. He had to drive from the Mexican border at 20 miles per hour, and then got a tow all the way from San Antonio. So he got stuck here and stayed with me until he could fix the car, which took a while because no mechanic would touch it back then. And we finished the first album," Quesada smiles.
The musical partnership continued, because, as Quesada explains, "It fit like a glove: I'm the rhythm section, and Martín's the horn section." Both have dozens of song ideas and sketches floating around—from melancholy cumbias to funkified Latin descargas—just waiting for the right rhythmic tweak or melodic twist. "That's how a lot of our songs work: We'll have these parts that are good but unfinished, and then the other person adds the elements to make the song whole," Perna notes.
Perna had been working on one song on Coconut Rock, "Vampires," for years, recording demos with friends TV on the Radio and the Yeah Yeah Yeahs, but feeling like the song could go further. So Perna and Quesada tackled the song, a critique of capitalism inspired in part by the shocking greed and gentrification that overtook Perna's Brooklyn neighborhood in the aftermath of September 11, 2001. On that day Perna left the World Trade Center right before disaster struck and discovered his mother was suffering from cancer. "After we finished that song, I feel like I don't have to make another musical critique of capitalism ever again," laughs Perna, who is spending 2009 on the Atlantic Coast of Nicaragua.
Since that biodiesel breakdown evolved into the first album, Ocote Soul Sounds has expanded to a seven-piece live outfit, bringing in close friends as well as long-distance collaborators. The result is what Perna calls "a community feel."
One such collaborator, Brazilian vocalist Tita Lima, is featured on the psychedelic Latin jam, "Vendendo Saude E Fé" ("Selling Wealth and Faith," a Brazilian folk expression of hope and optimism). "Tita and Adrian have been in touch for a while. She recorded one of his songs a while back with her own group, even performing it on Brazilian television. For "Vendendo…" he sent her the instrumental, and waited, and waited, worried that we wouldn't make the deadline. Finally, when she sent some demos back, it was butter!"
Ocote Soul Sounds is a great change of pace for two leaders of big, sprawling, democratic bands: "Ocote is more experimental. It's a bit more psychedelic," Perna explains. "Both Adrian and I are on same page creatively, and it's nice to work really fluidly like that," compared to the slower creative process of getting the twelve musicians of Antibalas to agree, something akin to "Congress trying to pass a budget," as Perna playfully puts it. Quesada draws on his experience working with Prince, with whom Grupo Fantasma has performed with from L.A. to London over the past two years. "Working with Prince was one of the biggest turning points for me as an arranger," recalls Quesada. "We were able to watch Prince's attention to detail in his craft. He would listen to the whole thing together and then break it down section by section, separating the parts, only to build it back together again, but much stronger."
Ocote Soul Sounds' fantastic realism draws on everything from the writings of Chicano right activist and psychedelic cowboy author Oscar Zeta Acosta ("Revolt of the Cockroach People") to Cuban children's rhymes about the boogeyman ("El Diablo y el Ñau Ñau"), featuring lyrics by Chico Mann (a.k.a. Marcos García of Antibalas). "Prince of Peace" is all about "a messiah coming back to town looking like Sun Ra, with this giant raucous marching band strutting down the streets."
A strong political message flows through the wild images: The boogeyman might be about to snatch you off to a secret Homeland Security prison, and the Second Coming is all about justice. "Pan, Chamba y Techo" calls for the basic necessities—bread, work, a roof, and water—that we all have a right to, "the basic human rights all governments should provide," Quesada notes.
"Ocote Soul Sounds in many ways is an expression of cultural identity, the stress and beauty of remaining authentically connected to all of the strands of culture which make us who we are," Perna explains, and this is about something far deeper than cultural diversity; it's about tapping into crucial creativity. "To paraphrase Einstein, we can't solve problems using the same mentality that created them. It will be the creative innovations and mutations that provide solutions and survival strategies for the times ahead. At the same time, all this must be done to a funky beat."