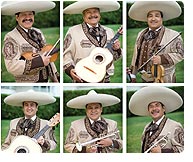 Human Jukebox of the Revolution: Mariachi Real de San Diego Get the Party Started With Long-Lost Mexican Gems
Gunslingers and gadflies. Campfollowers (not cockroaches!) and cowboys. Birth, love, and death. All in a human jukebox that makes the women sigh, the men holler, the children squeal, and the dogs bark. This is old-school mariachi, the troubadours of Mexico's revolution and one of North America's most beloved party traditions. This spirit burns true in Mariachi Real de San Diego, who restore mariachi music's forgotten chestnuts to their rightful place at the fiesta on Mariachi Classics (Mardi Gras Records; June 2, 2009), in a lush acoustic set that will capture the hearts of even the most ardent mariachi cynics.
"When the mariachi starts, everyone starts making noise," Pedro Gonzalez—group founder and vihuela player—chuckles. "You'll even see guys riding a bucking bull at a rodeo who start shouting and singing straight from the heart when they hear the mariachi play."
Mariachi Real are on a mission: To find and play the good old songs many groups have forgotten. Mauricio Gonzalez, the group's guitarron player and Pedro's son, has riffled though record bins in Tijuana and traded choice finds with a small but dedicated group of hard-core collectors in California and Texas in search of these gems. "Traditional mariachi is a window into the past. For me, music has always been so powerful because of the energy and emotion it transmits," Mauricio reflects. "And mariachi has such strong emotions in it. You play it when a kid is born, and throughout his whole life. The mariachi is always there."
At first, Pedro advised his son to protect the music he had uncovered, the product of so much hard work. But Mauricio had to share and soon had the group's veteran mariachis scratching their heads. The older members, including one musician who once starred in a rodeo show, wracked their brains to recall songs like "Jugueteando," a classic from the founding fathers of modern mariachi, Mariachi Vargas, or "San Diego," a norteño tune once popular among the older generation of mariachis but rarely recorded, and certainly not recorded recently. "They told me, 'We haven't played that stuff in twenty years!'" Mauricio laughs.
Digging deep into mariachi's neglected repertoire, Mauricio, Pedro, and the four other musicians of Mariachi Real have found a multitude of tunes that once defined their art, the bygone classics old folks still ask for at house parties. "The best parties keep us on our toes. We have to dig into the well of repertoire," Mauricio smiles. "My dad knows the older people there will ask for something that makes him think back to his youth to remember the lyrics. Many times people have pulled us aside and said, 'I have asked mariachis to play this for years and you guys are the only ones to play it.'"
Mariachi music may kindle images of straw sombreros, margaritas, and Cinco de Mayo parties for many Americans, but its roots lie in revolution and the wild and heady days following the populist uprising in the early 20th century. "The mariachi tradition goes back over a hundred years," notes Mauricio. "It came from the people, it came from the hills, from the ranches. It was a different lifestyle then."
Songs like "La Periodista," which chronicles the transformation of a village busybody into a revolutionary town crier, and even everyone's favorite "La Cucaracha," which tells the tale of a nimble female camp follower and not a bug, hearken back to the country's rough and tumble history. "Many polkas and songs came from the revolution. Musicians wrote and dedicated them to some of the revolutionary concepts. Some have dates. Some are named after female colonels. Every time something would happen, they would compose something for that moment."
Though they wrote the soundtrack for a new era in Mexico, mariachis and other musicians' lives were truly tough. Though now mariachi schools have sprung up around the U.S. with formal instruction and sheet music, the musicians in Mariachi Real picked up mariachi from listening, playing along, and getting stern correction from their elders. "You learned on the fly," Pedro recalls. "When I was learning, if I hit a sour note, the older musicians would reach over and strike my hand with a bow." Pedro learned his first chords and songs from his grandfather, who immigrated as a teenager to Los Angeles, and eventually passed on his love and knowledge to Mauricio.
Walking or hopping cattle trains to get to their next gig, early mariachi groups often got way more than they bargained for from patrons. "Sometimes, groups would go to parties and the man in charge, a politician or whoever, would make them play after the party ended. They had to keep playing for hours," Pedro explains. "So here's what they would do: They had a seven or eight piece group. One by one they would sneak away and run like hell, while the rest of the band kept playing; until finally all of them got away. Sometimes there were gunfights. One of my trumpet players saw his uncles get shot to death. He tells the story of taking out his trumpet and blowing it into his uncle's ear to see if he was really dead."
When not forced to serenade local bigwigs or dodge bullets, mariachis were doing what groups like Mariachi Real still love to do—to get the party started at major rites of passage, celebrating birthdays with songs like "Las Mañanitas", marriages, and even deaths with songs like "Las Golondrinas." These two songs frame Mariachi Classics reflect the central role of mariachi in people's lives. "I don't care how poor people might be. They will always have mariachis at birthdays and wedding parties, and even at funerals," Pedro explains. "We'll play in church, do a Mariachi Mass, play at the gravesite, the songs the person used to like. Then we'll go to the wake. We're celebrating life."
Like their stalwart predecessors, the broad smiles, perfect harmonies, and spotless charro suits of Mariachi Real belie this working band's disciplined commitment, which flies in the face of the stereotype of the hard-living, hard-drinking mariachi.
"You've got to have mariachi music in your blood," Pedro exclaims. Mauricio likes to recall how his mother noticed he always jumped around in utero every time mariachi music started to play. Though skeptical of his father's music at first, Mauricio rediscovered his passion for mariachi in college and soon he was hooked.
You also need to be a veritable live jukebox, able to whip out a requested song at a moment's notice. "We know about 3,000 songs," Pedro estimates. "We could play eight hours straight without repeating anything."
With a strenuous gig schedule that has made Pedro's wife "a mariachi widow" as she humorously puts it, there is no room for sloppiness or moodiness, an approach Pedro credits to his service in the Marine Corps and his early mariachi mentors. "Sometimes, I would have problems at home or stress at work. And I'd show up to play, and one of the older musicians would always pull me aside and tell me that no one cared about my problems," Pedro remembers. "We were there to be professional. He made me smile and taught me that we're mariachis and we deliver what we're hired to do." Pedro singlehandedly changed the mariachi scene in San Diego County applying this strong discipline, emphasizing punctuality, honor, and a strict dress code. Other mariachis in the region have now followed suit.
Moving everyone from nostalgic grandmothers to Chuck Norris and Betty Ford, Mariachi Real's music gets them through the challenges of a working band while inspiring a deeper understanding of Mexican culture. "You have to have a lot of patience and trust," Mauricio muses. "It can be tough to deal with the crazy wedding coordinator or the drunk uncle who wants to come up and sing. Or with someone who doesn't have an understanding of music, who mocks you a bit and requests 'Frito Bandido' or something. But you're working. It's fun. You're getting paid to play music, play something you love."
Mariachi is a living music, always changing and picking up new ideas and songs. But one thing doesn't change: The mariachis' unswerving presence at life's milestones. "There might be a gap between the old mariachis and new kids here in the U.S., but when these kids grow older and have families, they will want mariachi for their functions," Pedro reflects. "They know the music and the culture and they like it. Mariachi will be at every party and event. I don't think we will lose our culture, ever."