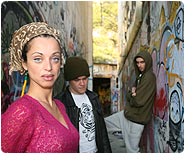 PIRANHA Musik presents:
Watcha Clan, Diaspora Remixed.
Marseille 2 New York, London, Belgrade, Vienna...
Watcha Clan are a fierce posse of musical nomads, their multi-ethnic, multi-groove infusions whip audiences into a dance frenzy, regardless of where in the world W-Clan happen to be on their never-ending tour trail. Along the way they've met talented DJs, fellow musical travelers on dance floor journeys. Friendship and mutual inspiration blossomed,communicated in the languages of dub, ragga, reggae, drum'n'bass and electro, sung to melodies traditional or modern,with arabic and Mediterranean flavorings. Following up on their award-winning album on Piranha Musik, Diaspora Hi-Fi,Diaspora Remixed is Watcha Clan's tuneful travel diary, documenting these encounters in descriptive sound chapters. The authors include pioneering London collective Transglobal Underground, Balkan breakbeat maestri and kazoo virtuosi Shazalakazoo, EarthRise SoundSystem (NYC), Viennese sound-spice mixer Dunkelbunt, Dj Click (Paris), Gaetano Fabri (Brussels), BalkanXpress Soundsistema (Cologne), Spark (Berlin), Undergang & Mars Exist (Marseille), Barrio Populaire(Hamburg) and Stratman (Athens). Each give Watcha Clan's music a new, individual interpretation.