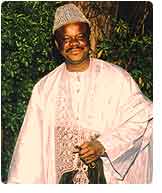 The Old School Lobbyist, Griot Style:
Mali's Cheick Hamala Diabate Holds Court in Washington, DC on Ake Doni Doni
Washington may be chock-a-block with lobbyists and consultants, but only one of them rocks the n'goni, the West African plucked lute covered with animal skin. He advises presidents and the World Bank. He's played for everyone from a struggling couple trying to save their marriage, to the U.S. Congress. He's hobnobbed with American string and Blues legends—from Bela Fleck to Corey Harris—and along the way reunited his beloved instrument with its long-lost grandchild, America's banjo.
And now he's taken Malian music global thanks to a unique African music incubator on the outskirts of Washington, DC, where he has gathered together friends and family, including bluesman Corey Harris, members of DC's Afrofunk big band, Chopteeth, and his daughter and nephew, to form a creative community brimming over on his newest release, Ake Doni Doni - "Take it Slow" (Grigri Discs; August 11, 2009). His name is Cheick Hamala Diabate, and he's got something to tell you.
"The music we griots play is not just about making nice sounds for dancing, it's about giving a lesson to people about their lives. You tell them about what their grandfathers did, and what they should do now," explains Diabate, whose griot roots run deep as first cousin to kora master Toumani Diabate, and nephew to legendary Super Rail Band guitarist, Djelimady Tounkara. "People trust the griot more than anyone else."
As the resident griot of DC, Diabate happily takes on a very traditional role in his adopted home where he has lived since 1995. He still earns his living the old-fashioned way—by praising notables and legitimizing leaders, garnering generous rewards for his songs. Diabate praises Mali's president, Amadou Toumani Toure, on "A.T.T.," an ode to Diabate's friend and admired patron, who Diabate never misses a chance to introduce at diplomatic events at the Malian embassy. Told to an ancient tune on the hunter's harp, "Baba Sissoko Dabia," expresses Diabate's admiration for mysterious businessman M. Foutanga Babani Sissoko, whose legendary wealth and generosity have raised as many hopes as they have eyebrows.
But a griot who only praises is not whole, and Diabate's other main charge is reminding the community of its mores and values, and criticizing society when people get out of line. He's part op-ed columnist, part foreign correspondent, and part therapist, applying wise Malian adages about the brevity of life and the importance of education to the lives of immigrant families and diplomats alike.
Diabate tells the sons and daughters of Malian families to step up and do something for themselves in "Wanto Doke," transferring the traditional grooves he would play on the n'goni or kora to the guitar, which Diabate plays left-handed and upside down. He calls for young people to slow down, stick to their roots, and control their impulses to avoid contemporary miseries like HIV on "Ake Doni Doni."
Yet Diabate lives in the U.S., and so his message is often tailored to Malians living overseas, chronicling the difficult immigrant experience and reminding ex-patriot Malians of their roots and culture. "People in Africa think the money grows on trees here," Diabate laughs. "You work very hard but you have thousands of family. After you pay your rent here and get a chance to eat, the rest of the money you send to them to help them. But they don't understand." Diabate wrote "Tounka Mani" to debunk this myth of easy living overseas and help his fellow Malians better understand life in America. He wrote "Mali De Nou" to remind Malians of the beauty of their country, and that life abroad is not necessarily the answer to their problems.
Though Diabate may stick to the old-school roles of the griot, his music embraces the panoply of sound he discovered in America, taking him beyond the traditional trio of griot instruments: the n'goni, kora (gourd harp), and balafon (wooden xylophone). Indian tablas pulse on several tracks, playing the role of the calabash (overturned dried gourd), while an accordion interplays with the overtones of the balafon's resonant gourd. "It's about being open to new ways of evoking the tradition," explains Michael Shereikis, producer and member of Chopteeth, an Afropop-inspired band that also strives to support and encourage local African musicians by performing and recording together.
Diabate's experiment in sound unfolded in Shereikis' garage, which doubles as a studio and musical incubator for the vibrant community of DC African musicians. Shereikis spent years doing fieldwork in Africa, and now is applying those experiences within the African community in DC. "I've tried to create a space where musicians aren't on the clock, and don't have to struggle with the language and cultural barriers they encounter in most U.S. studios. I want creativity to be king." Shereikis notes that, "Cheick felt relaxed and able to develop his sound. I just listened to him and did what he wanted musically. When lightning struck, we could jump on it, whether in the middle of the afternoon or middle of the night. For most African musicians in the U.S. or even back home, this kind of freedom and space simply doesn't exist when recording."
Long before Diabate met Shereikis for sessions in the garage, he was exploring the connection between America's traditions and his own griot roots. Like many American string players, including Bela Fleck with whom Diabate has collaborated and performed, Diabate noticed the eerie resemblance of his trusty n'goni and the banjo. In 2007, Diabate's collaboration with banjo player Bob Carlin, "From Mali to America" (5-String Productions), led to a Grammy nomination for Best Traditional World Music Album. Yet while many American musicians have traveled to West Africa or picked up the n'goni—thanks in part to Diabate's introductions and instruction—few African musicians have explored the possibilities of the banjo.
Until Cheick Hamala Diabate. Diabate has come to love the instrument, which shares tunings with the n'goni but which he often plays without a pick, using his carefully groomed nails. "When I got the chance to come here and see how the banjo came from the n'goni, I was very happy to get a chance to play it," Diabate exclaims. "When I play banjo, it looks like I have been doing it for a very long time. It feels right. And I am so excited to bring the banjo back to Mali and teach people something new."
Despite his love of new sounds, Diabate knows that the griot remains the same, regardless of whether he's singing under the Washington Monument or in the shadow of a Bamako minaret (both of which are pictured on the album cover). "When someone is lazy, they see the griot and change their ways. The griot gives you the way you have to go," Diabate muses. "Even the president never makes a decision without the griot."
<< release: 08/11/09 >>