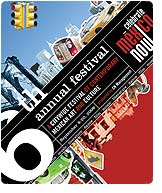 Transnational Divas, Revolutionary Heroes, and Global Méxicanidad: Celebrate México Now! Brings the Sights, Sounds, and Flavors of Contemporary Mexico to New York in September
September 8-20 Multi-Disciplinary Festival Includes Joe's Pub, Smithsonian National Museum of the American Indian, Joyce Soho, NYU's King Juan Carlos I Center, School of Visual Arts, Walter Reade Theater, and More

They hail from posh corners of Mexico City or tiny villages in Puebla, but make art in Williamsburg and the Bronx. They started out as folk artists but joined the transnational avant garde. They're rethinking a complicated past and reframing their future as artistic global citizens. They are the diversity of Mexico that goes beyond the stereotypical variations in regional custom and culture.

They are the artists of this year's Celebrate México Now (September 8-20; www.mexiconowfestival.org), contemporary voices reflecting the music, film, dance, literature, and cuisine of America's closest and least understood neighbor in collaboration with venues across New York.

"We're trying not to present just one Mexico, with its North and South, East and West, and so on," explains Festival Director Claudia Norman. "We're basically trying to present something that isn't definable, something that extends into Mexico's past and across borders into cultural hotspots like New York. For the last 15 years, there has been a huge migration of Mexicans to NYC and part of this huge migration, a big but often overlooked portion, are professionals and members of the arts community. They have come here and developed their artistic careers critically contemplating their heritage while transforming it into global culture."

This year's Festival traces this neglected stream in today's Mexican culture by embracing everything from the silky Latin jazz of Magos Herrera; the electronica-twinged pop of Guadalajaran transplants Sweet Electra; a family-friendly fandango hosted by Radio Jarocho; a reading by chronicler of elite Mexico city teendom Liza Monroy; winning shorts from the Morelia Film Festival and a film exploration of Revolutionary history, El General; cutting-edge dance by Carlos A. Cruz Velázquez and colectivodoszeta; and finally an entire Mexican Restaurant Week with more than twenty-five restaurants highlighting Mexican cooking rarely seen north of the border.

Magos Herrera (September 11; Joe's Pub) and Sweet Electra (September 13; Joe's Pub), though emerging artists here in the States, both have wildly devoted followings in Mexico and have both moved to New York to explore new musical avenues. And both work outside the standard vision of Mexican music. Herrera's aching, sultry Latin jazz vocals in English, Portuguese, and Spanish draw on a hemisphere of repertoire yet with a clear, contemporary edge. Sweet Electra, who debuted in New York at an earlier Celebrate Mexico Now! Festival, first honed their bittersweet dancefloor beats in their native Guadalajara but loved the city so much, they decided to move here. When We Abandoned Earth, their latest release, which will be feted as part of the Festival, draws intensely on the sounds of their new home, the hipster grit and glam of Williamsburg.

Rural or traditional Mexican artists have found themselves drawn into a similar dynamic, moving their art from the village or folkloric stage to new spaces with new meanings. Radio Jarocho (September 12; Smithsonian National Museum of the American Indian) takes the rollicking music of Southern Veracruz and turns it into a folksy journey for fandango fans of all ages in an afternoon of partying with a purpose: to keep the sound of son jarocho alive far from the towns, musicians, and swampy countryside that created it.

Choreographer and Puebla native Carlos A. Cruz Velázquez (September 17-20; Joyce Soho), once a principle dancer with the esteemed Mexican Folk Dance Company of the American School of Puebla, has followed the same route as many other contemporary Mexican artists—moving to New York to pursue his art—and yet has come to a different destination. Cruz Velásquez creates contemporary dance pieces that explore notions of beauty and transformation while keeping a hint of the spirit of Mexican dance he has felt since he began dancing at age six. Along with performers from collectivodoszeta, he will present three of his works he developed during his years earning an MFA from Tisch School of the Arts and working with New York dance ensembles.

As transnational artists bring Mexico to new places, other visions of Mexican culture are making an impact abroad. Writer and daughter of diplomats Liza Monroy shows another side of Mexican life—the lifestyles of the rich—and tells the tales of privileged Mexico City teens in Mexican High, her debut novel, at a reading and book signing (September 8; King Juan Carlos I Center, NYU). The short films that won the prestigious Morelia Film Festival (September 11; School of Visual Arts), which were also featured at Cannes, Sundance, and other international film festivals, give insight not only into the lives of old women, indigenous orphans, and troubled migrant workers but reflect the vibrant film scene among Mexico's art students and documentarians.

While global artist citizens may be reframing Mexico and Mexicanidad for themselves as well as growing international audiences, many still dedicate themselves to better understanding and conveying Mexico's complex past, as the anniversaries of its 1910 revolution and 1810 independence approach. In El General (September 15; Walter Reade Theater), filmmaker Natalia Almada unwraps the troubled past of her great-grandfather Plutarco Elias Calles' much debated presidency in the 1920s through family films, photos, and archival images and recordings, putting the disdained Calles and the Mexican Revolution in a new light.

To shed some new light on the world's favorite Mexican export, its food, more than twenty-five restaurants around the city will explore Mexican cooking's often neglected tastes as part of Mexican Restaurant Week (September 14-20; various locations). Chefs, guided by Mexico City-native and Cordon Bleu grad chef Roberto Santibañez, will create special prix fixe lunch menus celebrating the vibrant, unexpected flavors of Mexico's cuisine.

"Mexico may be our curatorial theme for the Festival, but the results are as eclectic as Mexico is, as venues that participate get to select the artists and performances and types of events that are the best fit," Norman notes. "The theme is super wide in that sense, and that means anything can happen."


Celebrate México Now 2009 is sponsored by AMEX, Bloomberg, Sabores Auténticos de México Foundation, Mexican Cultural Institute/Mexican Tourism Board, Cerveza Dos Equis, Telemundo, Razorhead Music, Material for the Arts and Vox Collective.

Celebrate México Now is officially supported by Mayor's Bloomberg Latin Media and Entertainment Commission and is fiscally sponsored project of The Field.