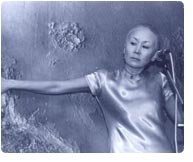 Sainkho Single-handedly Spawns Tuvan Electronica's Melodic Avant-Garde
Sainkho Namtchylak walks on the edges of life. It would be cliché to say she plays music on the border between East and West, past and present. But she is one of those artists that exist outside of categories. The same could be said of any woman who combines Tuvan throatsinging, experimental jazz, classical, electronica, and Buddhism. Then again, she is the only woman on the planet that fits this description.
Her new album Stepmother City—to be released on Ponderosa Music by Harmonia Mundi in October 2002—demands to be seen from a spiritual perspective. The liner notes are the words of a Buddhist monk from the 5th century BCE. The CD is embossed with a maze of roads whose existential names like "Born to Discover" and "Your Inner Eyes" chart a city that lies somewhere between the heart and the mind.
Already known as Tuva's most celebrated female vocalist, Sainkho takes her unique blend in a new direction. Transfixing audiences with her astounding seven octave range, Sainkho uses songs like "Tuva Blues," "Let the Sunshine," and "Lonely Soul" to explore lands that live beyond the confines of the East and the West. Sainkho courses between polar extremes, reflecting love and hostility. With her finely crafted overtone singing, knowledge of Siberian folklore, shamanistic ritual, and history in Russian folklore ensembles and free-jazz acts, Sainkho juxtaposes traditional styles of her Tuvan ancestors with the Western avant-garde, sailing from harmonious serenity to hissing, trilling, and wailing.
Based in Vienna far from her beloved homeland Tuva, Sainkho sculpted Stepmother City to reflect her ambivalent feelings about European metropoli. Calling herself "first and foremost a woman from the Steppes," Sainkho's first musical inspiration came from her nomadic grandmother, who would sing lullabies for hours. She grew up in a culture where people just sing when they feel like it—singing when they're happy and singing when they're sad. Denied professional credentials from a local college where her explorative nature led her toward forbidden male-dominated styles, Sainkho transferred to Moscow where she discovered Russian improvisation. She also studied vocal techniques of Siberian lamaistic traditions.
Audiences are astounded by the diversity of sounds Sainkho can produce with her voice, from operatic tenor to birdlike squawks, from childlike pleas to soulful crooning; which at various moments elicit comparisons to Zap Mama, Patti Smith, Billie Holiday, and Nina Hagen. Stepmother City blends the sounds of electric guitars and loops with folk instruments like the shakuhachi (a Japanese bamboo flute), doshpuloor (three-stringed banjo), and igil (a Mongolian horse-head fiddle connected with the spirit world), creating a synergistic blend of past and present.
Sainkho claims that music and spirituality are related by desire, or the tension that yells to reawaken people. Eager to take part in the process of remembering what has been forgotten, Stepmother City presents itself like a map, proposing routes to connect Western physicality with Eastern spirituality. Its seductive beats and wild vocals are sure to shock and inspire.