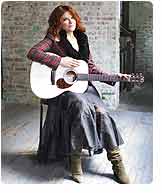 WNYC's Soundcheck Hosts Premiere Performance by ROSANNE CASH of Her Upcoming Album THE LIST
Live Show To Take Place at WNYC's The Greene Space
September 23rd at 2pm for Radio, Web, and Live Studio Audience

Cash to Perform Interpretations of Songs from a List of Essential Country Classics Passed On To Her By Her Legendary Father
When a pop- and rock-obsessed Rosanne Cash came of age, her father, country legend Johnny Cash, handed her what he called "her education," a list of 100 songs he insisted she had to learn. It embraced everything from stony lonesome Appalachian ballads to the wry wit of Woody Guthrie to the country breakthroughs of Hank Williams and Merle Haggard. It was a master handing down the tricks of the trade.

After her last introspective Grammy-winning album, Black Cadillac, and time away to deal with a benign brain condition, Cash is back with THE LIST, a fresh look at this precious family heirloom, highlighting Cash's unique musical sensibilities and voice. By revisiting her father's keen understanding of the evolution of country, Cash found a way to close the circle, to reconnect with the challenging yet inspiring heritage she began to grapple with after her father passed away

"Rosanne told me a couple of years ago that she was planning an album of covers, and I thought, how cool," recalls Soundcheck host John Schaefer. "Last year, when she finally explained what she meant by 'covers'–that these songs are from "The List" (you could hear the capital letters when she said it) compiled for her by her father–I thought, wow, could you make it any cooler?"

Cash knew just how: debut her album to the broadest possible audience via the multimedia resources of one of America's best-loved public radio stations. Cash will bring her cherished family heritage to the world for the first time at WNYC's newly opened Jerome L. Greene Performance Space, New York's unique broadcast studio and performance venue for engaging culture, conversation and performance.

"As longtime New Yorkers and diehard fans of WNYC, it's a thrill for us to preview The List at The Greene Space," Rosanne Cash explains. "John Schaefer, who has hosted me on his show several times, is the perfect master of this ceremony."

Cash and her band will debut several songs from the album live and over the airwaves at 93.9 FM on WNYC's popular chronicle of music and culture, Soundcheck, on September 23 at 2 PM, giving the world intimate insight into one of America's best loved musical families. Her performance will simultaneously stream live as a videocast, available at http://www.thegreenespace.org/thegreenespace/.

"I am really thrilled that we'll be able to present the first public performance of some of the songs from The List in The Greene Space," notes Schaefer, who along with his fellow WNYC colleagues, is forging a whole new type of platform capturing the energy of live performance, the open access of radio, and the geographical scope and interactivity of the web. A unique destination for some of music's most innovative artists—recent performers include The Decembrists and Lou Reed—The Greene Space allows in-person performance, radio, and web-based videocasting to merge seamlessly, fostering new audience possibilities and vibrant creativity..
ROSANNE CASH / "The List" Premiere
September 23 at 2 PM
Jerome L. Greene Performance Space
44 Charlton Street, NYC
Tickets: Free, seating is reserved. Register at: http://www.thegreenespace.org/thegreenespace/ticket_info/
Live radio broadcast: WNYC 93.9 FM
Live videocast: http://www.thegreenespace.org/thegreenespace/