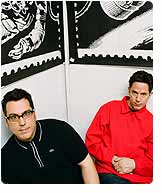 Baby Einstein on the Beach: WNYC's Radiolab launches sixth season of weird science with They Might Be Giants
Waves and airwaves intersect as WNYC's Radiolab teams up with They Might Be Giants for some beach blanket biology (and neuroscience and physics) to celebrate the show's sixth season and the band's upcoming album, Here Comes Science.

The free listening party gets started at 6 PM on Wednesday, September 16th at the Water Taxi Beach in Long Island City (reservations required).

The good times are all about kicking off another year of quirky, thought provoking exploration of scientific discovery with co-hosts Robert Krulwich and Jad Abumrad, who will give a sneak peak of what's coming up on Radiolab. The show's probing yet free-form unpacking of issues such as what happens when we die, parasites, and that smarty-pants concept of randomness, stochasticity, leads listeners through new research, new ideas, and new possibilities, with a distinct sonic aesthetic that makes Radiolab instantly recognizable and utterly distinct.

"Radiolab is all about questions," Abumrad explains. "We set out to investigate something and end up bumping into all kinds of stories. The stories lead you down a rabbit hole...scrambling to chase after another question and another. Together, the stories tell you something, but rarely is it as simple as an answer to the question which launched you on the journey."

Then They Might Be Giants will set off on a wild journey of their own, a music trip through the scientific method. Their latest foray into kid's music following last year's Grammy for Here Come the 123s, the soon-to-be-released Here Comes Science, tackles the age-old questions of why the sun really shines, who is that Roy G. Biv guy anyway, and what would Davey Crockett do in outer space. In true TMBG style, the songs are catchy enough to get adults hooked, while taking science off the page for a new generation of curious minds.

"We are huge fans of Robert and Jad and Radiolab, and it's an honor to be a part of this," exclaimed John Flansburgh of They Might Be Giants. "No other show on the air could even attempt to pull off what Radiolab does with so much style," a style that resonates perfectly with the duo's own Dadaist-tinted grooves. Like Radiolab, They Might Be Giants goes beyond making science fun; they make it truly funky.

After their unplugged set, They Might Be Giants will chat with Krulwich and Abumrad about how they turned science into rocking, kid-friendly sound. The party will continue after the main event with DJ sets, snacks, sand, and stars.

To make a reservation:
http://blogs.wnyc.org/radiolab/2009/08/28/season-six-launch-party/
Water Taxi Beach
2nd Street and Borden Avenue
Long Island City, NY 11101
http://www.watertaxibeach.com/ferry.html

Water Taxi Beach has concession stands for snacks and beer, so no outside food, but feel free to bring your beach towel, chaise lounge, volleyball, sand pail, etc. And bring vaild ID (21 +). Minors are only allowed to come with their parents.

For more about Radiolab and podcasts of the new season, visit www.radiolab.org.