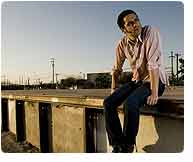 Tex-Mex Border Meets Spanish Melody: DePedro's Debut Album
DePedro may be the first solo album for the man behind the name, Jairo Zavala, but in no way is it his debut. Already a celebrated recording artist in Spain, where he was born and raised, Zavala has spent the past two decades playing, writing, and performing with bands like Amparanoia, Vacazul, Los Coronas, and Calexico.

DePedro is, however, his most personal work, with songs written from his own experiences, his own thoughts and feelings, the music he's looked to – from Afrobeat to flamenco to prog to pop. The inspirations are simple, the everyday things we all experience that unite and define us as human: regret, memory, love, fear, loss, and happiness.

The album combines Zavala's varied influences with a very particular North American bent, in part thanks to the fact that it was recorded in Calexico's studios in Tucson, and that the band themselves helped to complete the songs Jairo had already written.

This is Tex-Mex border music meets the Spanish sense of melody, and songs like "La Memoria," which was inspired by a trip to Mexico and the poverty and injustice he saw there, and "Como El Viento," a kind of love song, reflect both equally. Fans of Spanish rock or Calexico will recognize "Don't Leave Me Now," which Zavala wrote for Amparanoia's 2003 record, Enchilao, and which Calexico heard and added to its live repertoire (in fact, it was this song that first brought Calexico and him together). With Jairo singing, however, the track takes a different tone. His voice – warm and expressive, but edged with a scratchiness that makes it as much of a focal point as his guitar playing – draws out the same Spanish melancholy also heard in Amparanoia's version. Yet there's a slyness there, enhanced by Calexico's Joey Burns' upright bass, and it gives the song a sultry, dusty Western feel, the expanse of the land stretching out before them.

But Jairo's connection to South and Central America, his appreciation of their music and culture, is also apparent. Besides his guitar playing, which has been informed by the rhythms, phrasing, and passion of the culture, he also references it more explicitly. "Llorona," for example, is about the weeping woman who often appears in Latin American folklore, and is one of the most haunting and memorable tracks on the album.

While Calexico's instrumental and production talents do help to shape and develop to the record, and Zavala came into the recording process excited for their input ("Equivacado," for example, had its chorus rewritten by Burns), this is truly DePedro: personal and sincere but at the same time accessible and compelling. These are well-formed songs whose simplicity reveals experience, an unrestrained beauty, a hope for what's to come, and an appreciation of what's already been.

Mixed by Craig Schumacher (Calexico, Giant Sand, Neko Case, Devotchka, The Sadies), DePedro, also the first full-length release for the newly minted Nat Geo Music, and will be out on August 18, 2009.
<< release: 08/18/09 >>