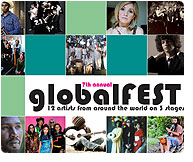 A Springboard of World Music Revelations:
globalFEST 2010 Announces Line Up at NYC's Webster Hall January 10, 2010
For seven years globalFEST (www.globalfest-ny.org) has been the springboard festival for world music artists on the brink of North American national main stage success, performers known in one community but ready to cross into others, and the marquee stars of tomorrow. globalFEST 2010 showcases French Gypsy jazz with breakbeats, cumbia-fied downtempo Argentine club sounds, soul-stirring Colombian roots, new generation Louisiana fiddling, Africa unplugged, Irish traditional song, Senegalese roots reggae, Central Asian avant rock, Romanian hybrid blues, New York salsa upstarts, and a Gwo-ka master from Guadeloupe all under one roof at New York City's Webster Hall (125 E. 11th St.) on January 10, 2010 at 7pm. The 2010 festival includes four U.S. debut performances and another NYC debut.

Tickets are $40 (www.ticketmaster.com or by phone through World Music Institute box office: 212-545-7536*). Buy tickets early, as prior globalFEST shows have sold out in advance.

This year's festival performers:
- Alif Naaba, West African acoustic song (Burkina Faso) *
- Cara Dillon, striking Celtic vocalist (Ireland)
- Caravan Palace, electro manouche jazz (France) *
- Cedric Watson, Creole Zydeco heir from Louisiana (USA)
- Federico Aubele, bolero and cumbia meets electro
downtempo (Argentina/USA)
- François Ladrezo & Alka Omeka, Gwo-ka master
(Guadeloupe)
- La Cumbiamba eNeYé, music from the Pacific & Caribbean
coast of Colombia (Colombia/USA)
- La Excelencia, old-school salsa dura revivalists (USA)
- Meta and the Cornerstones, African roots reggae export
(Senegal/USA)
- Namgar, Siberian shaman rock from the Central Asian
steppes (Russia/Mongolia) *
- Nguyên Lê's Saiyuki, Pan-Asian jazz trio
(Vietnam/Japan/India/France) *
- Nightlosers, Transylvanian blues-rock/Gypsy chameleons
(Romania) #

(* = U.S. debut; # = NYC debut; artists subject to change)

globalFEST offers different musical styles to suit the variety of people attracted to the event. Traditional music enthusiasts will find appeal in Nightlosers, Cara Dillon, Cedric Watson, La Cumbiamba eNeyé, and La Excelencia. Rock and electronic aficionados will be attracted to Caravan Palace, Namgar, and Federico Aubele. Lovers of singer-songwriters will fast become fans of Alif Naaba and Meta and the Cornerstones. The French gateway continues to play an important role in bridging global artists to American stages giving France strong representation on globalFEST's stages including Nguyên Lê's Saiyuki and singer-percussionist François Ladrezo.

The festival—which has presented over 75 artists since its inception in 2004—is buoyed by a renewed sense of the United States' place at the global table in the wake of Barack Obama's election to president, confirmed by his recent Nobel Peace Prize. "This year's globalFEST looks towards a new sense of internationalism and accessibility," says Isabel Soffer of World Music Institute, who along with Bill Bragin of Acidophilus: Live and Active Cultures and Shanta Thake of Joe's Pub at the Public Theater, direct the annual festival. "The U.S. is being re-embraced by the world," says Bragin. "There is a reinvigorated interest in artists trying to connect with the U.S. market."

As always, the three festival directors seek out artists that may be discoveries or even revelations for their audience, a mix of music fans, and performing arts professionals—including concert presenters, agents, managers, artists, labels, and press—on the lookout for new talent. "We continue to bring several local U.S. based bands as well as international ones, some smaller bands that may be easier to tour in clubs and cabarets, and other larger groups for major festival markets," Thake explains.

Webster Hall's three performance spaces mimic the spectrum of venues that concert presenters use nationwide: a large main stage with balcony, a medium café-style space, and a bar with a packed, standing-room-only dance floor. This environment leads to an unusual night of musical madness.

"Global citizenry continues to be a priority for many nations and particularly France, and what better way to raise awareness of each other's cultures than through music?" says Emmanuel Morlet, Musical Attaché at the French Embassy, the festival's founding sponsor. "From increasing understanding to the real economic role the festival plays for emerging French and Francophone performers, now more than ever globalFEST plays a great role in connecting people across political boundaries."

globalFEST finds the balance between pragmatism and idealism. "Each year we build on previous years' successes by bringing artists from North America and abroad that we think have the strong potential for viable tours. But we never lose sight that these are representatives of the incredible cultural riches of the world that will likely influence people in ways we can't even predict," concludes Thake.

globalFEST is a volunteer-run co-production of World Music Institute, Joe's Pub at the Public Theater, and Acidophilus: Live & Active Cultures. Support for all seven editions has been provided by The Cultural Services of the French Embassy with additional support from the French Music Export Office, recognizing France's pre-eminent role as a hotbed of global music activity. The globalFEST media sponsor is WNYC Radio. globalFEST is presented in association with Bowery Presents. Visa services are provided courtesy of Tamizdat. Publicity services are provided by rock paper scissors, inc. François Ladrezo & Alka Omeka are presented in association with the Anyway Organisation. Nightlosers are presented in association with the Romanian Cultural Institute.


Tickets are $40 (www.ticketmaster.com or by phone through World Music Institute box office: 212-545-7536*). Buy tickets early, as prior globalFEST shows have sold out in advance.

Note that the artist line-up is subject to change. Souad Massi will not be performing due to scheduling conflicts.

* Tickets remain $35 for WMI Friends, Public Theater Patrons, and APAP members by calling the WMI box office: 212-545-7536. Tickets can be purchased with no service charges, cash only, at the Mercury Lounge 217 East Houston Street, Manhattan, Mondays – Saturdays, 12 noon – 7pm.