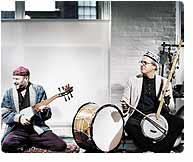 Around The World in Three Blocks: The Traditional, Radical Music of the Nation of TriBeCaStan
Nestled in the heart of a bustling urban sprawl, between skyscrapers and shanties, lies a sonic oasis in which the sounds of the Indian sarod meet surf rock, West African kora merges with Appalachian mountain tunes, and Afghani melodies mingle with avant-garde jazz. This is TriBeCaStan, a nation in flux, where tune smugglers and artistic immigrants from all parts of the globe converge to create the "roots music of the future." "There is a lot of transience in TriBeCaStan," remarks Minister of Timbre Jeff Greene, co-instigator of the band named after this republic of the mind. "Our borders are porous. We welcome refugees from jazz, rhythmic misfits, and undocumented melodies."

On their latest album, 5 Star Cave, (April 27, 2010; EverGreene Music), Greene and co-conspirator John Kruth, a multi-instrumental totalitarian of melody, orchestrate a delicate balance between chaos and peace. Conducting a myriad of traveling troubadours, Kruth and Greene continue their relentless quest to re-imagine the folk music of the world asking things like: What if King Crimson's bus broke down in the Middle East? Or what if Miles Davis went country?

"It's not that we don't respect tradition," says Greene, who hitchhiked across the Sahara at age 17. "We have all the respect in the world for it. But we are not trying to imitate it at all."

While Greene focuses heavily on tonal colors, combing his vast repository of instruments, Kruth composes melodies inspired by traditional folk forms. Kruth, who has played with iconoclasts like the Violent Femmes, Ornette Coleman, and carnatic mandolin master U. Rajesh, explains, "The songs are ultimately a melodic stew of all my influences from Yugoslavian village music to punk to funk to free jazz and the Beatles. TriBeCaStan radicalizes tradition, whatever its source."

"People describe our music as cinematic," says Greene, who recently returned from a music research trip to Central Asia. "We conjure auditory impressions of the interior landscapes of our minds."

Located at the crossroads of the international music scene, TriBeCaStan is host to a slew of likeminded musical migrants who travel widely, but make a point to stop by and throw themselves into this complex cultural moshpit. Together, this array of artists and timbres, spanning nearly every continent, combines their diversity of talents to produce a cosmopolitan curry of audible flavors.

Veteran jazz trombonist Steve Turre, who appeared on TriBeCaStan's first disc, Strange Cousin, returns again, adding Latin-tinged and bluesy horn lines as well as conch shells to several tracks. Adding his trademark organ sound to the mix, Blood Sweat and Tears founder Al Kooper, famous for his work with Dylan, Hendrix and the Stones, makes a guest appearance on two songs. Premier jazz tabla player Badal Roy, known for his grooves with Miles Davis, Alice Coltrane, and John McLaughlin, brought his exotic rhythms to a handful of TriBeCaStan tunes. Swinging down from the north, Samantha Parton lends her trademark Be Good Tanyas Canadian folk-soul vocal stylings on a pair of tracks. Kenny Margolis, of the eclectic rockers Cracker, scrubs a zydeco rub board and uses his accordion to squeeze out a Cajun melody on "A New Foot." Mike DuClos plays a series of funky rhythmic bass lines, are reminiscent at times of Sly Stone's bass man Larry Graham and Miles' electric band. Charlie Burnham, violinist with James "Blood" Ulmer's Odyssey, shared his cutting-edge fiddle on everything from swing arrangements and funk numbers to an Afghani folk song, while Sufi percussionist Ibrahim Gonzalez and drummer/percussionist Todd Isler (who has lately been driving Phish bassist Mike Gordon's band) provided rhythmic intensity throughout the recording. Dean Bowman, known for his vocal work in John Scolfield's Ray Charles Review and work with Elliott Sharp and Gary Lucas, contributes vocals on "Bamako to Malibu." Hara Garacci, who just happened by the studio one day, spontaneously laid down a gypsy guitar track on "Dizzy in the Dunes."

Leading the listener on this sojourn across temporal and geographic spaces is "When Tito had Two Legs." "It's like if the Ventures went surfing in the Adriatic or if James Bond was chasing Communist spies through the streets of Zagreb in his Aston Martin," Kruth explains. Evoking the sounds of Eastern Europe, this track features Croatia's three-time cimbalom champion Gordana Evacic's shimmering licks atop a rock-solid rhythmic bed of uptempo spunk.

Next is a psychedelic folk-rock jaunt called "Stoned Baby," which was inspired by a trip to India. "I was in Chennai," Kruth recalls, "when I saw mothers with their babies begging on the streets for money. I couldn't figure out why the infants weren't crying in the intense heat. The children, I later learned, were knocked out cold, because their mothers had put a bit of dope in their milk!" When Kruth returned to the U.S., tabla master Badal Roy confirmed this bizarre witnessing when he heard the title of the song without explanation, simply blurting, "You have been to India!" Floating over a sultry funk groove infused with Roy's tabla textures, one can hear the crying of the babies in Charlie Burnham's wah-wah violin wails and Samantha Parton's haunting vocal refrain.

Illustrating the cross-cultural spiritual syncretism that occurs in TriBeCaStan, "He Hears the Ants," plays with Indonesian Gamelan forms and Indian instruments within an Arabic rhythmic cycle of ten, while making reference to Allah. "It's a sort of tone poem, a mood piece," Greene said. "Our friend Bachir Attar of the Master Musicians of Jajouka was waxing poetic about his love for Allah one day," Kruth recalled. "He said, 'Allah knows all, sees all, hears all – he even hears the ants.'" Pensive and meditative, the song features Kruth's lush Indian flute solo among plucked violin accents and the metallic timbres of Asian gongs and a Caribbean steel drum.

Connecting California's coast to the desert of West Africa, "From Bamako to Malibu" is reminiscent of an Ali Farka Toure-style polyrhythmic blues, but features added layers of international imagery. Over a 6/8 Malian rhythm, the African yodeling of guest artist Dean Bowman weaves in between trombone riffs, marimba, and metallic thumb piano patterns. "One day in the middle of Manhattan, I was walking down the street plunking out a melody on my African kalimba with my thumbs," says Kruth, recalling the tune's inspiration. "I noticed that everyone else was furiously using their thumbs, but to send text messages." Feeling out of place (and possibly out of time) with the rest of the world, Kruth was thankful; feeling at home in this cultural rift.

TriBeCaStan is a place that seems to lie just beyond the borders of our world in an imaginative sonic dimension, a place of creative convergences, where ancient traditions from Afghanistan to Africa and Eastern Europe meet modernity. With a sensitive and energetic explosion of color, TriBeCaStan splatters their canvas with a cosmopolitan hue of funky future folk. Their artistic flourishes combine to form the quirky contemporary gallery that comprises their latest album. As veteran engineer Gene Paul quipped, "TriBeCaStan's music is like a trip around the world in three blocks." 5 Star Cave is filled with jams that not only span the globe but reach into deep space.
<< release: 04/27/10 >>