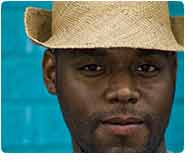 A Creole Cowboy with an Old Country Soul: Artistic Outlaw Cedric Watson et Bijou Créole Take Zydeco into a New Frontier
Riding in from the dusty plains of Texas with a fiddle under his arm, an accordion on his back, and a song in his heart, a Creole cowboy named Cedric Watson recently swaggered onto the Louisiana music scene. When this outsider burst into local saloons, first locals were taken back by his mastery of tradition and then by his ability to seamlessly integrate polyrhythms and grooves from beyond. Roping in the old with the new, L'Ésprit Créole (Valcour Records, 2009), Watson's latest album with his band Bijou Créole, captures the rich Caribbean, African, and European heritage that underlies Creole culture while galloping through an unexplored frontier.

"Everyone was saying, 'Who in the hell is this kid?!' Everyone was blown away," recalls Lisa Stafford, the artistic director of the highly acclaimed Festival International de Louisiane. "Even though he was not from here in Lafayette," she continues, "everyone just really embraced him and he made an immediate home for himself here. I would see him dressed in overalls at local Cajun or Zydeco dances and when he would walk up to a girl to invite her to dance, he would bow. He was just like an old country soul."

Audiences quickly recognized the remarkable talents and down-home spirit of this 26-year old prodigy as he displayed his mastery of the traditional Zydeco and Cajun songbooks. They could not have predicted, however, that Watson would be responsible for re-inventing the sounds of Creole music. Infusing it with Caribbean and West African polyrhythms, this artistic outlaw breaks through the conventions of Creole music, while maintaining a deep respect for its traditions. So much so that the album was just nominated for a Grammy in the Cajun and Zydeco category. Watson's previous self-titled album was nominated in the same category last year.

Watson's own brand of Creole music is informed by his profound fascination for its roots as well as his passion for exploring its untapped possibilities. While the sounds of his musical mentors, great Creole musicians such as the Ardoin family, Edward Poullard, Jeffrey Broussard, Goldman Thibodeaux, James Adams, and other Creole forebears echo through Watson's songs, his open approach to composition allows for a diverse range of influences to flood in. "I give a lot of freedom to the individual members of my group," Watson explains, "Each brings his own musical and cultural influences to bear. So without much effort, we just naturally sound different than other Creole and Zydeco groups." While drawing on reggae, jazz, blues, country, and soul, Watson acknowledges, "We don't have to go hip-hop or R&B, like a lot of Creole bands these days. We grab the Creole essence that is already there and emphasize it more." What could easily become a stampede of musical mischief, in other words, is corralled by Watson's sensibilities; his old country soul tastefully balances modern elements with the relentless revival of the music's authentic connection with the past.

Revealing the source of Watson's enthusiasm for Creole history, this album is, in part, an autobiographical tale of his own eclectic family lineage. "A lot of my ancestors were Spanish," he remarks; "They were isleños, islanders. My great, great, great grandfather, for instance, came from the Canary Islands (located between Spain and Northern Africa) to join the Spanish and Mexican army in fighting off the German settlers in what is now Texas. Not only were some of my ancestors Black slaves, but some were also Native American and French." As a teenager, while visiting his relatives in Louisiana, Watson was captivated by a radio show out of the town of Jennings that was entirely in French ("Even the McDonald's commercials were in French!"), so he tape recorded it and brought it back to Texas where such programs were rare. Experiences like this fueled his fervor for Zydeco music, Creole culture, as well as his exploration and expression of the complexities of his own identity. For instance, although his parents never spoke Creole, Watson has made a concerted effort to re-discover his own roots, learning to sing in Creole and French, as well as English. With polyglot panache, Watson recounts his experiences of drinking, dancing, and flirting at a legendary saloon in Lafayette, Louisiana on the laid back, swaying song "J'suis Gone á la Blue Moon."

Deeply aware of the African contributions to his own identity and Creole culture in general, Watson, along with his ensemble, produce poignantly polyrhythmic grooves, melding West African hand-drums with the playful punctuations of drumset and percussion patterns inspired by African diasporic musics. Throughout L'Esprit Creole, the band's percussionist, Zydeco Mike, soulfully scrapes a rubboard, ratcheting up the rhythmical intensity of several tunes, in addition to performing on bongos and African drums. Bringing his passion for Rastafarian culture to the mix, Mike's infusion of reggae can be felt on the laid back lilting "C'est La Vie," as he adds hand drums to the triangle and accordion and vocal melodies of Watson, giving the composition a sound like Bob Marley in the Bayou. "Hand-drumming is something that you don't see a lot of in Zydeco," says Watson. "As soon as an audience hears these drums they are going to think of the Caribbean or Africa."

Joining this prodigious posse is also drummer Jermaine Prejean who adds funkified syncopation, jazzy cymbal work, and an element of Carnival-style samba. Together with bassist Blake Miller, the two provide the band with a rock-solid, heavy-swinging foundation, while country blues rustles through the performances of multi-instrumentalist Chris Stafford. His soulful Rhodes playing along with bluesy guitar riffs shine on "Le Sud de la Louisiane." Stafford's steel guitar textures on "Cher 'Tit Cœur (Dear Little Heart)" give this waltz a melancholy honky-tonk flare as Watson sings about heartbreak and healing, telling listeners to free their minds of their past problems. Expanding Creole music, Watson includes horns on several of his compositions. On "Zydeco Paradise," Josh LeBlanc's trumpet and the saxes of Tim McFatter and Will Henderson provide a staccato accent to this funky hootenanny.

While striding along new sonic trails, Watson's love of traditional Creole culture and music is evident throughout the recording. His use of the double-row Hohner accordion—with its "musette tuning and wetter sound"—is a nod to Creole roots. "One of my goals is to bring back the Creole fiddle and the double row," says Watson, proudly.

His roots also show in his choice of material. "J'suis Parti au Texas" uses a traditional melody found by Watson on an old Alan Lomax recording from the 1930s, reworking it to tell a personal story of the singer's journey to Texas and reconnection with his family there. Paying tribute to one of the legends of Creole music, "Grand Marais" is a re-interpretation of an old Dennis McGee tune that features a soulful fiddle duet over a two-step dance beat. Building on the artistry of his forefathers, Watson adds his own lyrics that speak about a woman being refused. Finishing off the album, Watson includes his arrangement of "Bluerunner," a song originally composed by one of his heroes and mentors, fiddler Bebe Carrier. "I wrote a syncopated bass line that's in unison with the guitar, and we did it with the whole band," says Watson. Atop a gritty down-home shuffle that hints at a second line New Orleans street beat, Watson's fiddle soars and shakes with Creole charm and brilliance.

Watson's fiddle playing is not only remarkably tasteful and lyrical, but also novel. When asked if there are any other young African-American Creole fiddlers out there, Lisa Stafford replied, "none that I know of." Speaking about this distinction, Watson recalls that when a friend introduced him to renowned Creole accordionist and singer Goldman Thibodeaux, "It brought tears to his eyes, because he was so happy to know that there was still a Black fiddler out there keeping the music alive."Watson also tells the story of Amédé Ardoin, the first person to ever record Creole music. "One day Ardoin was playing at a white party and a girl wiped his face. The men didn't like that so they beat him, ran over him with their truck, and beat his hands with a sledge hammer," recounts Watson. "It was a hate crime. I play in honor of him and all the people that came before me."

Connecting Creole cultures of the African and European diasporas with their counterparts in the Americas, L'Ésprit Creole offers a sophisticated revival of the multi-ethnic roots of Cajun and Zydeco music, presenting a culturally relevant re-invention that is as much fun as it is profound. While paying tribute to his musical forefathers, Watson, a Creole cowboy with an old country soul, has earned a reputation as an artistic outlaw who forges a path into a new frontier of Zydeco music.
<< release: 01/12/10 >>