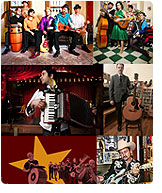 Here Comes Trouble: Six Bands Play Funky, Crazy, Dirty World Music on January 8, 2010 at 92Y Tribeca
If you can no longer tell the cowboys from the Cubans, the rancheras from the rockers, and the Irish sailors from the mariachis, you're not alone. As the dust settles from the mushroom cloud of globalization, the last standing musicians have found their music mutated into the only sounds they know: new hybrids that reference cultural traditions without fear, seamlessly switching from surf rock guitars to retro accordions, from New Orleans funk beats to Mexican polkas.

Six bands uniting the East and West Coasts perform their new form of world music at "Here Comes Trouble"—presented by Trouble Worldwide and Barbès Records—on January 8, 2010 at 92Y Tribeca, 200 Hudson St. (intersection of Canal). Tickets are $15. Doors open at 7 pm for an 8 pm show. Ticket info is available at http://bit.ly/TroubleHere or 212.601.1000.

"It's a kind of funky, crazy, dirty world music," says Greek-Albanian-Spanish-Egyptian-Brazilian music industry veteran Alexandra Casazza, who runs the San Francisco booking agency Trouble Worldwide, a co-presenter of the six-act mini-fest. "When I first was booking Dengue Fever—the retro Cambodian psychedelic indie band—the rock clubs said 'Oh that's world music, I'm not so sure,'" recalls Casazza. "And the world music promoters said 'Oh that's indie, I'm not so sure.' They're indie and world music. But in the end, we were able to pull it off, mixing venues, and bringing two worlds together."

For the second year in a row, Casazza has teamed up with Barbès' Olivier Conan, another world music trouble-maker. "We're working with a new generation of musicians which doesn't feel tied to tradition or to the dictates of current trends," says Conan. "Most of the artists that we are showcasing are the product of personal or familial migrations. All of them have built-in multiple points of views and multiple interests which allow them to elaborate new iconoclastic styles with deep roots. All the artists on the bill believe in the celebratory aspect of music. Expect to have your notions of 'what world music is' radically challenged; without ever noticing the challenge, because you will be way too busy having fun."

Here Comes Trouble includes:

8 PM - Bad reputation: Pierre de Gaillande Sings Brassens www.barbesrecords.com/brassens.html
Franco-American singer and composer re-imagines iconic French singer George Brassens' classics

8:45 PM - Rana Santacruz www.myspace.com/ranasantacruz
"Irish Mariachi" from former member of Mexico's La Catrina.

9:30 PM - Pistolera www.myspace.com/pistoleramusic
"...a foot-stomping sound that's one part ranchera and one part indie-pop." -The New Yorker

10:15 PM - Chicha Libre www.myspace.com/chichalibre
Latin rhythms, surf music, and psychedelic pop inspired by Peruvian music from the Amazon.

11:00 PM - The Cuban Cowboys www.myspace.com/cubancowboys
"So hip-rocking, it makes you want to buy a cowboy hat and howl at the moon." - New York Post

11:45 PM - Slavic Soul Party! www.myspace.com/slavicsoulparty
Fiery Gypsy brass, soulful Balkan anthems, and hip-grinding American funk.