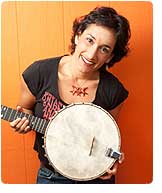 A Deeper Bed to Lie In:
Banjo-Player and Singer Evie Ladin Floats Downstream With a Soulful, Rhythmic Old-Timey Sound
Evie Ladin plays old-time banjo. Listen and you can hear the whomp and jive of her clawhammer style, honest to the genre's Appalachian heritage. You also hear the instrument's African roots, the polyrhythmic heat and funk. Now listen to Evie's resonant voice and original lyrics and you hear the push and pull of life, you hear real, contemporary stories. Evie's particular twist on trad Americana pours like hot sunshine from her new album Float Downstream (release: February 25, 2010). The record reveals a fundamental soul and rhythm, supporting the poetry of modern song, inspiring Evie's rhythmic dancing that in live performance is a demonstrative, delightfully gorgeous storm.
This is a girl who grew up falling asleep on a pile of coats in the corner of the music party or square dance; her childhood home in Northern New Jersey had an open door to folk musicians playing anywhere near. This is a girl who ran barefoot through muddy festivals, soaking up traditional American music and dance —in the rhythm of her step, in her sleep, as the backbone of life.
This is also a girl, a teenager in inner-city Baltimore, with the pulsing roll of early hip hop high school cafeteria, a girl drawn to Africa as a place where music and dance are social communication, the way she grew up. In Nigeria she showed people her clogging and body percussion, and it opened doors to myriad creative collaborations. Years later, she is synthesizing these deep, sometimes disparate influences into her own music - grounded in tradition, emboldened by experience, flying freeform in the modern world.
This becomes obvious in the first moment of the album. "I Love My Honey," exhilarates the listener with soaring harmonies above a mesmerizing trance-inducing banjo, all of it anchored by a funky half-time rhythm on the cajón (wooden percussion box). Evie got the song off a recording of fiddler Santford Kelly released by The Field Recorder's Collective. In Kelly's original, he strums his fiddle, pizzicato style, inspiring Evie's approach. His whoops and hollers in the name of love were the selling point, and Evie gives it all she's got.
"I have a very strong old-timey aesthetic, I know what good stringband music sounds like, but I also listen to a lot of world music, old and new country, indie rock, soul – music scenes that often don't overlap that much. I like a lot of interesting new treatments of Americana and traditional music; well-played, well-phrased music is just good. In making the album, the music that was old-time had to be real old-time, but I also needed to let songs stretch toward a pop aesthetic, a more contemporary aesthetic. The mix of the two can be very exciting."
The songs themselves can be energetic, poignant, or downright sad like the title track. "I had been away from the Eastern woods for a long time," Evie recalled. "I was teaching at a camp in Tennessee and went walking in the trees. There was something so familiar about the way the sunlight came through the leaves, spilling on the forest floor, that made me feel like I was floating. It was so beautiful it was heartbreaking. The first verse of the song fell into me on that walk, and then it took me a year to figure out the rest of what happened in the story." Evie is playing a fairly traditional clawhammer banjo style here, with Mark Summer's cello swimming underneath and contemporary lyrics floating along the surface.
For Evie, who started her career as a percussive dancer and choreographer until moving to Oakland and hooking up with the Stairwell Sisters, the all-gal old-time band with whom she still tours, writing music is a full-body experience. "I write a lot of songs riding my bike," she explained. "Sometimes I feel like the world is just feeding me music. A lick or a line will get stuck in my head and I'll keep singing it until the story comes." Her performances are also full-body experiences. Evie sets rhythms with her feet to support her banjo melodies, layering her voice on top, sometimes switching it up for her feet to solo while her instrument or voice holds a steady groove.
Producers Mike Marshall and Keith Terry brought different but equally adventurous musical brilliance to the record. They are no strangers to pushing boundaries, making odd musical bedfellows seem natural together. They worked with Evie to flesh out the musical arrangements and textures that would give her stories wings. "Mike and Keith both have amazing, creative ears. They added colors and shape to my music that made the stories in each song more real; gave them a deeper bed to lie in," she recalls.
Mike Marshall is a renowned mandolinist equally versed in classical, bluegrass, and world music. Mike worked with Evie to create the more contemporary sound she wanted to explore, sonic collaborations with organ, cello, various guitars, while still maintaining her roots sound. When Evie felt that "How Did You Know" had great words, but was sagging as a country ditty, Marshall suggested they play it calypso, and they got a real laugh. He next suggested a ballad, and led it on guitar. When Evie laid the song in, they all got the chills. It was like a secret unearthed.
Keith Terry is a jazz and world music drummer who developed a singular style of Body Music, percussion that is music you can see, dance you can hear. Keith and Evie are married, and they work together often on international cross-cultural projects that combine music, dance, and song in integrated performance. Keith brought a variety of rhythmic timbres to the tracks – from the Balinese bells evoking a far-off, wistful feeling on the title track, to bone-rattling bass harmonica and struck metal silverware, the perfect support for Dock Boggs' "Mistreated Mama." Keith and Evie have long explored the banjo in unusual combinations – bells being among the most satisfying.
In a rare autobiographical moment, "Dance Me" sings of something Evie always wanted, and has found: "just such a man, who can dance me the way that my baby can." Evie claims that that is the only autobiographical note in the song. The story came to focus on the struggle between falling in love and staying in love. "I think it's very difficult to not let the stresses and details of life take you too far you from the love you started with; if you could just dance together, maybe you could remember the sweetness, and bring it back." The track was recorded with a swinging jazz waltz in the drum set, a part that Terry later removed; a more rootsy feel, but with that swing in the music.
New with old, real and ethereal, permeates each song on the album, synthesizing Evie's mastery of traditional music and her original sense of the world she lives in. Still, the blending of rhythm, texture, and color in her music is seamless and simple. Evie's resonant voice, the thick timbre of her banjo, the richness of her rhythm and pattern, cannot be classified – it is one of many new old-time musics. She still sleeps best in the middle of that roaring music party.


ON THE RECORD:

Evie Ladin - banjos, vocals
Mike Marshall - guitars, mandolin
Todd Phillips - bass
Keith Terry - drums, percussion, bass harmonica
Abby Ladin - harmony vocals
Amber Hines - harmony vocals
Caleb Klauder - harmony vocals
Chris Webster - harmony vocals
Dina Maccabee - harmony vocals
John R. Burr - organ
Karen Heil - fiddle
Lloyd Maines - dobro
Mark Summer - cello
Matt Knoth - guitar
Mike Rinta - tuba
Suzy Thompson - fiddle, accordion
<< release: 02/25/10 >>