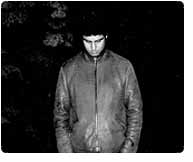 A Man, a Trumpet, and Electronic Alchemy: The Spliced Horns and Fra_ctured Beats of Trumpeter Gabriel Johnson
A trumpet animated with the voice of a messenger. Electronic beats that speak of sad days gone by. Powerful statements from a man with a mission and wandering songs that leave you wanting more.

A man, his trumpet, and electronic alchemy call down lightning on Fra_ctured, coming out February 16, 2010 from Electrofone Music. Gabriel Johnson's creation calculates a new bearing in the world of jazz and electronic music, a fractured triangulation past the Islands of Electronica and into the open sea. This album—appearing on the label run by Carmen Rizzo, known for his work with Seal, Jem, Coldplay, and Paul Oakenfold, and as co-founding member of global electronica band Niyaz—is a new direction for serious trumpet music, a genre too long confined to the stolid hallways of special schools and jazz clubs.

That's about where Gabriel Johnson, virtuoso trumpet player turned ascendant electronica demigod, found himself a few years ago. He was this conservatory prodigy, a golden boy acolyte in the temple of commercial jazz groomed for the life of a high priest. The Wunderkind began playing the trumpet when he was eleven years old, giving up baseball practice for the life of a musician, and had hardly turned back on his quick climb up the mountain. After graduation from the Conservatory, he moved to Los Angeles, and soon Clint Eastwood was calling him up to play original music for his movies. "Clint would be right in the room," recalls Johnson matter-of-factly. "If he likes something, he just nods his head." (Gabriel's powerful trumpet playing appeared in both Eastwood's Changeling and Invictus.)

Then one of Gabriel's friends turned him on to the heresy of electronic music, and his promethean journey began. The substance is what surprised him. "The mystery was in how they were coming up with those sounds," he recalls. He spent long mornings poking around the acoustic world, sampling his trumpet and playing it back, reaching for something just beyond his training. The turning point came when a close friend with a mixing board and a copy of ProTools initiated Gabriel into the secrets of a new brotherhood. Suddenly, the man who played his saintly melodies on soundtracks for films was clicking on a screen, playing with something called "samples."

But electronica was only a catalyst for Gabriel Johnson's unique sorcery, a "fractured jazz" where streams of musical electricity dance on shards of mirrors. "Electronica led me down a path – it didn't become the path," insists Johnson. Broken beats and bleeps were there to guide him into a room full of unopened doors. Not all of them led to the glossy digital future. In fact, Johnson is "pretty hardcore about doing it old-school." Johnson records the trumpet tracks the same way Miles Davis did, sitting on a stool in front of a microphone in one uninterrupted take. "For the trumpet lines, there is no faking it," he explains, "or studio trickery." On every track, Johnson proves that, in the end, he plays trumpet music. "This is about breaking free from that jazz status quo," says Johnson, "where you put out an album with ten standards and hope Wynton Marsalis notices."

Gabriel Johnson makes music in the space between the party and the furrowed, thoughtful brow. Take "Be Serious," a tune that he calls "tweaked-out dance music." In the end, this is all one trumpet line, an off-center riff spliced up and strung back together. That secret formula is the key to a new electro-acoustic experience. Gabriel gets you nodding your head in five-four time and grooving on twelve-tone scales. The man who studied Schoenberg has brought his secret science to a new land of listeners ready for a Pied Piper. Before you can notice that your feet are moving, Gabriel Johnson has you stepping your way out of the land of clichés and into a different dimension where his sound is everywhere.

That's Gabriel Johnson's trick: this bite-sized album runs through eight permutations of his digital acoustic equation. "Be Serious" was christened after some mainstream musicians heard it and warned him, "You've got to be more serious about making traditional jazz." Actually, Johnson could not be more sober. Even where his music blends seamlessly into a DJ's late-night remix, most of the creations have a melancholy, contemplative streak. Indeed, Gabriel was not always so comfortable in the spotlight. When he was young and at conservatory, he contacted his birth father. They hadn't spoken in thirteen years. His father wasn't interested in talking. "When you've grown up, and you're talking to this person who's supposed to be grown-up, and you see that they haven't changed, it's hard to figure out," recalls Gabriel. "My natural reaction was to get pissed off." That anger turned into "Confusion," a club banger that huffs and shuffles around in the back of the dancehall.

Later, Gabriel's adopted father, the man he calls Dad, underwent treatment for lymphoma and had a stem cell transplant. For a while, he lived in a glass bubble. Gabriel, who had always possessed an athlete's discipline, turned to the trumpet to labor and distracted himself with work. He would visit his father often. Gabriel remembers peering in through the thick glass at his mother's side. That experience inspired him to write "View from the Outside," a reflection on his mother's pain as she looked through a window at the man she loved. "I'm married," says Gabriel, "but I haven't been for very long. The thought of looking at the person you love most through this glass bubble…," he trails off. "I played the song for my mother, and she thought I was crazy."

Gabriel Johnson's obsessive and disciplined approach turned the numbing pain of illness and isolation into stimulation and beauty.

His earliest memory of musical inspiration bring back a twinge of longing: his grandmother took him to see Dizzy Gillespie play when he was eight years old. Gabriel thought, "I'll never be able to do that." He had given up before he even started. But over time he came back to this early attraction to the trumpet and applied himself in the only way he knows how. Just as Johnson practices to run annual races that raise money for lymphoma research, he leads a methodical artist's life: up at 6:30, off to the gym, and then work on music all day. Johnson delivers an orderly and careful brand of music. His songs are fine-tuned for the active listener with an open ear and the disc jockey looking for a new track to remix. In fact, he is making the elements of his music available for remixers on his website.

That's right: Gabriel Johnson, conservatory altar boy, wants you to cut up his Bible. He is releasing tracks, one by one, so the DJ devils can come out and play. That will recontextualize the trumpet and make it the elephant in another room. Clubgoers cannot help but notice Johnson's melodic trumpet lines, blueblood and highbrow. There is a wake-up call in this music, one that can be as obvious as the rude and boisterous trumpet blast in "And Then It Was Over" or as unresolved as the tension of "You Get What You Deserve" or "Lullabye." "A really strong sound," Johnson tells us, "or a really strong atmosphere gives them no choice but to pay attention."

Gabriel Johnson is slashing back the frontiers of trumpet music. This is awakening music for a genre that, Johnson tells us, "hasn't moved on since 1965." He has lived in a world of formulae, beautiful but uninteresting. When he was starting out, he recalls, "they said, 'If it's not jazz, it's smooth jazz.' And I said that that doesn't make any sense." Free jazz, he found, was too isolating to the listener. That's when Gabriel Johnson wrote in "none of the above" and burst right through a brick wall.

On the other side, Gabriel Johnson says, "I'm giving electronic music a proper go." The electronica alternative gives him the freedom to transpose the trumpet into a fresh arena, away from its usual accompaniments, the piano and saxophone. Fra_ctured features jazz almost stripped of its obligations to improvisation and restocked with deeply listenable electronic music. This solo enterprise took almost three years to create, through endless hours of cuts and retakes and learn-as-you-go lessons about the computer. The next one, Johnson hopes, will be quicker in the coming – but he won't release it until it's perfect.
<< release: 02/16/10 >>