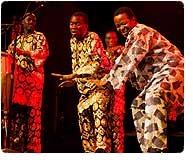 If Fela is the Musical Malcolm of Nigeria, the Chairman is the Musical Martin: King Sunny Ade Brings His Message of Peace & All Night Grooves to USA Stages
The Minister of Enjoyment. The Chairman. The All-Night Groove Master. A musical genius, according to former President Bill Clinton. Everybody knows King Sunny Ade, the exuberant and resilient godfather of juju who keeps the dance floor hopping for ten hours straight most week nights in his native Nigeria.

And around the world, booties shake and basses quake in the King's wake. Select U.S. cities, including New York, Philly, Boston, L.A., Seattle, and New Orleans, will get a chance this April and May to experience the energy and irresistible dance beats that can only flow from King Sunny Ade.

The groove master packs all the punch of his ten-hour marathons into a vibrant two-hour stage show, and onto his upcoming new studio album in production now and coming soon. As Phish's Trey Anastasio, whose jams were inspired by King Sunny Ade, put it, "If you go to see King Sunny, you know you're going to dance all night long."

Yet there's another title the Afropop great could claim, another side to King Sunny Ade and his distinctive brand of groove, one that shines out in contrast to the recent craze over fellow Nigerian legend Fela Anikulapo Kuti and his maverick Afrobeat legacy: "I am the peacemaker," the musician explains with a smile.

While recent popular fascination has focused on Fela, the Malcolm X of African pop, and his rebellious challenge to the Nigerian government, King Sunny Ade and his lifetime of work shares the positive focus and non-violent approach of Martin Luther King. Even the music hints at this contrast: While Afrobeat favors minor keys, in juju it's all about the major.

"Behind all my music is a message of peace," King Sunny Ade explains. "I always want Africans to discuss their own problems and sort it out without fighting. That's the way I look at it."

He gets his fellow countrymen—as well as fans around the globe—to do just that by creating incredibly catchy music on universal themes of togetherness, joy, and understanding. He draws on both his spiritual faith and his love of traditional Yoruba poetry to get at the heart of the issues, non-confrontationally.

And it works: Kids running down the streets of Lagos hum his songs. As do the chiefs who book him for coronation ceremonies and the officials and notables who get down at his all-night shows.

It has even shifted the course of Nigerian history. In 1998, when King Sunny Ade's native land was dominated by a brutal dictator and facing a terrible political crisis, the juju great used his star power to unite fellow musicians from across the country to a common cause: "The Way Forward," a music video that successfully insisted on a united Nigeria, when some were calling for a break up of the state. "I wanted to put something in front of the nation," King Sunny Ade explains, "that would give everyone a better idea how to move forward and solve our problems."

Taking up the mantle of the traditional praise singer, King Sunny Ade uses juju, a music that first evolved in makeshift palm wine halls a century ago, to encourage positive social developments. In the information age, that includes such unlikely figures as cell phone entrepreneurs and moves from simple patronage—with patrons "spraying" the singer with money—to an endorsement of real efforts to promote the greater good.

"I just believe whenever someone does something good in society or community, they need to be praised. The last record I made was for a young man called Dr. Mike Adenuga who owns a communication company," notes King Sunny Ade. "When the telephone was so difficult to get, so costly, he made his own. For me, that particular person needs to be praised and I did it. And I know that is what has been happening for a long time before I was born. Helping society or helping the needy has to be praised."

Backing up this message is a big band and a chorus of dancers, sometimes thirty people in all. Juju's large ensembles have nearly become a thing of the past, falling by the wayside in favor of smaller hip-hop and fuji crews. King Sunny Ade has kept the juju beat going not only by being the best and best loved, but also by constantly seeking out new energy for his perfectly balanced sound.

This means that a new generation of musicians have joined the Chairman's band, from a young hip-hop producer bassist and a gospel guitarist to stunning young dancers from Nigeria's film industry, known as Nollywood. They bring a fresh excitement and cutting-edge sensibility to King Sunny Ade's well-honed sense of what works—in other words, what makes and keeps people dancing. Drawing on this youthful energy, King Sunny Ade has revamped his stage show in ways that will excite even his most die-hard fans.

This mix of youth and experience has become a big part of King Sunny Ade's mission of supporting creative young Nigerians—he founded a media company to do just that and open up the media to new talent, as well as a foundation to sponsor resource-poor schools—and spreading a positive vibe everywhere he goes.

"Nigerian music is the wellspring," he smiles. "And my music is for peace, for enjoyment. It's happy music that brings people together to discuss their problems, not fight over them." It's this message—and the infectious grooves to back it up—that keep King Sunny Ade at the top of his game.