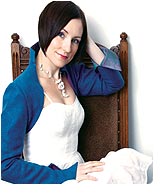 Whispers from the Islands:
The World of Gaelic Singer Julie Fowlis Comes of Age on Uam
The shushing that leads a cow to give bountiful milk. The beat and pounding of tweed on the table. The whisper of a wry lover trying to sneak in his beloved's window. These sounds, once endangered, lie at the heart of Julie Fowlis's music, the northerly hymns that amazed the Anglophone world and propelled Fowlis from the rugged shores of her remote island home to the global limelight.

Now, on Uam (Cadiz Music/Shoeshine Records; March 9, 2010), Fowlis explores her new role as ambassador, University fellow, and world traveler to uncover the resonances that echo from the Hebrides to Nova Scotia, from Brittany to the Scottish Highlands, the interlinking yet oft forgotten traditions that connect Gaelic and Celtic communities around the northern Atlantic.

Fowlis herself has played a part in reforging that chain, one she now wields with the force of channeled tradition. She grew up on the Hebridean island of North Uist off the Scottish coast among people who valued the songs that connected them to their history and to their daily tasks like raising livestock, making cloth, and finding pleasure where they could. With Gaelic song in her ear from childhood, Fowlis's beloved island was home to her first teachers, several of whom gave her songs on Uam and join her in singing them. And as a young woman, she brought Uist's songs first to a newly self-aware Scotland and then to the world.

Today, Fowlis brings a new and worldly sense to Uist's songs. This evolution is thanks in part to her new roles, as musician-scholar and 21st-century traditionalist. With years of folklore already under her belt, she is now enrolled at the world's only Scottish Gaelic-medium college, where she is studying for an MA in Material Culture and the Environment.

Then came her latest role: Fowlis is Scotland's first official Gaelic Ambassador to the world. When Fowlis was named to the post by the Scottish Government, she recalls, "I asked them, what were my responsibilities? They told me, 'Just keep doing what you're doing.'"

What Fowlis was doing was singing from an awareness of Gaelic tradition that is innate, organic, and yet deeply self-aware. Her songs capture the music of daily life, the melodies shaped by the trials of living. One, "Hé gràdh, hò gràdh," recalls a cold morning and matches the steps in milking the cows: first soothing them to encourage them to relax, then singing as the milk comes purring into the pail. It is this careful respect for labor and for the people who crafted songs about it that has earned Fowlis quick recognition for her cultural work and for her gorgeous voice.

Part of this work—her extensive touring with her band—has taken Fowlis to new, unexpected islands of culture that bore eerie resemblance to her own beloved Uist. One of these was Brittany, across the English Channel. There, in an island of Celtic culture, Julie learned "Me zo ganet é kreiz er mor" ("I was born in the midst of the sea"), a Breton fisherman's blues. The song, sung in Breton, came into being in Brittany 120 years ago, and, Julie says, "It's the kind of thing you could easily believe would have been written in our tradition on Uist: the importance of the family and of the sea and the surroundings, and the respect for the land."

"We spend a lot of time in places like Brittany and Galicia," explains Julie, "performing at Celtic and world music festivals. We have a real affinity with the people there. They have minority languages there which are struggling. It's always an honor to go to parts of countries like that, where they have smaller pockets of a cultural identity that are still finding ways to thrive."

Traveling the resurgent Celtic world has made Julie revel in confronting some gentle contradictions at home. Before Uam, Julie never recorded a song in English. Here, she has brought a grandaughter of Scotland and Ireland back to its roots with a bilingual version of "Wind and Rain," a mystically gory folk song from the Scots-Irish tradition that American folkies will find familiar.

Eddi Reader, a reknowned songstress joins Julie in this duet singing the English lyrics, which were translated "back" into Scottish Gaelic. Julie is comfortable singing in English, but prefers Gaelic, and she tires of people thinking that she's making a political statement. Still, that pressure has made it a sensitive topic. "It was nice to have someone else singing the English," she admits. "I had a little bit of a get-out clause."  She didn't set out with a political agenda, or with an aim to research and perform old traditional material but sees no reason to alter the songs she loves from their original language.

Yet the folklorist in Julie cannot help but pair this interlinear lyric with its musicological counterpoint: the next track, "Thig am bàta," is the same song, but preserved in the Hebrides by generations of waulking women, sitting around a table hand- (and sometimes foot-) massaging tweed as part of the shrinking process. The plot may be nearly identical, but listeners will be struck by the rhythm. Where "Wind and Rain" takes its time, "Thig am bàta" draws its rapidly undulating swing, rippling like the ocean in a rainstorm, from the sounds Scottish Gaelic.

These connections were far more tenuous before the work of dedicated folk artists like Julie recreated a tradition once scattered to the sea wind by events like the Highlands Clearances, when many Scots were brutally forced off their land in the name of agricultural progress. Julie has resurrected songs like "A Chatrion' Òg" ("Young Catriona"), which she calls "Possibly the saddest song in the whole world." "That's saying a lot," she ponders, "considering all the other sad Gaelic songs that are out there." Julie first heard the song on a recording by a fellow North Uist islander and scholar, the Reverend William Matheson. She found it beautifully tragic, "gruesome and terrible," and had to learn it right away.

But transforming and reframing folk tradition is never a lonely occupation. Fowlis has the help not only of the resurgent Gaelic community in Scotland, but of their cousins and fellow strivers around the world. They all get together for a medley of dance tunes, "Brògan ùr agam a-nochd / The Cat and The Dog / Mu chuachag 's laghach thu," tunes that in Scotland lost their steps long ago, as step dancing fell out of practice. Nova Scotians, however, kept them shuffling and tapping. "There has been a process of all these steps coming back and finding their way back to the same rhythms."

"The Gaelic language always calls the shots in the rhythm department," Julie laughs, recalling the way that children learning Gaelic in Scottish schools are now taught to master the old tongue's unfamiliar meter. Normally, the songs she sings would be strictly a cappella, but in one example, Julie brought in Martin O'Neill, an old friend and a master bodhrán player to showcase one song's peculiar pulse. "You can't shock him with any rhythmically challenging piece, but he had to think a bit longer with this track!" Julie smiles.

While keeping to their roots, Fowlis and Dublin-born husband Éamon Doorley have encouraged cohesion within their band, taking old songs in new instrumental directions, or writing original takes on old ways, as Doorley does on several tracks. "We were so lucky to work with loads of musicians in the past, and the lineup was sort of more fluid," Julie says, recalling her pre-Uam days. Now, their crew has settled into a touring band, which makes their music more cohesive both in the studio and on stage. With familiar faces like Scottish fiddler Duncan Chisholm, Julie tells us, "We knew their strengths. You naturally go where they are."

And Fowlis, as ambassador, chanteuse, and faithful daughter of the islands, knows where strength lies: in the songs of brokenhearted suitors, on rocky beaches from the North Sea to the Maritimes, in the rhythm of a language reborn.
<< release: 03/09/10 >>