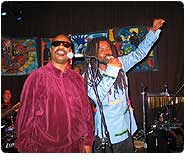 Walking the Talk: Rocky Dawuni, Humanitarian Reggae Rebel, Unites Ghanaian Roots with Global Soul
Rocky Dawuni walks the talk. Fist held high and dreadlocks flowing, the Ghanaian reggae artist is a rebel among rebels, tackling serious social issues with uplifting ballads and reggae rockers. All while working to challenge everything from infectious diseases to clean water to poverty across the rural communities of his homeland.

On Hymns for the Rebel Soul (Aquarian Records; May 25, 2010), Dawuni's infectious, groove-driven music refuses to play by the rules. He sings about the struggles against corruption, war, and despair, drawing on his own experiences while melding bluesy Motown horn lines with Afro-beat grooves and Arabic percussion. Add highlife afro-pop guitar mingled with polyrhythms and Scandinavian melodies and Dawuni re-imagines a fearlessly global, one-love reggae with contemporary African ingenuity.

Let's rewind a few decades to where Dawuni's instinct to innovate emerged in the middle of an army camp under a military government. Under a dimly lit African sky, Bob Marley's iconic "Uprising" album blares from P.A. speakers at an outdoor bar crowded with soldiers; a little boy takes note of the politically charged lyrics and a rebel is born.

As music entwined with his passion for speaking truth to questionable power, he "went pro," he says, as a young psychology student at the University of Ghana. "My first band was an accident," he laughs. "In my first year, I met these four guys who were students there and musicians. Everyone was saying, 'Why are we in the University if we want to be musicians? Why don't we form a band?'" And the seeds were planted.

In the late 1990s he took the plunge, and soon Dawuni found himself traveling the world – ultimately releasing multiple CDs and working with musicians like Bono and Stevie Wonder, as well as providing music for U.S. television shows including Weeds, ER and Dexter.

Dawuni has always attempted to compose music that reflected what he calls "global consciousness," a sense of shared destiny that transcends nationality. Hymns distills this vision, juxtaposing sonic influences from his many recent journeys. "Jerusalem" was written and recorded in Tel Aviv. Over a lilting guitar-based groove that uses a Middle Eastern harmonic sense, an Arabic dumbek rhythm punctuates Dawuni's lyrics; he speaks of the historic significance of Israel, as well as its impact on his own spirituality.

"Take it Slow (Love Love Love)" was conceptualized and composed during his tour with a group of Finnish pop stars. Incorporating Scandinavian sensibilities, the song features thick vocal harmonies and an unexpected touch for a reggae track: a Finnish folk flute.

Despite Dawuni's jet-setting and genre-bending ways, his songs speak powerfully to local issues in Ghana. Dawuni aims to change minds about everything from educating young women to accepting people living with HIV, using both pop and traditional music to critique and to inspire.

"First, I am Ghanaian," Dawuni explains. "I harness local elements into a whole organic form, while the arrangements overall use a contemporary global palette." While "Walls Tumblin' Down" is a nod to the old palm-wine acoustic guitar style, the root of highlife music in Ghana, his voice floats over a lush layer of strings and bluesy background vocals.

While singing about the struggles of the everyman, Dawuni "walks the talk." Many reggae musicians spread the good vibes of peace and love through their music, yet few put their money and time towards real efforts on the ground. Dawuni's intention has always been to use his music as a primary tool for social change. "I have always used my concerts as a platform to engage social issues," he says, "and not only as a spokesperson. I personally organize local musicians to work with communities and help them find sustainable solutions to problems on the ground."

In addition to working with celebrities like Elle MacPherson on behalf of African causes, Dawuni has joined with UNICEF, the Carter Center, and Product (RED) to make a lasting push to stem poverty and quell the spread of HIV/AIDS. "I met some people living with HIV in Ghana," he recalls, "and they told me that my involvement has gone a long way in helping to reduce stigmatization, encouraging more compassionate responses to the disease. They said they could feel a sea change. This just confirmed my commitment."

And Hymns for the Rebel Soul will keep all who listen, thinking and grooving.
<< release: 05/25/10 >>