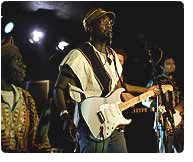 Watch out! Here they Come Again! A Tiny West African Nation Inspires a Politically Provocative Afro-Rock Re-invention
In the political maelstrom of Washington D.C., where Dr. King marched for civil rights, where soldiers vigorously protested Vietnam, and thousands continue to speak truth to power on the steps of the nation's capitol, an adamant African voice exclaims, "Adje! Adje," urging people to take action against social injustices. From atop a smoldering, Afro-rock soapbox, rooted in the traditions of his homeland, an African immigrant and activist belts out this rallying cry, warning against state corruption and capitalistic greed. "People are trapped between governments and corporations," says the Togolese-born Massama Dogo – singer, guitarist, composer, and founder of the band Elikeh. "Africans," in particular, he continues, "are being used and abused" by these institutions.

Exploiting a musical pulpit adorned with gritty guitar-heavy grooves, Dogo's poignant diatribes achieve full resonance on Adje! Adje! (Azalea City Recordings), the 2010 release from his D.C.-based ensemble.  Those grooves will be on display in a headlining performance at the D.C. Rock and Roll Hotel on October 13, 2011. Emerging out of the increasingly vibrant African music scene in Washington, which includes such recently noted artists as Cheik Hamala Diabate and Chopteeth, Elikeh, who fittingly take their name from an African word meaning rooted-ness, have found a way to penetrate the saturated Afro-pop market by tapping the largely unexplored cultural roots of Togo.

Having been overshadowed by the Afro-pop powerhouses of its neighbors – Ghana, Benin, and Nigeria – Dogo and his group seek to put the tiny sliver nation of Togo on the musical map. Even within Togo itself, this nation's music has been marginalized by its own state-sponsored media. Remarking on his childhood growing up in this West African country, Dogo recalls, "the radio never promoted anything from Togo. They only played music from other countries." Although it is improving, even today, Elikeh faces a tough Togolese media that are primarily oriented towards Ghanaian hip-life, Congolese Soukous, and Ivorian Zouglou music.

But Dogo has never been one to back down from a political fight, as struggle and government participation run deep in his blood. A son of a long-time Togolese government minister, as a young man, Dogo risked his family's reputation by speaking out in protest of the very institutions in which he and his relatives were entrenched. "People were surprised to see me talking about the government. I was going against those in power and the opposition party, by pointing out their corruption." 

As a child, Dogo similarly defied his father by playing the guitar instead of the one-stringed African lute called a tchimo. And, later, while directing the orchestra (guitar band) at the University of Lomé in Togo, he rebelled against his cohorts who only wanted to play cover songs. "At the time," Dogo explains, "people only wanted to do covers of Western music like the Scorpions and the Rolling Stones. They also wanted to do popular African music from everywhere but Togo." Dogo, going against the grain, wanted instead to play original material – his own compositions based on indigenous Togolese traditions, such as the upbeat skank of agbadja (often incorrectly confused with a reggae influence). 

Finding little reception for his seemingly radical ideas in his own country, Dogo decided that it might be easier to pursue his artistic interests abroad, immigrating to Washington D.C. in 2000. When he arrived in the U.S. his struggles did not end, as he continued to confront many obstacles, not the least of which was the language barrier. Throughout his life, he had only spoken local African dialects and the language of Togo's colonizer – French. "Everyone was speaking too fast, and no one could understand me when I tried to speak English," he recalls. "I couldn't even get water. I said 'watah' and no one knew what I was saying."

Ironically, language, that was once a burden and barrier for him, has now become an asset, defining his sound and helping to distinguish his music from other artists. Dogo sings in a unique hybrid dialect only spoken in Togo's capital. A mix of French and two indigenous African languages – Ewe and Mina, the intrinsic tonal qualities of these languages give his music a discernable melodic flavor. Although this language is not widely understood, inviting pressure from the music industry to sing in English, Dogo has remained true to his heritage, noting that, "this language influences the music and makes it what it is."

Illustrating the distinct sonic beauty of this creolized African dialect, Dogo relates the hardships of his adjustment to American life on the song "Madjo." Creating an entrancing mixture of linguistic buoyancy, over the intimate rhythmic strumming of a loan crystalline acoustic guitar, Dogo trades versus with guest Malian rap artist Yeli Fezzo, who sings in Parisian French.

On Adje! Adje!, Dogo is able to realize his artistic vision, creating original music that fuses indigenous Togolese traditional elements with contemporary sensibilities. "Novi Nye" (My Brother), begins with the interlocking bell and drum pattern of a music known as Kamou. This driving triplet-based rhythm continues as a muted guitar plays off this polyrhythmic motif, accompanying a sanguine flute characteristic of the Kamou, which floats throughout the song, giving the track a refreshing lightness. As a trio of guitars produces a stir of timbres and textures, each subtly using different electronic effects, the celebratory vocals call for unity among the various ethnic and political groups within Togo. "I wrote this song just before the recent presidential elections in Togo," says Dogo. "I was thinking that although my country is divided along political lines, with the ruling faction living in the north and the opposition in the south, we are all brothers and sisters." 

Departing form the trends, Elikeh carves out their own musical space. "Everybody is going for straight up Fela Kuti Afro-beat style right now," Dogo claims. "We have some of that influence; we have some highlife in there, but the way we incorporate rock is not there in other bands. As a joke we call it Afro-high; but we cannot call it that because everyone would think we are high all the time." Reminiscent of the raw and rough Afro-rock sound coming out of West Africa in the 1970s, the songs "Oleblemi," and "Get Ready" feature hard-hitting funk-rock grooves with mildly distorted guitar solos from veteran John Lee, who has played with a number of noted African musicians, including Baye Kouyate.

The band's sound is also distinguished by the trifecta of gravely guitars that weave throughout the album, creating dense multi-layered polyrhythmic patterns. These textures shimmer on "Let's March," a slow-burning re-invention of a composition by Nigerian songwriter Orlando Julius Ekemode. "The original uses keyboards," Dogo explains, "but I think that a lot of African bands overuse keyboards." Providing a direct connection to the roots of this song, the rhythmical guitar of Frank Martins—who also appeared on Ekemode's original recording of this song—reverberates on this African anthem. Martins is also featured on "Aiko," which uses a slowed-down version of a style from the Southern part of Togo called tumewe, combined with the call and response of the agbekor style.

Building on the precedent of musical political activism set by artists such as Nigeria's Fela Kuti and Zimbabwe's Thomas Mapfumo, a majority of the ensemble's songs have profound political themes. Opening the record with a haunting a capella chant, the album's namesake, "Adje! Adje!" offers a warning. "We are saying: watch out! Here they come again – the multinationals and the corrupt governments," says Dogo. "But this time we won't let them take over our place!" This poignantpolitical message is punctuated with tight horn stabs, interlacing guitar lines, and dense polyrhythmical drumming provided by Tosin Aribisala, who is no stranger to socially conscious music. Arisbisala has toured with Femi Kuti, in addition to recording a tribute to Fela Kuti (Red Hot & Riot), which included such notables as Macy Gray, Erykah Badu, Sade, Baaba Maal, and Taj Mahal.

With their distinct brand of Togolese-infused "Afro-high," which merges a re-invention of the rugged Afro-rock of the 1970s with Afro-beat, highlife, and roots music of West Africa, Elikeh prove that the marginalized music of a tiny overshadowed nation can inspire engaging new sonic landscapes, and stand shoulder to shoulder with its more notorious neighbors.