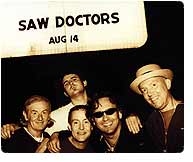 Stirring Up the Pub: The Saw Doctors' Rockabilly Heartache, Punk-Infused Rowdiness, and Irish Humor
It takes a special kind of mind to leap from Ireland's recent smoking ban to ancestral bones and urban sprawl in the space of a single folk anthem, and to get the entire bar singing at the top of their lungs at the same time. But leave it to Tuam County Galway's The Saw Doctors and their inviting, guitar-rich, punk-infused rockabilly songs that mix pub roots with the astute Springsteen-like observation and an effortlessly popular appeal.

"Our song, 'Out for a Smoke' was trying to capture the way things had changed in the country," explains group founder and guitarist Leo Moran in a recent interview for the band's latest DVD. "That was a dramatic change, the ban on smoking in bars. It changed the way people socialized. It was like bringing in a spoon and stirring up a pub."

Transforming a long tradition of Irish ballad singing, the band will continue to stir up American audiences this August with tales of everyday hardships, heartbreaks, and hilarity. The veteran ensemble from western Ireland masterfully brings their sharp wit and the warm atmosphere of a neighborhood pub with them, much as their namesakes brought their tools. The band adapted their unusual moniker from a group of itinerant Irish craftsman who traveled from sawmill to sawmill sharpening and repairing their tools of the trade.

The Saw Doctors have spent decades sharpening their skills as performers, preferring life on the road to time spent in the confines of the studio. Nonetheless, they have scored several number one hits in Ireland, including "I Useta Lover" in the mid 1990s, which remains Ireland's biggest-selling single of all time, and more recently a quirky cover of the Sugababes' "About You Now."

While their recording career has brought them fame and fortune, their live performances reveal a light-hearted bunch of down-to-earth lads, retaining their reputation as "a people's band." "They just have this connection with an audience that you rarely see," says their stage manager and resident eccentric Long-haired Ollie in a recent interview. "If you watch the audience, one minute they are roaring laughing and the next minute they have tears in their eyes. That just gets ya' every night – that connection. You don't know who is singing to who."

Often times, when playing live, the exuberant singing from the audience nearly drowns out the band's amplifiers. At several points in the show the band will drop their vocals out altogether, providing only instrumental accompaniment for the chorus of enthusiastic and loyal fans, who seem to know every song by heart. "It is most crucial now that the band is playing as good as ever in order to make it good enough to present to people," Moran explains. "The philosophy that we take on is: when we put out a gig, we are striving to be the best Saw Doctors, and do the best show that we have ever done."

Whether in Ireland or across the pond, the melodies and themes of their catchy folk-rock ditties resonate with a wide range of audiences. Often compared to the work of Bruce Springsteen for their ability to express the core of the human condition by evoking local characters and haunts, The Saw Doctors' songs are poignant vignettes of real life in Ireland, filled with tragedy, triumph, and humor, which transcend cultural boundaries.

Noting this comparison, Moran explains, "People sometimes say that a song about Galway won't be understood abroad. It's like telling Bruce Springsteen that he is wasting his time writing about the Jersey Shore." "Songs are about sharing feelings and emotions and ideas," he continues. "If you have ideas and emotions that are somewhat similar to others, then it works no matter where you play."

Anyone who has faced hardship and struggle can relate to their song, "To Win Just Once," which takes the side of the downtrodden, depressed, and mistreated. As Moran explains, "There's more people and teams that lose out there than win." Though expressing the darker side of the human condition, The Saw Doctors stay away from cynicism and strive to maintain optimism and light-heartedness around everything they do. The band thought it was particularly funny when a fan came up to them after a show and told them that he enjoyed their environmental protest song about "two injured swans," misinterpreting the refrain of this tune.

Despite the seriousness of their material and messages, the creative process of the band retains their fun-loving, relaxed, and easy-going nature. "Our essential relationship," Moran explains, "is: I write a few words and Davy sings a tune, and then he whistles the bits for me to play on the guitar. That's how we basically work, if you could call it work."

This feel-good, laid-back attitude is transferred to the stage, as The Saw Doctors effortlessly bring all the fellowship of an Irish pub to audiences around the world, inviting listeners to sing along, raise their glasses, and join in the band.