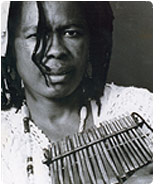 Stella Chiweshe—The Mbira Queen of Zimbabwe
Her Majesty, the Queen of Mbira Music from Zimbabwe—as Stella Rambisai Chiweshe is often called—is the first woman Mbira player to gain prestige in Mbira music, the backbone of Zimbabwean music, which has been dominated by men.
Chiweshe—whose CD, Talking Mbira, was released by Piranha (purchase CD from distributor, Harmonia Mundi USA)—is one of the few musicians in Zimbabwe and Southern Africa, who for more than 35 years has been a traditional Mbira musician. When Zimbabwe was still a Rhodesian colony, Stella secretly was recognized as a Mbira player at forbidden ceremonies. Before independence Mbira instruments had to be kept hidden, because the colonial government had banned the instrument fearing its magical powers. Playing Mbira was punished with prison. After playing through the night at forbidden reunions, Stella would return to her every-day-struggle of survival as a young girl within a colonial environment.
Chiweshe is nicknamed "Ambuya Chinyakare" (Grandmother of Traditional Music). She is a well respected and important woman in the music business too, where bands perform in night clubs and festivals. She set an example for all women musicians in Zimbabwe. In Zimbabwe before independence she released more than 20 singles of Mbira music of which her first single Kasahwa went gold in 1975. After Independence she was invited to become a member of the original National Dance Company of Zimbabwe, where she soon took the part as leading Mbira solo player, dancer, and actress.
She is one of the most original artists in the contemporary African scene using popular music to show the deepness and power of her traditional spiritual music at home and abroad. Stella introduces Mbira music to the occidental context without losing the relation to her Zimbabwean tradition: She creates warm dance grooves as well as popular songs always based on Mbira rhythms.
The fusion of Stella's music and contemporary guitars has not only made her an international figure, but also as Zimbabwe's cultural Ambassador. Apart from her merit combining Mbira with Marimba in modern Zimbabwean music, she has toured Europe regularly since 1983 and has released seven internationally successful albums. Kumusha won her a 1993 Billboard Music Award for performance on the Adult/Alternative/World Music Album of the year.