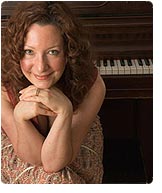 The Lone Songbird in the Woods: Michèle Choinière Gives New Voice to Long-Lost Franco-American Songs on La Violette
Along the borderlands between the U.S. and Canada, a lone songbird sings with a voice clear, rich, and distinctly French. Her name is Michèle Choinière, and nestled in the northwestern Vermont woods, she continues a once thriving Franco-American oral tradition that recalls the bright cheer of kitchen parties, the wry pleasures of courtship, and the sway of a waltz.

Known for her originals and her distinctive interpretations of traditional songs, she has returned to her family and cultural roots on La Violette (independent release: July 20, 2010), a tribute to the ties that bind and their musical vitality. Drawing on francophone songs unique to northwestern Vermont, as well as French folk classics and popular gems, Choinière puts a contemporary polish on songs as old as the hills, with a festive tenderness.

Choinière was raised with French as her first language, at a time when many of her peers were no longer learning their parents' mother tongue. Many Francophones on the American side of the border wanted their children to assimilate. These immigrant families, who came to the U.S. for work during the hard times of the 1920s and 1930s, maintained a quiet presence, farming and working in an area where they were not particularly welcome. But their children, now adults, are frustrated that they were not privy to this Franco-American inheritance.

Choinière's family was the exception to this rule. Not only did her parents speak French at home, her parents both taught her songs: her mother through the everyday songs sung in the kitchen while preparing meals, and her father through his harmonica playing. But the main venue for the passing of these traditions was the soirée–the kitchen party–where families and friends would gather, push the table to the corner, pull out the harmonica, fiddle, and the accordion, stomp on the table for percussion, dance, drink, and of course, sing.

With this unique background, Choinière often laughs when she is told that she is the only Franco-American singer in the whole state of Vermont, a lone voice recalling a rich and beautiful tradition. Her songs come from a variety of sources beyond her vibrantly musical family.

She's mined treasured recordings of elderly local singers and turned to dusty cassettes of funky French-Canadian broadcasts from the 1950s and 60s. In a world of chords, sheet music, and fake books, Choinière works almost exclusively off the page, diving into oral traditions and transforming as she goes. It is an organic process of showing the skeleton of a piece to musicians and having them add their own flavors to the song.

For a woman who never set out to be a professional singer, Choinière has slid gracefully into the role, unfolding as a musician as an adult. Singing with her father, she found herself featured on a Smithsonian Folkways recording of Franco-American music from New England, Mademoiselle, Voulez-Vous Danser? (1999)

And soon she began writing her own songs, originals that came together on Coeur Fragile (2003). "My piano became my therapy," she smiles, "and as for my voice, I never wanted voice lessons. I wanted to sing in my own way." Her voice embraces a distinctively French sound, yet remains sweet, velvety, and whispery, twisting and twirling the nuanced strands of the language. But Choinière's voice can pack a potent—and potently upbeat—punch. La Violette is at its heart a dance album.

From the starting notes and percussion of the opening track, "Fue a de Lou," her voice lilts through waltzes and dance tunes opening into unique musical spaces and images: from the antiquated upright piano emanating a tinkling tone from the corner of the family living room, to the lively musical moments of a soirée.

"Fue a de Lou," Choinière feels, "has a driving force to it, like you're on the ocean, in a boat, moving forward." Its playful movement, and nonsense chorus, add to the festive feel of the song, which is unique to Franco-American Vermont. This is followed by another lively party tune, "La Violette," and is a shining example of how Choinière creates her own version of traditional tunes.

While some Franco-Americans may insist she adhere strictly to the tradition, Choinière believes strongly in 'modernizing' the songs she has learned from her family and her community. Through her own arrangements, she gives fresh voice to the music. "La Bergere Encore," a jazz arrangement of a traditional children's song, is a surprising shift in tone and style, yet reveals how flexible and powerful Franco-American music can be.

For Choinière, this album is a living memoir of her family. Several songs, including "Quand le soleil dit bonjour" and "Par un Samedi matin," were sung by family members frequently throughout her youth, including at her parents' wedding.

And many illustrate the importance of place in the collective memories of the immigrant experience. "Vive la Rose" draws on the experiences of the Acadians in the Maritime provinces, while "Brind'amour" is a 1920s French café song once popular among Franco-Americans. "Rame, Rame, Rame, Donc" recalls the St. Lawrence seaway in Québec, evoking the repetitive motion of rowing on a river, while the words imagine rowing away from hardship towards a more peaceful place.

The true inspiration for this colorful, poignant collage of distinctively French music, however, lies not with past generations, but with the family's newest member, Choinière's daughter Isabella. Each song serves as a momentum of what Choinière hopes to pass on to her little girl, a menagerie of ideas, values, histories, and poetic images of what it means to be Franco- American in 2010. And it's an album little Isabella can dance her heart out to.

La Violette connects generations to their history in New England, in Quebec, and in France to their history as Franco-Americans. It tells a story of a people connected through musical, linguistic, and cultural traditions, historical snapshots evoking time and place for the nearly lost roots of New England's Francophones. With sprightly songs, Choinière beckons to audiences to listen to her cultural call, and increasingly, they do.
<< release: 07/20/10 >>