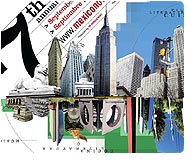 Rock and Roll, Worms, and a Corn Kitchen: Celebrate México Now! Highlights a New Creativity Rising from the Roots and Defying Discipline
There's Mexico the glorious, born of patriotic revolution and celebrated in official centennials and bicentennials. There's Mexico the troubled, born of fear-fired images of drug violence and migrant workers.

Then there's the Mexico revealed by the seventh annual Celebrate México Now!, a multimedia, multi-lingual festival of music, performance, film, installation, and cuisine at multiple venues around New York City (September 16-30, 2010; see www.mexiconowfestival.org for full festival info). It's a country deeply rooted and chic; brainy, wily, and vibrant, where century-honed traditions inspire and edgy ideas move like an elegant flourish of ink or a perfectly timed drum beat.

"Many young Mexican artists and thinkers are rediscovering their roots, the realities that make up their culture, but with a contemporary twist, adding new media, English, and cosmopolitan sensibilities," reflects Festival Executive and Founder Director Claudia Norman. "As modern Mexico enters its second century, it's not about abstract notions of identity for most artists; it's about connecting with local communities directly, about really incorporating and assimilating what they are, not about nationality."

For some artists, this means striking out on their own and shaping their own fates, an unexpected move for female pop staples like gritty rock songstress Ely Guerra (September 24; Le Poisson Rouge) or former teen idol turned sophisticated musician Natalia Lafourcade (September 18; Joe's Pub). "My ideals are reflected in a clear, promising mirror. It is a moment that makes me even stronger," Guerra muses, "and I'm thrilled that my new album and approach, this big leap musically and professionally, will be a part of Celebrate México Now!."

This newfound strength and peculiarly female perspective is echoed by the latest project from the notorious ladies of New York's Pistolera, now moms. Moona Luna (September 18; El Museo del Barrio) take bilingualism, kid's music, and loving your heritage to new, fun places in a family-friendly yet rocking show.

Even the most cutting edge and contemporary performances retain this sense of connection and reconnection with cherished roots and communities. Vocalist and expert improviser Juan Pablo Villa (September 23; Atrium Lincoln Center) uses loops and atmospherics as a foundation for his fanciful, moving interpretation of traditional Mexican songs, as artist Arturo Lopez, facing Villa, crafts flying landscapes in ink projected behind the singer.

The internationally acclaimed percussionists of Tambuco Percussion Ensemble (September 30; Symphony Space) are known not only for their masterful new music performances, but for commissioning and supporting the work of Mexican and Latin American composers and uniquely interpreting the possibilities of percussion—including the resonances of the human body.

Yet much of the other Mexico's wonders come not only from its sounds, but from its soil. Along with the wildly popular New York Authentic Mexican Restaurant Week, when New York's top Mexican chefs invent authentic prix fixe menus around the city, foodies will have a chance to explore Mexico's flavors at Zarela's Mexican Corn Kitchen (September 23; Smithsonian National Museum of the American Indian), a lecture demonstration by chef Zarela Martinez.

A far quirkier dive into Mexico's fields, food, and traditions comes with artist Monica Martinez's WURMHAUS (September 18; BQE Eyelevel Gallery), an installation that will allow viewers to watch the traditional practice of worm raising crawl, squirm, and change before their eyes. The worms will play a starring role—as traditional snacks, not just as art—at the nearby Brooklyn Kitchen for a special evening of mezcal tasting (September 18) of Oaxaca's premier family-made spirits.

While strong women and local flavors abound, Celebrate México Now! also fosters thoughtful forays into Mexican letters, revealing visions of the country that are complex, rebellious, and sensual. The shadier side of urban life will unfold at a presentation of and reading from Mexico City Noir (September 16; King Juan Carlos I of Spain Center at NYU), the latest installment of the Akashic Books Noir series, edited by respected historical and popular author Paco Ignacio Taibo II, whose works include a novel co-written with the mysterious rebel leader Subcommandante Marcos.

Mexico's rural worlds, often nurtured in native languages, blossom thanks to the ongoing work of scholars like the late, great Carlos Montemayor, and translator and literary expert Donald Frischmann, whose trilingual editions of Mayan poetry and literature have moved and wowed experts and lay readers alike. Their latest effort, The New Songs of the Cieba, opens windows into the contemporary Mayan writing of the Yucatan (presentation September 22; St. John's University).

Another fresh and biting voice from Mexico will be honored with a roundtable dedicated to the late cultural theorist and literary critic Carlos Monsiváis (September 29; Fordham University), whose sharp eye and rapier wit chronicled popular Mexican culture with unparalleled perceptiveness. His work will be considered and reconsidered by a panel of friends, writers, and scholars.

Fresh perspectives also shine through in featured selected short films and animations from the Morelia Film Festival (September 17; School of Visual Arts). Juried by directors from Sundance to Cannes, Morelia's winners include the striking "Y el agua?," an animated film written and narrated by the children of Valle de Bravo about the water crisis in their community and how a return to traditional wisdom may end it. Viewers will have a chance to explore the short film "Nebraska"—about the struggle of a migrant who can't bear to cross the U.S. border or to return to his family—with its director Adrian Ortiz during a Q&A session.

"In this year's festival, you really get a sense of the new form of social consciousness artists have, their new sense of the meaning and the purpose of doing art. It has to have a social impact," Norman explains with a smile. "By considering this impact, they are taking and supporting urban and rural traditions that have existed for years, and nurturing them in the face of transnational influences. They are keeping something alive, something very unique and Mexican."


SPONSORSHIP:

Celebrate México Now 2010 is sponsor by American Express, Bloomberg, Fundación Sabores Auténticos de México, Mexican Cultural Institute/Mexican Tourism Board, CONACULTA, Cerveza Dos Equis, Telemundo 47, Razorhead Music, Material for the Arts and Vox Collective. Celebrate México Now 2010 is officially supported by Mayor's Bloomberg Latin Media and Entertainment Commission and is a fiscally sponsored project of The Field.