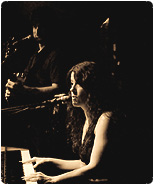 Only Everything:
The Sweet Darkness of Krista Detor's Chocolate Paper Suites
There is a woman who operates at the crossroads of poetry and circus, con men and wholesome Midwesterners, between transience and the hearth. Her name is Krista Detor and her new album, Chocolate Paper Suites (Tightrope Records; September 21, 2010), brings together her signature brave Americana and indie sounds in a lush, heady set of interwoven songs. They dance from Lorca to Darwin, from Tom Waits to Aimee Mann inspired by Detor's own big-top life.

Detor's suites, extending past the standard folk four minutes, expand the individual songs emotionally, ripe with big ideas and big heart. "The format has struck some folks as ambitious," Detor states, "but it allowed me to explore a longer trajectory with better hang time. To make a longer musical statement."

The ambitious choice of form suits Detor's rich subjects. Lorca's vision of a gown made from chocolate paper, a burst of ephemeral beauty meets imagined letters to Darwin ("Darwin Songhouse Suite," written in the scientist's hometown of Shrewsbury). Hints of Tom Wait's poetic vision of American life mingle with the starlit ghosts of Hoagy Carmichael and Bessie Smith ("Night Light"). It's all darkness and sweetness, and Detor, in her wandering, has embraced plenty of both.

"If you pick up the theme of circus, it's just so easy to just set it upon my life. It has been very circus like," Detor explains. "I had a quirky birth family and plenty of unusual events in my life, things that look pretty strange on paper."

Teenage parents gave her up for adoption at birth, and Detor was raised by a hard-working Indiana family with a strong moral compass. Then, unexpectedly when she was 30, her birth parents re-emerged, her biological father having been in a federal penitentiary for counterfeiting 72 million dollars in the Caribbean.

"When he and my birth mom found me, he had been straight for ten years and ran a swimming pool contracting business. But for most of his life my biological father was a con man, with his own traveling medicine show." Though his ethics were questionable, his sense of freedom was magnetic. "His perspective changed me." Krista recalls. One month after meeting him, she had quit her career in commercial real estate and was living in a house on the water in the Florida Keys.

The moment she decided to abandon the life she knew for something new is captured in the song "Oranges Fall Like Rain." "I wrote the lyrics sitting at my job in an office building, contemplating my future. I was looking down on a man who was selling bags of oranges. I imagined the whole street scene changing and then me chucking my computer out the window," Detor recalls. "I saw myself sprinting down the steps and running into this Andalusian place, where the scarecrows sing and butterflies are everywhere."

With this latest album Detor has found new paths to tread, new ambitions sparked by the bright images of poets like Lorca and Dylan Thomas, as well as by her own wild and wooly experiences. These vivid worlds shine in the colors and contours of the suites. "There is a context that sits in your brain for poems you are enamored with," muses Detor. "In a way, you get into that zone, but with your own viewpoint. I can find enormous inspiration from other peoples' world view, especially someone from another culture. It's a whole different palette."

Detor matched this lyrical approach by developing a new musical palette to pull from, listening to everything from Tin Pan Alley chestnuts to Italian café music. She worked with brilliant and eccentric musicians she encountered on her travels—everyone from an aerialist/bass player, a fiddler steeped in Middle Eastern traditions, and an old-time mandolin master. She found inspiration in unexpected new locales, including her days as part of the Darwin Songhouse, writing music about Darwin's loves, life, and profound losses. All coming to fruition in the ambitiously lush and dark Chocolate Paper Suites.
<< release: 09/21/10 >>