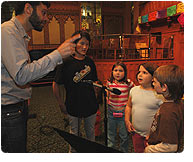 Bohemian Philanthropy:
Songs from the East Village Taps Deep Roots, Bolsters Unique Public School
Most public schools facing the current funding crunch mount desperate donation drives or bake sales. But at the arts-based East Village Community School in the heart of one of New York's historically bohemian and global neighborhoods, parents, students, and school staff opted instead to raise money by singing compelling ballads, making funky beats, and recalling unexpected family stories.

Fresh, savvy, and chock full of infectious songs and history, Songs from the East Village (East Village Community School; September 20, 2010) maps the world of childhood, as it spans the globe. Like the school and its neighborhood home, the album unites Iraqis and Tibetans, immigrants by choice and refugees, deep historical roots and edgy innovations.

Grammy Award-winning Irish vocalist Susan McKeown is among the accomplished musician parents at the school, and has led the project from brainstorm to production. The idea first came to McKeown under the tragic circumstances of the death of East Village Community School (EVCS) student Juliet Harper. During the memorial service, one of the school's parents, flamenco singer and flautist Alfonso Mogaburo Cid, sang a heartbreaking lullaby learned from his mother.

"The song had the power to carry people through an event like that," McKeown reflects. "It was overwhelming. It brought us all together." It also sparked the realization that within the school community, there was a wealth of incredible musical talent and an opportunity to engage children in creating music.

The compilation that started as an extracurricular activity has developed into an exciting album, filled with world-renowned neighborhood talent as well as yet-unheard beautiful young voices. Behind each song is a story that is as much East Village as it is American, the tales of immigrants. And it is as much American as it is universal. These melodies of childhood playgrounds and imaginations express shared experiences of play, loss, and longing.

McKeown helped organize a "CD Club," an optional group for students of different ages, with the end result being a professionally produced album. Wanting to draw on the rich cultural heritage of the families in the school, the club solicited songs from parents and staff, asking for children's songs from their own childhood that could be included in the project. With each song came incredible stories that illustrate the web of experiences that brought people to the Lower East Side of New York.

The East Village has long been a multicultural bohemian space, rich in sounds, sights, and smells from around the globe. It's also home to an extraordinary group of talented musicians, actors, writers, and artists—many of whom send their kids to the arts-based East Village Community School, and lend their striking voices and ideas to the album.

Ray Santiago, a Puerto Rican pianist who has been a staple in the East Village Salsa scene for decades, is featured on "Arroz Con Leche," a Puerto Rican playground song. Bassist and Black rock icon Melvin Gibbs lays down the Afro-funk grooves he's perfected in "The Tiger." This track also features the words of actress Sarita Choudhury, who starred in films like A Perfect Murder, Mississippi Masala, and Spike Lee's She Hate Me. "The Tiger" weaves a sonic forest around Choudhury's tale of a trip to Rajastan where she comes face-to-face with the fearsome, stunning predator during the making of a documentary.

Two Iraqi girls, forced by war to stay inside their Baghdad home for two years brought in a playground song that dates from the 1920s, "Belly a Belbool." Belbool was a Jewish Iraqi swimming instructor, who would teach his students rhythmic strokes in the Tigris River, to the beat of the song. It is still sung by girls in Baghdad playgrounds.

"Snow" is a Tibetan song performed a cappella, by a Tibetan fifth grader in his first year at EVCS. The boy and his younger brother, who arrived just a year ago, walked through the snow-covered Himalayas to India, before settling in their East Village home, among other refugee families. The emotion of that experience seers their voices.

More commonly known songs like Irish tune "Molly Malone" and the classic Americana song, "I Wish I Was a Mole in the Ground" are given a fresh take with this interplay of different voices—big and small—and the children's character that shines in each. The British song, "Soldier, Soldier" was brought by a mother who sang with her sister in their Northern England childhood. Her EVCS daughter added a verse where the maid takes her revenge on the soldier's ungentlemanly behavior—a 21st-century twist to an old tune.

The album also captures a new generation, embracing traditions from the old. "Echi Bu Uka Amaka" is a Nigerian song that an EVCS parent learned from her father in their New York City apartment. Similarly, an African American family brought "Hambone," which the father had sung in his grandparents' house. These recordings are among the up-tempo highlights of the album.

"Every voice gets heard, like a camera focused on each child," McKeown explains. "In this you get a great sense of how much is communicated in someone's voice."

Songs from the East Village will do more than document and celebrate these voices; it will keep them singing, both by encouraging musical performance at school and by raising money for the special arts-focused programs that make the EVCS such a jewel in the community.
<< release: 09/20/10 >>