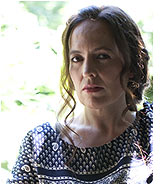 A Voice in the Night, A Light in the Wilderness:
Singer Susan McKeown Finds Melody in Melancholy on Singing in the Dark
Singer Susan McKeown has met the mad king forced to dwell with the birds in the treetops, and the witchy women and crazy ladies tearing through the night. Longing to counterbalance the persistent stigma of mental illness, McKeown turned to the poets, looking for the deep humanity, creative spark, and curious light that shines in even the blackest moments.

On Singing in the Dark (Hibernian Music; October 30, 2010), McKeown brings her fine-tuned sense for song to centuries of striking visions from across the Americas, Ireland and the British Isles, the perspectives of artists struggling with depression, mania, and substance abuse. Working with long-time friends (and fellow Grammy winners) Frank London and Lisa Gutkin of The Klezmatics, McKeown shaped the sometimes harrowing, sometimes circumspect words of everyone from 16th-century lutenist John Dowland to Pulitzer Prize winners Gwendolyn Brooks and Anne Sexton into quietly compelling windows into a misunderstood night.

McKeown will celebrate the release with a New York concert at Symphony Space on Oct. 30, featuring guest appearances by bestselling author Kay Redfield Jamison and New York Public Library Director of Public Programs Paul Holdengräber. A North American tour will follow, hitting Portland, ME (Oct 16); Boston (Nov 13); Baltimore (Nov 18); Eugene, OR (Nov 26); Portland, OR (Nov 27); San Francisco; Denver (Dec 3); Taos (Dec 4) and Albuquerque (December 5).

The idea for the album began in a hospital meeting room, filled with dozens of the nervous siblings, spouses, partners, and parents of people suffering from mental illness—and from the social stigma attached to it. They spoke in hushed tones of helplessness and frustration, trying to find ways of comprehending and supporting troubled loved ones.

It was never a place McKeown expected to land, but it sparked a seven-year journey through the darkness that has haunted creative souls for millennia. This darkness made its mark on McKeown's family and on her native land of Ireland, where young men have long faced one of the highest suicide rates in Europe, even during economic boom times.

"I was able to trace back a line of manic depression going through my father's family," she says, "And all those men married musicians. I began reading about mental illness and creativity and discovered they are linked. It's just a fact."

This link fascinated McKeown and sent her digging through poetry books and library collections, as well as turning to roots music in her home of New York and on her native shores. She looked for lyrics with "singability," as well as powerful perspectives. She followed Anne Sexton, who urged, even in darkness, to tell it true, and whose eerie poem Her Kind became the album's single "A Woman Like That" (release: October 4).

There's "Mad Sweeney," a traditional Irish legend first recorded in the 17th century, of a king gone wild, forced by illness to live like the birds and beasts. And John Dowland's sorrowful chestnut "In Darkness Let Me Dwell," refreshed by McKeown's clear, firm voice.

"The Nameless One" uses words of 19th-century Irish poet James Clarence Mangan, written a year before his life was cut short due to alcohol abuse and his final writings were thrown away by a hospital orderly. The song links Mangan's tragedy to the great exodus of desperate Irish to America during the Potato Famine, bringing in a banjo and an unexpectedly upbeat chorus reminiscent of Woody Guthrie.

"The song was made of the lyrics of a man, written during the worst years of famine in Ireland, the year before he died at 46," explains McKeown. "America and Ireland have always had a close relationship, and as the song evolved, it took on more and more of an American feel, though the melody is Irish."

"We'll Go No More A-Roving" finds another cross-cultural tie, this time binding Lord Byron's lyric to Irish traditional song and a melody with deep family implications. "Byron had episodes of depression and mania, and was inspired by an Irish song, one that's still sung in another form," McKeown notes. "The melody is also traditional: 'After Aughrim,' an old song about a battle in 1691, in a town where my father's family were living at the time."

McKeown felt drawn to more contemporary resonances as well. Drawing on Irish poet Nuala Ní Dhomhnaill, "The Crack in the Stairs" is set to a challenging piano-accompanied score by modern Irish composer Elaine Agnew. "I was hungry for a challenge like that," McKeown exclaims with a smile.

It was impossible to imagine an album trying to encompass the world of depression without one of Leonard Cohen's songs: "If you search for music about depression at an online retailer," recounts McKeown, "his name inevitably comes up." Yet "Anthem," one of Cohen's later bittersweet synth ballads, is shot through with hope, one of the surprising moments often found in many of the poems McKeown explored.

"For me, hope has always been a guiding force," she states. "When I read Theodore Rothke ("In a Dark Time"), I hear his faith in humanity and the love of nature he learned as a child growing up in his family's greenhouses. He saw hope reflected in nature even though he suffered terribly. It helped him immensely to express it." Hope also burns in Chilean artist and folk innovator Violetta Parra's "Gracias a la vida," which McKeown arranged to follow the joyful lead of Brazilian singer Elis Regina.

Hope springs not only from finding striking ways to talk and sing about depression and illness, but in finding community, solace, and treatment for individuals and their families. McKeown has partnered with the National Alliance on Mental Illness, Fountain House, actress Glenn Close's Bring Change 2 Mind campaign, and the Mood Disorders Support Group, organizations who offer different support and comfort to those struggling with depression and who will receive a portion of the proceeds from the sale of Singing in the Dark.


<< release: 10/30/10 >>